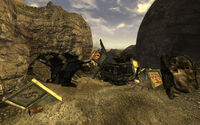 The radio signal is a radio station broadcast in the Mojave Wasteland.
It is acquired automatically upon loading a Fallout: New Vegas game after downloading the Lonesome Road add-on and leads to the canyon wreckage.
Your Pip-Boy has received a signal - coordinates that lead to the Canyon Wreckage west of Primm. Following the coordinates are the words "Courier Six" It's signed, "Ulysses."
Parentheses () denote cut content, italics denote stations available through add-ons.
Community content is available under
CC-BY-SA
unless otherwise noted.