| | |
| --- | --- |
| | For a chronology of the major events leading to the Great War, see Timeline. |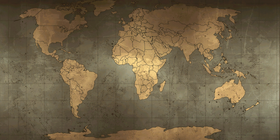 Several pre-War countries are mentioned throughout the Fallout series.
Mentioned
Behind the scenes
The world map in federal surveillance center K-21B, the Whitespring bunker, and the globe show several bodies of water such as the Mediterranean Sea depicted as the same color as landmasses. It is possible that the map used in-game is a modified version of one from Wikimedia Commons, representing the real world circa 2004 and an error occurred while using the fill tool in a photo-editing program, causing the aforementioned filled-in bodies of water.[11]
Gallery
References