Poseidon Energy was a pre-War energy conglomerate that operated a number of oil rigs, factories, refineries, gas stations, and power plants and with further operations in military defense contracts. It was not a single, monolithic company, but was rather a cartel of various Poseidon-owned corporations controlling various aspects of the global energy market; the PoseidoNet data transfer system provided instantaneous communication between various Poseidon facilities including the Poseidon Oil Reactor № 5, the Enclave Oil Rig, and other locations throughout the United States.
Background
Poseidon Energy was an umbrella corporation with its fingers in virtually all known forms of renewable and non-renewable power sources on both the east and west coasts of America,[1] as well as research and development of new, more powerful weapons through their subsidiaries, so long as they remained profitable. One of its most notable features was the unified PoseidoNet, a national transfer system that provided instantaneous communication between various Poseidon facilities including Gecko's nuclear power plant, Enclave Oil Rig, Navarro, HELIOS One, the power plants of Appalachia, and other locations throughout the United States.
Energy mogul
Poseidon Energy dipped its arms into every energy source imaginable that, with help, could be weaponized or developed further. Poseidon Gasoline served as the face of gasoline, providing automobiles that still used the substance with it in Northern California.[2] Poseidon Oil focused on the mining and refining of what little reserves of oil still remained in the world.[3] Poseidon Energy, while also focusing on gasoline and oil production, involved itself with a number of alternative energy sources as well, from solar energy to newly discovered forms of energy. They also had a branch in Mexico. The conglomerate was also not above buying out companies that delved into energy production, especially those founded by former employees of Poseidon.
In its drive to control the energy market, Poseidon cooperated with other companies, such as Atomic Mining Services, and was openly hostile to organized labor. When Poseidon workers organized a walkout at Poseidon Energy Plant WV-06, supported by the Associated Miner's Union, the corporation supported its on-site security director, Brent Olson, in his plan to humiliate the strikers and the union. Poseidon called in the National Guard, which proceeded to gas the protesters using HalluciGen, Inc.'s riot control gas. What the corporation hoped would be a violent riot that could be leveraged to further damage organized labor turned into bedlam, as the gas turned peaceful protesters into a rampaging horde that overran the perimeter, exposed soldiers to the gas, and eventually seized control of the plant. The Great War ended any further manipulations of the sort.[4]
Defense contractor
Though much of the pre-War United States knew of Poseidon, few were aware that several Poseidon-owned companies were given lucrative defense contracts by the U.S. government – or rather, by Enclave members working as lobbyists to gain those contracts. However, most of Poseidon's most promising research projects never reached their final stages.[5][6]
After the Great War, Poseidon no longer existed as a real force in the post-atomic world. However, technology scavengers like the Brotherhood of Steel and the Enclave still tried in vain to decipher Poseidon's plans and either confiscate this technology or turn them into working models, respectively.[7]
Corporate relations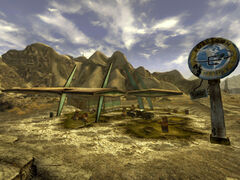 The corporation operated a number of subsidiaries, which focused on different aspects of the global energy market:
Civilian
Military
Notes
Appearances
Poseidon Energy appears in Fallout, Fallout 2, Fallout 3, Fallout: New Vegas, Fallout 4, Fallout 76, and Fallout Shelter.
Behind the scenes
Gallery
Logos
Other
References
Weapons, ammunition, and armor
A&X Silencers - ArmCo - BeatCo - Beretta - Big Chief - Bringham - Calico Light Weapons Systems - Cambridge Polymer Labs, LLC - Circle G - Colt Firearms - Cordex - Donaustahl GmbH - Enforcer - Federal Cartridge - FN Herstal - Franchi - Glastinghouse, Inc. - Glock - Grandad's - Hauer Premium - HalluciGen, Inc. - Heckler & Koch - Hermes Communications - Implied Hypnotics - Independent Arms Group - L.O.B. Enterprises - Long Branch Arsenal - M&A Guns Manufacturers - Manhattan Projects Inc. - Masterson - Mauser - Rheinmetall AG - Royal Small Arms Factory - Pancor - Purebore - Ranch Defender - Rockwell - Romington - SharpWit, Inc. - SIG-Sauer - Silver Star - Red Eagle Firearms - Red Ryder - Smith & Wesson - Southern Cartridge - Stent Security Solutions - Union Cartridge - Wattz Electronics - Whoop Ass - Winchester - West Tek - Yuma Flats Energy Consortium
Other
B&K Cleaners - Bernardo's - Big Al's Tattoo Parlor - Big MT - Boston Communications - Burnett and Associates - Clark, Clark, Clark & Associates - Cole & Parker Holdings Ltd. - D. Miller & Sons - Dawnshire Pottery, Inc. - Egret Tours - Fantastic Tours - Gramercy & Ulster - Grey & Gould - Happy Liberty Imports - Hermes Communications, Incorporated - Jay's Moving - LGJG - LoveLine - Madden's Boxing Gym - Priblos' Curios - Pulowski Preservation Services - R&G Processing Services - Rockwell Clearing House - Ticknor and Fields - Van Lowe Taxidermy - Westside Cleaners Storage - Wilson Brother's Auto Repair