Fallout Wiki: Van Buren portal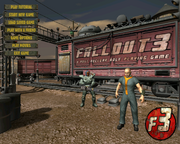 Welcome to Nukapedia's portal dedicated to Van Buren!
Van Buren was the project name Black Isle Studios assigned to their version of Fallout 3. In 2003, the game was canceled and the Black Isle employees were laid off.
The game was going to use an engine that Black Isle had made for Baldur's Gate 3, commonly referred to as the Jefferson Engine. It was fully 3D. Black Isle Studios planned to include a dual combat system in the game that allowed for the player to choose real time or turn-based combat, due to Interplay's demands, though Joshua Sawyer had stated that the emphasis would be on the turn-based version. Co-operative multiplayer was also going to be included in the game, again because of publisher requirements.
Helping out
All pages can be edited and you are welcome to join us and contribute to this wiki. Everyone is free to create a new page or edit an existing one. If you have any questions about the wiki or helping out, you can ask one of Nukapedia's administrators.
[

add

· more]Recent news
News

Willooi
•
As part of an ongoing personal blog project of mine, Chris Avellone, still busy with Fallout: New Vegas DLC production, was kind enough to take some time out to discuss his role at Obsidian and in F:…
Here's another roundup of developer posts from Bethesda forum, Something Awful forum and J.E. Sawyer's Formspring. Most are by Sawyer himself, but there's also a couple from Matt Grandstaff about pat…
Over at formspring.me, Fallout: New Vegas lead designer J.E. Sawyer is answering various questions from fans, mostly general ones about game design. Here's some quotes.
How does it feel to know you/Obsi…
See more >
Fallout world
The Fallout world is not quite our own. It is an alternate reality which diverged from ours at some point after the second World War.

The base concept for the setting is the World of Tomorrow as imagined in the Golden Age of Science Fiction. This means that before the Great War, the Fallout world was more or less what the people of the 1940s and 1950s thought things would be like in 2077.
Featured picture