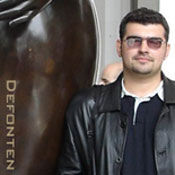 Natiq "Defonten" Aghayev
is an artist from Baku, Azerbaijan and a member of the
Fallout
fan community. His best known Fallout-related artwork, "City Ruins" has often been mistakenly assumed to be a piece of official
Fallout 3
concept art by various websites and magazines.
In 2007 he was contracted by
Interplay
to create concept art for the original
Project V13
(
Fallout Online
), working under the supervision of
Jason Anderson
. Part of one of his images was included on Interplay's "coming soon" teaser page before the company's new website was launched.