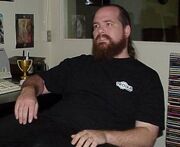 Jason D. Anderson
, (often credited as Jason Anderson), is a game artist and designer that worked on
Fallout
and
Fallout 2
(leaving
Interplay
during early stages of development). He returned to Interplay to work on the original
Project V13
.
He started out as a contract artist for Interplay on the USCF Chess project and was later hired to design the engine, game world and interface for Fallout. After working on the prototype design for Fallout 2, Anderson left with fellow developers Timothy Cain and Leonard Boyarsky to found Troika Games.
In March 2009, Anderson left Interplay and joined InXile Entertainment, Brian Fargo's new company, to work as creative director on a new computer role-playing game, which is likely to be a sequel to Wasteland, the predecessor of Fallout.
He left the company in January 2011 to join Turtle Rock Studios, although it has been confirmed that some of his work will be included in the final
Wasteland 2
product.