Fallout Wiki: Project V13 portal
Project V13 is a codename that has been given to two games in development to be published by Interplay Entertainment.
The first incarnation, also called Fallout Online, was to be a massively multiplayer online role-playing game (MMORPG) developed by Interplay Entertainment and Masthead Studios. Among its developers were Chris Taylor and Mark O'Green, two of the creators of the original Fallout.
On January 10, 2012 the game was put on hiatus after a legal dispute which restored the development and publishing rights to Bethesda Softworks.
After a long period where its status was unclear, Interplay and Black Isle Studios announced a new Project V13 on 20 December 2012, this time a strategy based RPG, its development to prototype stage would be funded by a crowdsource campaign.
On this wiki, the coverage of this game is in its previous "Fallout Online" version; unless indicated otherwise it should be assumed that any reference to the game or any article on the game refers to this version.
[

edit

]Contents
Companies

Designers

Management (Interplay)

Companies (Fallout Online)

Crazy Ivan's New and Used Guns
DayGlow (company)
Duper Company]]
Med-Tek Laboratories
RobCo Industries

Factions (Fallout Online)

Locations (Fallout Online)

Races (Fallout Online)

Music (Fallout Online)

Creatures (Fallout Online)

Items (Fallout Online)

Armor and clothing
Consumables
Featured article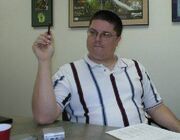 Christopher "Chris" Taylor
, also known as ChrisT (because there were about a dozen different people named Chris involved with Fallout), was the lead designer of
Fallout
and a producer of
Fallout Tactics
. He is currently the lead systems designer of the current version of
Project V13
(and had the same role in the previous version). With
Tim Cain
, he created the famous
SPECIAL
character system and much of the Fallout world.
Helping out
All pages can be edited and you are welcome to join us and contribute to this wiki. Everyone is free to create a new page or edit an existing one. If you have any questions about the wiki or helping out, you can ask one of Nukapedia's administrators.
[

add

· more]Recent news
News
Agent c
•

Hi Folks,
We interrupt your regularly scheduled apocalypse to bring you some breaking news.
1

Project V13, status update

2

Buyer Beware

2.1

The Team

2.2

The reward Tiers

2.3

They're making a prototype?

2.4

Follow…
See more >
Featured picture