Fallout Wiki: Fallout Tactics portal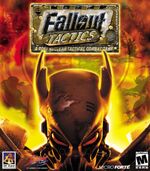 Welcome to Nukapedia's portal dedicated to Fallout Tactics!
Fallout Tactics: Brotherhood of Steel, developed by Micro Forté and published by Interplay in 2001, is the third title in the Fallout series, but is not a traditional RPG (so it wasn't entitled Fallout 3). Instead, Fallout Tactics focuses on squad-based combat and introduces near real-time combat, called "continuous turn-based" by the developers, as well as a multiplayer mode, to the Fallout series. The plot of the game takes place in the American Midwest rather than the West Coast, as the previous Fallout titles did.
Featured article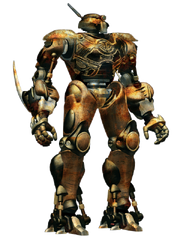 The C-27 Series
humanoid robots
, created by the
Acme
corporation before the
Great War
, are the main work force for the
Calculator
. As the name implies, they are bipedal, two armed robots, about the size of a large man. Due to budget cutbacks by the Department of Defense for
Vault 0
, several important backup systems were not included to the neuro-link systems. This made the Calculator corrupted and instead of releasing the robots to make the wasteland safe for humanity, the robots manufactured from Vault 0 used its arsenal and anywhere else that sufficient armament could be found, to exterminate all life, completing the so called "pacification protocol". Humanoid robots can use most normal human equipment, without any sort of RS-231.5 interface required by most robotics.
Helping out
All pages can be edited and you are welcome to
join us
and contribute to this wiki. Everyone is free to create a new page or edit an
existing one
. If you have any questions about the wiki or helping out, you can ask one of Nukapedia's
administrators
. If you are new to wikis, consider joining the
Vault Academy
. You may also want to read the
help
pages and
policies and guidelines
. A list of all help pages can be found in
Category:Help pages
. If you want to help but you're not sure where to start, try improving the various
stub
articles by expanding them. Another helpful activity would be to check the list of
wanted pages
for frequently linked-to articles that don't exist yet. You can find a list of useful templates on
Fallout Wiki:Templates
. If you want to experiment with editing a wiki, please do it in a
sandbox
, not in articles.
[

add

· more]Recent news
News
Legal war never changes. After Bethesda Softworks' motion for preliminary injunction against Interplay Entertainment was denied again, Bethesda now appeals the court ruling on that again as well. Here'…
Lugamo
•
Almost all released Fallout games are currently available at discounted prices as part of the current "Steam Summer Camp Sale" (June 30 - July 10). In particular, the prices are:
Good Old Games digital download platform has announced that all Interplay titles on sale there are now 50% off. The sale includes Fallout, Fallout 2 and Fallout Tactics, each of which can now be purchase…
See more >
Fallout Wiki in other languages
 ·
 ·
 ·
 ·
 ·
 ·
 ·
 ·
 ·
 ·
 ·
 ·
 ·
 ·
 ·
 ·
 ·
 ·
 ·
 ·
 ·
 ·
Fallout Wiki's sister wikis
 ·
 ·
 ·
 ·