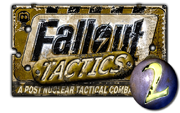 Fallout Tactics 2
was the planned sequel to
Fallout Tactics: Brotherhood of Steel
, developed by
Micro Forté
. Its pre-production started shortly before the release of
Fallout Tactics
and after the first game did not meet sales expectations, the sequel was canceled by
Interplay
around December 2001.
The game was intended to take place toward the Southeast of the USA, as far as Florida, and the major conflict was to be between man and nature. The Brotherhood of Steel was to be portrayed as even more fascist and oppressive, and as Brotherhood of Steel only in name.
The basic premise was that a
GECK
had been radiated, and so the "Garden of Eden" it created was full of mutant plants and fungi. It begins to spread fairly rapidly, preying upon animal life and using them as carriers/fertilizer to spread its fungal seed. The player basically gets tasked with discovering the source and a way to put an end to it.