Fallout Tactics portal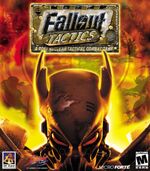 Welcome to Nukapedia's portal dedicated to Fallout Tactics!
Fallout Tactics: Brotherhood of Steel, developed by Micro Forté and published by Interplay in 2001, is the third title in the Fallout series, but is not a traditional RPG (so it wasn't entitled Fallout 3). Instead, Fallout Tactics focuses on squad-based combat and introduces near real-time combat, called "continuous turn-based" by the developers, as well as a multiplayer mode, to the Fallout series. The plot of the game takes place in the American Midwest rather than the West Coast, as the previous Fallout titles did.
Where to start
Everyone is welcome to join and contribute to the wiki. Creating an account is free and easy. At any time, reach out to one of Nukapedia's administrators with questions - we are happy to help!