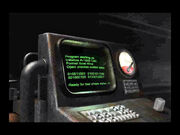 The
Calculator
is the computer which controls
Vault 0
. Unlike the
ZAX
computers, it is not a real artificial intelligence, but rather a cyborg, because it is connected with several human brains.
The neural network is meant to assist in Vault 0's primary function: to initiate mankind's post-war rebirth. When outside temperature, radiation levels, and poison particle counts returned to acceptable levels, Vault 0 was to remotely activate the Exodus protocol, which would initialize the integration of all vault dwellers onto the planet's surface. However, it was only a plan that never came true.
The Calculator became corrupted due to fatal errors in his CPU and his data storage systems - human brains. The cybernetic machine becomes a mad personality, whose goals, while formulated as they are originally intended, now turn to a rather homicidal side.