Fallout Wiki: Fallout Tactics portal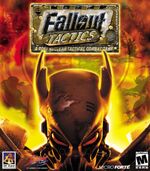 Welcome to Nukapedia's portal dedicated to Fallout Tactics!
Fallout Tactics: Brotherhood of Steel, developed by Micro Forté and published by Interplay in 2001, is the third title in the Fallout series, but is not a traditional RPG (so it wasn't entitled Fallout 3). Instead, Fallout Tactics focuses on squad-based combat and introduces near real-time combat, called "continuous turn-based" by the developers, as well as a multiplayer mode, to the Fallout series. The plot of the game takes place in the American Midwest rather than the West Coast, as the previous Fallout titles did.
Featured article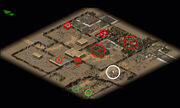 Brahmin Wood
is a resource-rich
tribal
village in the area of the
pre-War
city of
Chicago
,
Illinois
. In
2197
it is invaded by a group
raiders
led by
Horus
. Brahmin Wood's losses are heavy and they decide to accept the
Eastern Brotherhood
's conditions for protection. Eventually, a small squad of Brotherhood recruits returns their lands and rescues these primitive people in exchange for food and a portion of their older children for new recruits. The village Elder or Tribal Father is
Charon
, who is skeptical to the benevolence of the Brotherhood's intentions, but agrees to their terms after the village was rescued from the hands of raiders by the Brotherhood. The shaman of Brahmin Wood is called
Hawkeye
, who is only vaguely interested in the affairs of the village.
Helping out
Everyone is welcome to join and contribute to the wiki. Creating an account is free and easy. At any time, reach out to one of Nukapedia's administrators with questions - we are happy to help!
[add · more]Recent news
News
Legal war never changes. After Bethesda Softworks' motion for preliminary injunction against Interplay Entertainment was denied again, Bethesda now appeals the court ruling on that again as well. Here'…
Lugamo
•
Almost all released Fallout games are currently available at discounted prices as part of the current "Steam Summer Camp Sale" (June 30 - July 10). In particular, the prices are:
Good Old Games digital download platform has announced that all Interplay titles on sale there are now 50% off. The sale includes Fallout, Fallout 2 and Fallout Tactics, each of which can now be purchase…
See more >
Fallout world
The Fallout world is not quite our own. It is an alternate reality which diverged from ours at some point after the second World War.

The base concept for the setting is the World of Tomorrow as imagined in the Golden Age of Science Fiction. This means that before the Great War, the Fallout world was more or less what the people of the 1940s and 1950s thought things would be like in 2077.