Fallout Wiki: Fallout 3 portal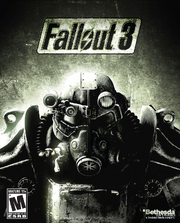 Welcome to Nukapedia's portal dedicated to Fallout 3!
Fallout 3 is a post-apocalyptic computer and console role-playing game that has been developed and published by Bethesda Softworks as a sequel to Interplay's Fallout and Fallout 2.
The game takes place in the year 2277 on the East Coast of what used to be the United States, mostly in Washington, D.C., Maryland and Virginia. The gameplay features include real-time combat and first or third person perspective, in contrast to the previous games, which were turn-based and isometric.
Featured article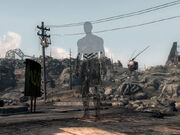 The
RobCo
Stealth Boy 3001
is a personal stealth device worn on one's wrist. It generates a modulating field that transmits the reflected light from one side of an object to the other, making a person much harder to notice (but not completely invisible). It was used by the
nightkin
elite
super mutant
units of the
Master
's army.
Helping out
All pages can be edited and you are welcome to
join us
and contribute to this wiki. Everyone is free to create a new page or edit an
existing one
. If you have any questions about the wiki or helping out, you can ask one of Nukapedia's
administrators
. If you are new to wikis, consider joining the
Vault Academy
. You may also want to read the
help
pages and
policies and guidelines
. A list of all help pages can be found in
Category:Help pages
. If you want to help but you're not sure where to start, try improving the various
stub
articles by expanding them. Another helpful activity would be to check the list of
wanted pages
for frequently linked-to articles that don't exist yet. You can find a list of useful templates on
Fallout Wiki:Templates
. If you want to experiment with editing a wiki, please do it in a
sandbox
, not in articles.
[

add

· more]Recent news
News
Agent c
•
Welcome to a Nukapedia News Blast - Keeping you up to date on the important stuff until the news digest on the weekend.
If you're not already buying stuff off steam, you should be starting now.
See more >
Featured picture
Fallout Wiki in other languages
 ·
 ·
 ·
 ·
 ·
 ·
 ·
 ·
 ·
 ·
 ·
 ·
 ·
 ·
 ·
 ·
 ·
 ·
 ·
 ·
 ·
 ·
Fallout Wiki's sister wikis
 ·
 ·
 ·
 ·