Fallout 3 portal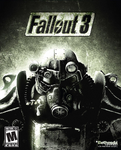 Welcome to Nukapedia's portal dedicated to Fallout 3!
Fallout 3 is a post-apocalyptic computer and console role-playing game that has been developed and published by Bethesda Softworks as a sequel to Interplay's Fallout and Fallout 2.
The game takes place in the year 2277 on the East Coast of what used to be the United States, mostly in Washington, D.C., Maryland and Virginia. The gameplay features include real-time combat and first or third person perspective, in contrast to the previous games, which were turn-based and isometric.
Where to start
Everyone is welcome to join and contribute to the wiki. Creating an account is free and easy. At any time, reach out to one of Nukapedia's administrators with questions - we are happy to help!