Featured article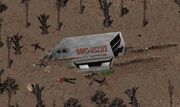 Special encounters
in
Fallout 2
are varied and eclectic. Most include no combat, and often they contain non-canon pop culture references or internal references to the
Fallout series
and
setting
.
One of the notable encounters is the Café of Broken Dreams, a small diner out in the middle of the wasteland containing all the possible player characters as well as a few characters from the original Fallout. In another encounter, a special companion, Pariah dog, joins the player's party and jinxes it as long as it is present.
Examples for pop-culture references are the
Guardian of Forever
, a
Star Trek
reference, or
King Arthur's Knights
, a reference to
Monty Python and the Holy Grail
.
Helping out
All pages can be edited and you are welcome to
join us
and contribute to this wiki. Everyone is free to create a new page or edit an
existing one
. If you have any questions about the wiki or helping out, you can ask one of Nukapedia's
administrators
. If you are new to wikis, consider joining the
Vault Academy
. You may also want to read the
help
pages and
policies and guidelines
. A list of all help pages can be found in
Category:Help pages
. If you want to help but you're not sure where to start, try improving the various
stub
articles by expanding them. Another helpful activity would be to check the list of
wanted pages
for frequently linked-to articles that don't exist yet. You can find a list of useful templates on
Fallout Wiki:Templates
. If you want to experiment with editing a wiki, please do it in a
sandbox
, not in articles.
[

add

· more]Recent news
News

Willooi
•

To add to the anticipation of next week's release of Lonesome Road, I am pleased to bring you the third and final part of an interview with Chris Avellone. This edition focuses entirely on Fallout, …

Ramallah
•
Chris Avellone sure is in a chatty mood as of late (We're in no shortage of Chris Avellone interviews lately) but if your like me and can't get enough of Obsidian's creative director and co-founder. …

Willooi
•
Following on from a previous interview with Chris Avellone, in part 2 we mainly discussed his thoughts on Alpha Protocol's development and critical reception, casting voice actors for written charact…
See more >
Fallout Wiki in other languages
 ·
 ·
 ·
 ·
 ·
 ·
 ·
 ·
 ·
 ·
 ·
 ·
 ·
 ·
 ·
 ·
 ·
 ·
 ·
 ·
 ·
 ·
Fallout Wiki's sister wikis
 ·
 ·
 ·
 ·