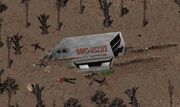 Special encounters
in
Fallout 2
are varied and eclectic. Most include no combat, and often they contain non-canon pop culture references or internal references to the
Fallout series
and
setting
.
One of the notable encounters is the Café of Broken Dreams, a small diner out in the middle of the wasteland containing all the possible player characters as well as a few characters from the original Fallout. In another encounter, a special companion, Pariah dog, joins the player's party and jinxes it as long as it is present.
Examples for pop-culture references are the
Guardian of Forever
, a
Star Trek
reference, or
King Arthur's Knights
, a reference to
Monty Python and the Holy Grail
.