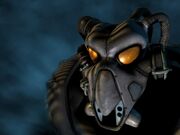 The
Advanced power armor
was created by the
Enclave
's skilled team of engineers and scientists after the
Great War
.
It is composed of lightweight metal alloys, reinforced with ceramic castings at key stress points. The motion-assist servo-motors used in the armor appear to be high quality models as well, giving the wearer a +4 strength bonus. It is issued primarily to Enclave troops operating on the United States of America mainland, with the Enclave insignia prominently displayed on the breastplate while rank indicators are usually painted on the shoulders of the armor.
Later, the superior
advanced power armor Mk II
is introduced, and by
2277
it has become the standard-issue Enclave Power Armor used by all of that organization military units.