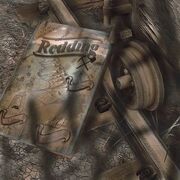 Redding
is a mining town located south of
Vault City
. There are two major mining companies in Redding, as well as a saloon, a
sheriff
and a
doctor
. The mayor of Redding,
Ascorti
, runs an establishment called "
Ascorti's Ace and City Hall
". Redding mines gold for shipment to
New Reno
and the
New California Republic
, and the miners are some of the largest consumers of Reno's drugs. The town is a collection of wooden buildings, and can be a wild and wooly place as miners are a rough, hardened bunch that can cause a lot of trouble. The police force is small, relying on the sheriff's charisma to maintain peace and order, while three powers of the wasteland seek to dominate Redding and bring it into their fold.