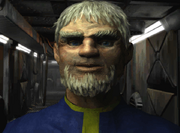 Overseer Jacoren
, his first name having been shown in
concept art
, is the leader of
Vault 13
around
2161
.
He was fully aware of the Vault Experiment program conducted by the Enclave, and has therefore tried to do everything to keep the Vault closed for 200 years, just as the program wanted it to be. As it is quite unlikely that he could have been more than 100 years old, the knowledge about the experiment was probably passed to him from the previous Overseer, most likely one of his parents.
When the vault's only functioning water chip got damaged and shut down, he sent one of the vault dwellers, who later became known as the Vault Dweller, into the wasteland to find a replacement chip. In the course of his adventure, the Vault Dweller ended up defeating the mutant threat, and was subsequently expelled from Vault 13, as the Overseer thought that he would ruin the Vault Experiment by convincing people to leave the Vault.
Despite the Vault Dweller's exile, many people chose to follow him into the Wasteland. Although the Overseer tried to stop them, he was eventually tried and sentenced to death for his crime.