Featured article

Centaurs
are misshapen, mutated creatures. They are a by-product of the
Forced Evolutionary Virus
, as they were created by tossing a varied mix of
humans
,
dogs
, cats,
brahmin
and other animals into an FEV vat and seeing what came out the other end. Centaurs were created by the
Master
and frequently travel in large packs with
floaters
and
mutants
. They encompassed a large portion of the Master's army.
Helping out
All pages can be edited and you are welcome to
join us
and contribute to this wiki. Everyone is free to create a new page or edit an
existing one
. If you have any questions about the wiki or helping out, you can ask one of Nukapedia's
administrators
. If you are new to wikis, consider joining the
Vault Academy
. You may also want to read the
help
pages and
policies and guidelines
. A list of all help pages can be found in
Category:Help pages
. If you want to help but you're not sure where to start, try improving the various
stub
articles by expanding them. Another helpful activity would be to check the list of
wanted pages
for frequently linked-to articles that don't exist yet. You can find a list of useful templates on
Fallout Wiki:Templates
. If you want to experiment with editing a wiki, please do it in a
sandbox
, not in articles.
[

add

· more]Recent news
News
No Mutants Allowed, a site that I have for a long time now considered the absolute best source of information for the original Fallout games, has started releasing a long long writeup on where it all…
There is a poll for best videogame sidekick going on at gamespot, if you feel inclined you should take the link and cast a vote for dogmeat. Because we all know dogmeat is the is the best companion i…
Here's another batch of various small Fallout-related news bits. What does Fallout have to do with Polish politics? And who is likely to get sued by Bethesda Softworks next?
A clip from the original Fallo…
See more >
Featured picture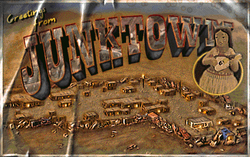 Postcard from Junktown.
Fallout Wiki in other languages
 ·
 ·
 ·
 ·
 ·
 ·
 ·
 ·
 ·
 ·
 ·
 ·
 ·
 ·
 ·
 ·
 ·
 ·
 ·
 ·
 ·
 ·
Fallout Wiki's sister wikis
 ·
 ·
 ·
 ·