Featured article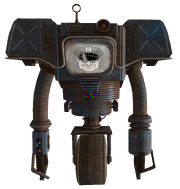 The
PDQ-88b Securitron
is a pre-War
robot
produced by
RobCo Industries
. It is a fairly large, monowheel robot with a titanium alloy housing, resistant to explosive shrapnel and small arms fire. Its form is vaguely humanoid, with two flexible arms and pincers for hands. On the front side is a screen displaying an image of a face, indicating the unit's purpose and alert status. Its left arm contains an
X-25 Gatling laser
for medium range engagements. Its right arm contains a
9mm SMG
for close-range suppression and crowd control. Its shoulders contain
M-235 missile launchers
for long range and surface-to-air engagements, and a
rapid-fire G-28 grenade launching system
for close range engagements. The robots also have onboard auto-repair systems.
Helping out
All pages can be edited and you are welcome to
join us
and contribute to this wiki. Everyone is free to create a new page or edit an
existing one
. If you have any questions about the wiki or helping out, you can ask one of Nukapedia's
administrators
. If you are new to wikis, consider joining the
Vault Academy
. You may also want to read the
help
pages and
policies and guidelines
. A list of all help pages can be found in
Category:Help pages
. If you want to help but you're not sure where to start, try improving the various
stub
articles by expanding them. Another helpful activity would be to check the list of
wanted pages
for frequently linked-to articles that don't exist yet. You can find a list of useful templates on
Fallout Wiki:Templates
. If you want to experiment with editing a wiki, please do it in a
sandbox
, not in articles.
[

add

· more]Recent news
News
Agent c
•
Welcome to a Nukapedia News Blast - Keeping you up to date on the important stuff until the news digest on the weekend.
If you're not already buying stuff off steam, you should be starting now.
See more >
Featured picture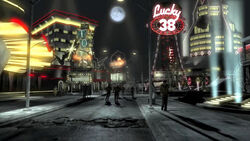 Fallout Wiki in other languages
 ·
 ·
 ·
 ·
 ·
 ·
 ·
 ·
 ·
 ·
 ·
 ·
 ·
 ·
 ·
 ·
 ·
 ·
 ·
 ·
 ·
 ·
Fallout Wiki's sister wikis
 ·
 ·
 ·
 ·