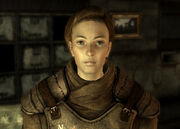 Colonel
Cassandra Moore
is the commanding officer for the
New California Republic
at
Hoover Dam
.
A career soldier who joined the army at the age of 16, Moore is a veritable legend among NCR troopers. She has survived four tours of duty against the Brotherhood in California and is widely considered to be one of the most competent military officers in the army.
Having been injured in combat she had to leave frontline duty as a
ranger
to assume command behind a desk, something that turned her mood a little bitter.