Fallout Wiki: Fallout: Brotherhood of Steel portal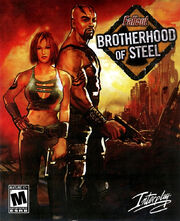 Welcome to Nukapedia's portal dedicated to Fallout: Brotherhood of Steel!
Fallout: Brotherhood of Steel (abbreviated as FO:BoS, FOBOS or simply BOS) is an action game developed and produced by Interplay Entertainment for the Xbox and PlayStation 2 game consoles. Released on January 13, 2004, BoS was the fourth video game to be set in the Fallout universe and the first to be made for video game consoles.
The game chronicles the adventures of an initiate of the Brotherhood of Steel. Because of numerous inconsistencies with previous Fallout games, Fallout: Brotherhood of Steel is not considered part of the official Fallout canon, however some of its content could be used as "flavor" material.
Featured article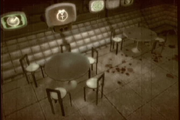 The
Secret Vault
is
Vault-Tec
's private
vault
, where its members intended to survive the apocalypse and later enter the world having all the useful technologies possible. It was located under the ghoul town of
Los
. The Vault serves as a major research and production facility and, among its many technological artifacts, housed a special version of
Forced Evolutionary Virus
. Some time after the war, the Secret Vault was torn apart by a local civil war between Vault-Tec scientists and
Blake
, the chief security officer, who believed the researches with FEV and radiation, conducted on living subjects, including humans, are "evil". Their battles led to a major explosion that devastated a large portion of the Vault and enabled some species of radroaches and Deathclaws, native to the Vault, escape into the wasteland, at the same time allowing radscorpions and rats invade the Vault.
CALIX
also suffered a malfunction, and lost control over majority of the security robots.
Helping out
All pages can be edited and you are welcome to
join us
and contribute to this wiki. Everyone is free to create a new page or edit an
existing one
. If you have any questions about the wiki or helping out, you can ask one of Nukapedia's
administrators
. If you are new to wikis, consider joining the
Vault Academy
. You may also want to read the
help
pages and
policies and guidelines
. A list of all help pages can be found in
Category:Help pages
. If you want to help but you're not sure where to start, try improving the various
stub
articles by expanding them. Another helpful activity would be to check the list of
wanted pages
for frequently linked-to articles that don't exist yet. You can find a list of useful templates on
Fallout Wiki:Templates
. If you want to experiment with editing a wiki, please do it in a
sandbox
, not in articles.
[

add

· more]Recent news
News
Hellforge posted an editorial about how the Fallout 3 main plot recycles much of the plots of all previous published Fallout games: Fallout, Fallout 2, Fallout Tactics and Fallout: Brotherhood of Steel:
The Br…
ProgrammingAce, the admin of the Game of the Art website that collects various game concept art and design docs, got hold of the design document for the canceled Fallout: Brotherhood of Steel 2 (also …
See more >
Fallout Wiki in other languages
 ·
 ·
 ·
 ·
 ·
 ·
 ·
 ·
 ·
 ·
 ·
 ·
 ·
 ·
 ·
 ·
 ·
 ·
 ·
 ·
 ·
 ·
Fallout Wiki's sister wikis
 ·
 ·
 ·
 ·