Fallout Wiki: Fallout: Brotherhood of Steel portal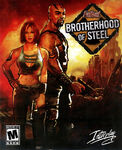 Welcome to Nukapedia's portal dedicated to Fallout: Brotherhood of Steel!
Fallout: Brotherhood of Steel (abbreviated as FO:BoS, FOBOS or simply BOS) is an action game developed and produced by Interplay Entertainment for the Xbox and PlayStation 2 game consoles. Released on January 13, 2004, BoS was the fourth video game to be set in the Fallout universe and the first to be made for video game consoles.
The game chronicles the adventures of an initiate of the Brotherhood of Steel. Because of numerous inconsistencies with previous Fallout games, Fallout: Brotherhood of Steel is not considered part of the official Fallout canon, however some of its content could be used as "flavor" material.
Helping out
Everyone is welcome to join and contribute to the wiki. Creating an account is free and easy. At any time, reach out to one of Nukapedia's administrators with questions - we are happy to help!
[add · more]Recent news
News
Hellforge posted an editorial about how the Fallout 3 main plot recycles much of the plots of all previous published Fallout games: Fallout, Fallout 2, Fallout Tactics and Fallout: Brotherhood of Steel:
The Br…
ProgrammingAce, the admin of the Game of the Art website that collects various game concept art and design docs, got hold of the design document for the canceled Fallout: Brotherhood of Steel 2 (also …
See more >
Fallout world
The Fallout world is not quite our own. It is an alternate reality which diverged from ours at some point after the second World War.

The base concept for the setting is the World of Tomorrow as imagined in the Golden Age of Science Fiction. This means that before the Great War, the Fallout world was more or less what the people of the 1940s and 1950s thought things would be like in 2077.