Helping out
Everyone is welcome to join and contribute to the wiki. Creating an account is free and easy. At any time, reach out to one of Nukapedia's administrators with questions - we are happy to help!
[add · more]Recent news
News
No Mutants Allowed, a site that I have for a long time now considered the absolute best source of information for the original Fallout games, has started releasing a long long writeup on where it all…
There is a poll for best videogame sidekick going on at gamespot, if you feel inclined you should take the link and cast a vote for dogmeat. Because we all know dogmeat is the is the best companion i…
Here's another batch of various small Fallout-related news bits. What does Fallout have to do with Polish politics? And who is likely to get sued by Bethesda Softworks next?
A clip from the original Fallo…
See more >
Fallout world
The Fallout world is not quite our own. It is an alternate reality which diverged from ours at some point after the second World War.

The base concept for the setting is the World of Tomorrow as imagined in the Golden Age of Science Fiction. This means that before the Great War, the Fallout world was more or less what the people of the 1940s and 1950s thought things would be like in 2077.
Featured picture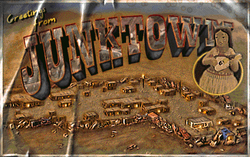 Postcard from Junktown.