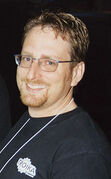 Leonard Boyarsky
is one of the original masterminds behind the
Fallout world
and the first game in the
series
.
After receiving a Bachelor of Fine Arts degree from the Art Center College of Design, he as a freelance artist in 1992. Some time later he was hired as a cleanup artist at Interplay, where later he became the lead artist on Stonekeep. Then he became the lead artist/art director on the GURPS project that later became Fallout. Aside from guiding the art on the project, together with Jason Anderson, Tim Cain, Scott Campbell and Chris Taylor he oversaw the direction and feel of the game.
He left Interplay after helping to complete the initial design for
Fallout 2
and, together with Cain and Anderson, was a founder of
Troika Games
.