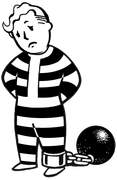 Tibbets
is a cold, sterile, steel-walled automated prison facility in what used to be known as
Arizona
, run by technology so ancient it dates back to the years before the
Great War
- nearly two hundred years before Van Buren's events. It is a facility designed to hold and protect some of the world's most dangerous criminals (military and otherwise) before the war. It is governed by the split-personality machine intelligence within the prison,
ODYSSEUS
(ULYSSES). It was used as primitive isolation studies before the
vaults
were established, except the subjects were prisoners, especially CODE'd to see if they could withstand the rigors of isolation for protracted periods of time. This was the time when the recycling systems and water purification systems were tested before using them in the Safehouse Project - any prisoners harmed during the procedure were tended to - not dystopian style.