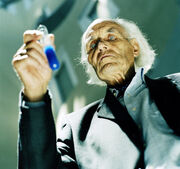 Victor Presper
has a simple dream: to preserve the master race,
humans
.
The good doctor was born and raised in the area known as
Shady Sands
. He spent many of his years as a scientific advisor to
President Tandi
before his disillusionment settled in, fueled by the
Caravan
houses that ate away at the NCR. When his breaking point finally came, Presper became determined to find a way to rid the world of chaos and human impurities and discovered his savior in
Limit 115
. Through extensive research, Presper discovered the history of Limit 115 and its genocidal potency, thereby discovering a viable means to cleanse the world. Using
ODYSSEUS
, the quarantine prison, and a ballistic satellite known as
B.O.M.B.-001
, the way to human planetary domination and order became clear. He would get to B.O.M.B.-001 and use the nuclear weapons to clean the filth and wretch that currently occupied the surface.