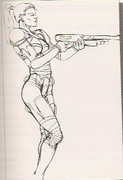 Scarlet
was going to be one of the four playable characters in the canceled
Fallout: Brotherhood of Steel 2
.
Scarlet is described as an "albino hotty." She has pale, almost white skin, with thick white hair. She is five foot seven and has a body to die for. She dresses in red leather.
Because Scarlet was born an albino, her fellow citizens immediately left her out to die in the desert. An old mutant named
Harold
found her, and took her in. She traveled with him all over
California
, listening to his tales of adventure with the
Vault Dweller
. Finally, when she was old enough, she joined the
Brotherhood of Steel
, thinking that she would one day return to her birthplace and raze it to the ground. Her initial tests showed a certain... moral ambiguity that led her into the Brotherhood's special ops division. There she learned the art of snipers and stealth, and she became one of the best black ops the Brotherhood had ever seen.
[12]