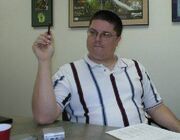 Christopher "Chris" Taylor
, also known as
ChrisT
, was the lead designer of
Fallout
and a producer of
Fallout Tactics
. He was also the lead systems designer of both versions of
Project V13
. With
Timothy Cain
, he created the famous
SPECIAL
character system and much of the
Fallout
world.
After Fallout, he stayed at Interplay for a while, serving as producer on Fallout Tactics as well as designer of Star Trek; Starfleet Command, until he left to join Vivendi Universal Games, where he worked as a producer of Lord of the Rings Online.
In 2008, he rejoined Interplay to work with
Jason Anderson
on
Project V13
, as the Lead Systems Designer.