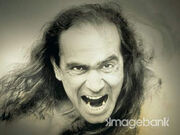 Banshee
is the leader of the savage and cannibalistic
Jackals
in
2253
.
Banshee is strong, perceptive, tough and looks more sinewy than bulky. He's going bald, but he doesn't know why; maybe he ate something bad. He's taken it out on his wife and kids. He killed his previous wife for accidentally burning his hair.[1]
One month prior to the arrival of the Prisoner, guerilla warfare drove Larsen's men into the mountains, slowly starving one of his men snapped and had to be killed. Larsen offered the body to Banshee and an uneasy alliance formed between the Jackals and the Baggers.[2]
Banshee and remnants of the Jackals eventually flee into the
Texas wasteland
,
[3]
where they encountered
Miles Reese
who gave them the means to steal technology from the
Brotherhood of Steel
, meanwhile Miles, unbeknownst to Banshee, had infected the Jackals including Banshee with biological mini-bombs from a mutated
G.E.C.K.
[4]
The Jackals, now heavily armed with Brotherhood technology, start ambushing Brotherhood patrols and proceed with plans of enslaving locals
[5]
and storming
Fort Worth
.
[6]