Canceled Fallout Games
Here you can find all known information on canceled Fallout projects.
Canceled games collection
Although canceled before they could be realized, these games are not forgotten. Ideas from canceled games occasionally appear in later games.
Van Buren


Black Isle and Interplay's original Fallout 3. Although the game engine was 95% complete, the development of this project ended when the studio was disbanded. Elements would later return in later games.

Fallout Online ("Project V13")


Following the sale of the Fallout franchise to Bethesda, Interplay retained a limited right to develop an online Fallout game. This ended up resulting in a lawsuit between the two companies, and the game was unrealized.

Fallout Tactics 2
Continuing from Fallout Tactics: Brotherhood of Steel, this would see the Midwestern Brotherhood of Steel head southeast towards Florida to deal with a GECK causing mutations. This game was canceled in pre-development due to poor sales of the previous title.

Fallout Extreme


Another sequel for Fallout Tactics but developed for consoles. This game would have seen "The Cause" head northwest, through Canada and on to Alaska to do battle with the Brotherhood of Steel; following this victory they would then head on to China to destroy a Doom's Day Missile.

Fallout: Brotherhood of Steel 2

Following on from Fallout: Brotherhood of Steel, and resuing some elements from Van Buren, this would see one again deal with an out-of-control GECK, this time deep in the heart of Texas.

Fallout Pen and Paper d20

Licensed by Glutton Creeper Games by Interplay, this project would have brought Fallout to the tabletop through the D20 gaming system made popular by Dungeons and Dragons. Although Bethesda brought legal action against the project, it was eventually released as Exodus, with the Fallout elements removed.

Fallout (PlayStation)


A proposed top down shooter proposed for Sony's original PlayStation console, although a prototype existed it was canceled after 3-4 months of development
Featured article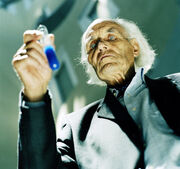 Victor Presper
has a simple dream: to preserve the master race,
humans
.
The good doctor was born and raised in the area known as
Shady Sands
. He spent many of his years as a scientific advisor to
President Tandi
before his disillusionment settled in, fueled by the Caravan houses that ate away at the NCR. When his breaking point finally came, Presper became determined to find a way to rid the world of chaos and human impurities and discovered his savior in
Limit 115
. Through extensive research, Presper discovered the history of Limit 115 and its genocidal potency, thereby discovering a viable means to cleanse the world. Using
ODYSSEUS
, the quarantine prison, and a ballistic satellite known as
B.O.M.B.-001
, the way to human planetary domination and order became clear. He would get to B.O.M.B.-001 and use nuclear weapons to clean the filth and wretch that currently occupied the surface.
Article Index
Van Buren

Project V13

Fallout Tactics 2

Fallout: Brotherhood of Steel 2

Fallout Extreme

Fallout (PlayStation)
Companies

Designers

Management (Interplay)

Companies (Fallout Online)

Crazy Ivan's New and Used Guns
DayGlow (company)
Duper Company]]
Med-Tek Laboratories
RobCo Industries

Factions (Fallout Online)

Locations (Fallout Online)

Races (Fallout Online)

Music (Fallout Online)

Creatures (Fallout Online)

Items (Fallout Online)

Armor and clothing
Consumables
[add · more]Recent news
News

Hi Folks,
We interrupt your regularly scheduled apocalypse to bring you some breaking news.
1

Project V13, status update

2

Buyer Beware

2.1

The Team

2.2

The reward Tiers

2.3

They're making a prototype?

2.4

Follow…
FALLOUT® MMO RIGHTS RESTORED TO BETHESDA SOFTWORKS® IN INTERPLAY LITIGATION
All Fallout® Intellectual Property Rights Belong Exclusively to Bethesda
January 9, 2012 (Rockville, MD) –ZeniMax® Media Inc.…
I've received a partial transcript from the 12th of December hearing in the Bethesda v Interplay Case. As you may expect it includes legal antics from both sides, as well as a few tidbits from [Fall…
See more >