Fallout Interactive Experience
Play Sound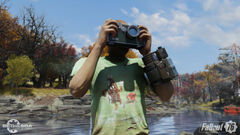 Photomode is a game mode in Fallout 76 which allows players to capture images of the game without the user interface. It can be accessed by opening the map screen and pressing the relevant hotkey (default 'T' on PC). Captured photos can be viewed in-game via the Photo Gallery (accessed through the Menu).
Settings
While Photomode is active, the camera can be moved relatively freely around the player character's in-game position and the following settings can be altered as desired:
Frames
Lighting
Brightness
Saturation
Contrast
Filters
Camera settings
Field of view
View roll
Depth of field
Player
Show player
Expression
Pose category
Poses, frames and filters
Players start with a range of default available poses, frames, and filters. Additional ones can be unlocked via certain quests or purchased in the Atomic Shop.
Around Appalachia
Around Appalachia is a Bethesda news series that features photomode images taken by players that have been posted on social media, the official forums, or Reddit. Each edition of Around Appalachia is usually centered around a theme which was announced in the previous edition.[1]
See also
References