| | |
| --- | --- |
| | The following is based on Project V13 promotional material and is not canon. |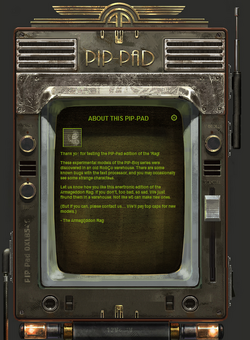 The RobCo PIP-Pad (PIP stands for Personal Information Processor) is an experimental tablet-sized electronic device manufactured by RobCo Industries as an offshoot of the Pip-Boy series, mainly for reading text and running high-resolution graphics.
A cache of these devices was discovered after the Great War in an old RobCo warehouse. There are some known bugs with the text processor, and users may occasionally see some strange characters.
The Armageddon Rag magazine started issuing electronic versions readable by the PIP-Pads with its 3rd issue.
Appearances
PIP-Pad is the interface of the Armageddon Rag Project V13 newspaper, and it is likely that it would have appeared in the game itself.