| | |
| --- | --- |
| | This page is about the location. For the quest with the same name, see Oasis (quest). |
Oasis is a unique settlement in the northern Capital Wasteland in 2277, to the northwest of clifftop shacks.
Background
Oasis is built upon an extensive network of caves that provided shelter to inhabitants of a nearby mining town during the Great War.[1] Oasis is filled with lush vegetation and trees.[2][3]
A traveler named Harold, suffering from a mutation resulting in a tree growing from his body, was overwhelmed by the growth in this location, laid down roots, and remained here for the last 20-30 years.[4] Harold's mutation manifests in seed pods that spread outward through the Oasis area, resulting in new trees, grass, and plants.[5][6]
Birch discovered Harold and the lush vegetation surrounding him, deciding to keep the region safe from those who would seek to exploit it.[7] He established the Treeminders as an effort to both revere and protect Harold, who he refers to as the "Great One."[8] Birch, the Tree Father Laurel, the Leaf Mother, lead the group.[9]
The Treeminders shun technology in favor of nature, blaming technological progress for all human misery.[10] Most outsiders are turned away, and those who attempt to gain entry by force are killed.[11] Despite their disdain for technology, they accept that manufactured weapons are needed to protect themselves from wasteland threats.[12] The Lone Wanderer is the first one in years to visit Oasis.[13]
Layout
The Oasis is located inside a large rock formation in the north of the wasteland. The gate to enter it is accessed via a narrow passage in its western face.
The Grove
The Grove is a small part of Oasis that is surrounded on all sides by trees and cliffs. This area can only be accessed after the Lone Wanderer has taken part in the ritual. It is entered via a wooden gate that comes from the pavilion after it has been unlocked. In the middle, the talking tree, uniting Harold and Herbert/Bob, can be found. To the southeast, a small radioactive pond can be found. If the Lone Wanderer dives in the pond, an Easy locked hidden underwater door can be seen, which leads to the damp cave.
The Caves
The damp cave is a cave that connects the Grove with the sunken chambers. It is accessed via an Easy locked underwater door from a pond in the grove. Inside there is a small contaminated lake (5 rads/sec) with a few level-dependent mirelurks. There are several junk items floating on the water of the small lake and on the bottom of the small lake. Several skeletons can be found underwater.
Inhabitants
Notable loot
Damp cave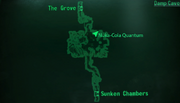 Oasis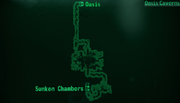 Sunken chambers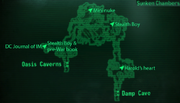 Related quests
Notes
Appearances
Oasis appears only in Fallout 3.
Behind the scenes
An inaccessible door labeled "OasisDoorFromWastelandToHarold" is present in the game files.
Bugs
Playstation 3

It is possible that certain dialogue options will disappear after completing the main Oasis quest, making it impossible to obtain your reward. There is no known reason for this, but it may have something to do with certain dialogue choices made prior to completion of the quest. [verified]
Gallery
References