"
Welcome to a place like no other, where refreshments and wonder collide to create an unforgettable vacation experience. With six unique sets of attractions to explore, Nuka-World has fizzy fun for the whole family.
"
— Promotional quote
Nuka-World is a pre-War amusement park turned raider town in 2287. It is located in Massachusetts, west of Boston.[1]
Background
After Nuka-Cola's success on the national market, the soda-themed amusement park, Nuka-World, opened its gates for the first time on May 1, 2050.[2][3] On opening day, over 40,000 tickets were sold. Due to the overwhelming success, plans to expand beyond the original two parks, Nuka-Town USA and Kiddie Kingdom, were set in motion immediately.[4] The additions included Dry Rock Gulch in 2058, followed by Safari Adventure in 2067.[4] The result was ticket sales nearly doubling overnight.[4]
Demand for space, housing, and parking resulted in the construction of an employee community in 2060, dubbed Bradberton, Massachusetts, for park staff members to live, reducing commute times and traffic congestion.[1] The last park area, Galactic Zone, opened to the public in 2072, was the last expansion to the park before the war.[5]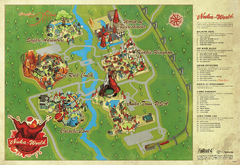 Despite the increase in demand on the facilities and employees due to the resulting influx in park attendees, John-Caleb Bradberton's agreement with General Braxton in 2076 decreased manpower and budget allocated to the facility, due to resources diverting to Project Cobalt. In exchange for his Beverageer Division scientists aiding the military's chemical weapons program, he would be provided with access to the military LEAP-X (Life Extension And Prolongation) Program.[6] He pooled his immense fortune and embezzled funds from Nuka-World's budget to cover the expense of the LEAP-X project, including the salaries of the researchers he hired to ensure the prototype device construction reaches fruition.
In October of that year, the head of the chemical weapons program reported that his team created an isotope of strontium-90 that could be reliably weaponized, as a coating for power armor, a custom munition for the prototypical M42 Fat Man, or even an area effect weapon that could be safely deployed from something as simple as a Thirst Zapper. It could also be used "somewhat safely" in a new kind of Nuka-Cola. Bradberton ordered it to be put into production, as the Nuka-Cola Quantum, named after the isotope designation in the Beverageer's system.[7]
Through this deal with the military and cooperation with RobCo Industries at the Battlezone, Nuka-World additionally began to use military-grade robotics at the Galactic Zone, ranging from protectrons, sentry bots and assaultrons. Every robot was controlled by a cutting-edge STAR mainframe, which would allow Bradberton to control the machines, defending the park if necessary.[8] To bolster his personal security, a private sanctuary was built beneath Nuka-Town USA by Vault-Tec.[8] As a result of the decreasing support for staff and lack of critical upgrades, adding this caliber of robotics made the employees even more nervous.[9][10] Employees who spoke up about their concerns were fired, putting even more strain on those that remained.[11] Their concerns were confirmed shortly thereafter when employee Tim Wittingstone was accidentally shot to death by the robotic performers.[12]
Undeterred by the incidents or complaints, Bradberton forged ahead, ordering Quantum to be fast-tracked through the approval process, presented as the culmination of a three-year research program. During quality control testing, at least 62 test subjects died as a result of organ failure, with many more hospitalized with radiation burns before a safe isotope was created.[13] Having held up his end of the bargain, the general did the same, moving forward into the last step of the LEAP-X process to sustain his life indefinitely. The original intention of LEAP-X was to create a living bio-suit to preserve his body, but Bradberton was nonplussed to learn the power and component requirements render this plan impossible, and that only fifteen pounds of organic matter could be accommodated. If he wanted to move forward and prolong his life, only his head could be preserved. In January 2077, he confirmed his wishes to the team.[14]
Over the following months, Bradberton sorted his affairs, only sharing his plans with his executive assistant, Peyton Huxley, who he had entrusted to act on his behalf should something go awry. On April 2, 2077, Bradberton underwent the surgical procedure, his head successfully removed and transferred into the LEAP-X system.[15] He had instructed his assistant to bring him daily updates should he live, as Peyton was the only one outside the LEAP-X team who knew about the procedure at all.[15] The Great War occurred six months later, resulting in Bradberton having successfully survived both the surgery and nuclear onslaught, remaining unscathed in his vault underneath the amusement park.
Post-War, Nuka-World became the site of a small trading settlement inhabited by peaceful settlers and traders. However, the park's resources and defensive layout made it a desirable target for the raider gangs in the area. Inspired by Porter Gage, a raider named Colter united the Operators, Disciples and the Pack and seized control of the park. Overboss Colter and his subordinates turned the park into their fortress, enslaving the original inhabitants and using it as a staging point for small-scale raiding operations.
Locations
Notes
In Fallout 76, Nuka-World is mentioned by Bubbles at the Whitespring Resort, and promotional apparel and junk items featuring Nuka-World are found in Appalachia.[16]
Appearances
Nuka-World appears only in the Fallout 4 add-on Nuka-World and is mentioned only in Fallout 76.
Behind the scenes
Nuka-World takes strong influences from real-world Disneyland, Hersheypark, and Walt Disney World. Specific similarities include:
Gallery
References
Parentheses () denote sub-locations, bold denotes main locations, italics denotes unmarked locations.