Fallout Interactive Experience
Play Sound
| | |
| --- | --- |
| | For a cross-game overview, see Mole rat. |
Mole rats are creatures found in Appalachia.
Background
Mole rats are mutated Heterocephalus glaber,[1] or naked mole-rats, that are much larger than their pre-war counterparts. They have survived as a species by burrowing underground where the soil protected them from direct nuclear explosions. However, they still were greatly mutated by the subsequent fallout, increasing their size as well as their viciousness. A few people in the wastes have even been known to train and keep them as pets.
Characteristics
Biology
Mole rats grow to the size of a large dog. They have a naked, pink appearance, with large front teeth and small eyes. They are highly territorial and will attack anything entering their territory. They are surprisingly fast and will attack with a jumping lunge. They are susceptible to the Scorched Plague.[2] The female brood mothers are larger individuals.
Gameplay attributes
Mole rats will tunnel underground to avoid their enemy or close in to attack unseen. They will also retreat to a tunnel if the player character moves to an area that is inaccessible to them, such as on top of a car. This makes them highly difficult to keep track of in groups. This ability is shared with radscorpions and the Mothman. If the player character uses a weapon dealing damage over time on a mole rat just as they burrow they can die underground and the corpse will be irretrievable.
Mole rats are common pests in the wasteland, but compared to many other enemies mole rats are generally weak. If allowed to swarm, they may become a problem since they have the ability to easily hide from the player character's sight and attack from behind.
Variants
Mole rat
Name (Form ID)
Abilities
Items
Mole rat


0001D966


EncMolerat01Template
Rabid mole rat
Bites from rabid mole rats fester, causing damage over time.
Name (Form ID)
Abilities
Items
Rabid mole rat


001832F6

Mutated mole rat


003F473F

Raging mole rat


003F4740

Putrid mole rat


003F4741

Frenzied mole rat


003F4742

Mole rat tunneler


003F4743

Poisonous mole rat


003F4744

Deadly mole rat


003F4745
Glowing mole rat
These particular mole rats have absorbed massive amounts of radiation and consequently glow. The glowing mole rat produces radiation in a short perimeter around and benefits from radiation sources in the form of health regeneration.
Name (Form ID)
Abilities
Items
Glowing mole rat


001832F7


EncMolerat04_Glowing
Scorched mole rat
A mole rat which has been infested with the Scorched Plague, linking it to a primitive hive mind.
Name (Form ID)
Abilities
Items
Scorched mole rat


003AFE01


LvlMoleratScorched
Mole rat brood mother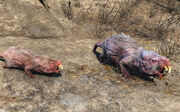 Name (Form ID)
Abilities
Items
Mole rat brood mother


001832F8


EncMolerat03
Prime mole rat


00553715
Mole rat landminer
A mole rat wearing a leather vest strapped with armed frag mines. It will charge its target and the mines will detonate due to their proximity triggers, killing the mole rat in the process.
Name (Form ID)
Abilities
Items
Rabid mole rat


00519671


EncMolerat_Bomb
Mole rat landminer


000FA89F


LvlMoleratBomb
Locations
Named mole rats
Appearances
Mole rats appear in Fallout 76.
Behind the scenes
The mole rat model was created by Jonah Lobe.[3]
Bugs
[verified]
Mole rats may "erupt" from seemingly impossible places (like the landing on a watch tower's stairs) when engaged in combat.
[verified]
Glowing mole rats may sometimes spawn with the texture of a Scorched mole rat.
Gallery
References