Fallout Interactive Experience
Play Sound
Mole rats are creatures found in the Commonwealth, on the Island and in Nuka-World in 2287.
Background
Mole rats are mutated rodents that are much larger than their pre-War counterparts, the naked molerat. They have survived as a species by burrowing underground where the soil protected them from direct nuclear explosions. However, they still were greatly mutated by the subsequent fallout, increasing their size as well as their viciousness. A few people in the wastes have even been known to train them and keep them as pets.
Characteristics
Biology
Mole rats range in size depending on the type being fought. They range in size from a house cat up to a large dog and possibly bigger. They have a bald, pink appearance, with large front teeth and small eyes. They are highly territorial and will attack anything entering their territory. They move quickly and will attack with a jumping lunge.
Gameplay attributes
Mole rats in the Commonwealth possess a unique ability which is not found in specimens from the Capital and Mojave wastelands. They will tunnel to avoid their enemy or close in to attack unseen, they will also retreat to a tunnel if the player character moves to an area inaccessible to them, such as on top of a car. This makes them difficult to keep track of in groups. However, a faint outline of their tunnel can be seen as they move. This ability is shared with radscorpions. If the Sole Survivor uses a weapon dealing damage over time on a radscorpion or mole rat just as they burrow, they can die underground and the corpse will be irretrievable.
Mole rats are common pests in the wasteland, as they can be encountered as soon as the Red Rocket truck stop and as far as the Glowing Sea. Compared to many other enemies mole rats are generally weak. However, if allowed to swarm, they may become a problem since they have the ability to easily hide from the player character's sight and attack from behind.
Mole rats can be pacified through the Animal Friend perk.
Variants
Mole rat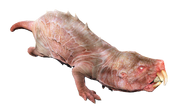 The standard variation of the mole rat. With a mere 15 Hit Points, this enemy can be killed with a single hit from most weapons, making them more of a nuisance than a threat. The player character will most likely encounter these first at the Red Rocket truck stop, and they can be seen in various other parts of the Commonwealth.
Name (Form ID)
Statistics
Behavior
Abilities
Items
Mole rat


0001D966
"Suicide" mole rat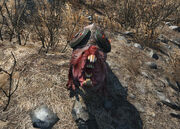 As part of a random encounter, it is possible to encounter mole rats with fragmentation mines strapped to their backs. These will detonate on impact, dealing damage to anything at proximity. They will however always be found at USAF Satellite Station Olivia. They can also rarely be captured using cages.
Name (Form ID)
Statistics
Behavior
Abilities
Items
Mole rat


000FA89F

Melee (5 )

Explosive (40 )
Rabid mole rat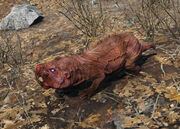 Bites from rabid mole rats fester, causing damage over time. They are tougher than standard mole rats, but remain weak opponents.
Name (Form ID)
Statistics
Behavior
Abilities
Items
Rabid mole rat


001832F6
Glowing mole rat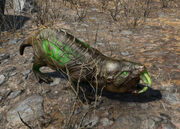 These particular mole rats have absorbed massive amounts of radiation and consequently glow. The glowing mole rat produces radiation in a short perimeter around and benefits from radiation sources in the form of health regeneration.
Name (Form ID)
Statistics
Behavior
Abilities
Items
Glowing mole rat


001832F7

Melee (20 )

Rad Field (3 )
Mole rat brood mother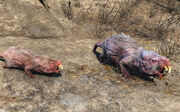 The most powerful type of mole rat that can be encountered in the game. The mole rat brood mother is significantly more resilient than her children, but her attacks still only do minor damage to a well-armored player character. Two can be found in the secret part of Vault 81 during Hole in the Wall; this variant will give the mole rat disease if it hits the player character.
Name (Form ID)
Statistics
Behavior
Abilities
Items
Mole rat brood mother


001832F8
Mole rat queen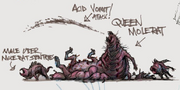 The mole rat queen is a cut variation of the mole rat which has an acidic spit attack, similar to the mirelurk queen.
Vault 81 lab mole rat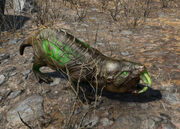 Found within the Vault 81 testing area during Hole in the Wall, the Vault 81 lab mole rats will transmit the mole rat disease when hitting the player character, which reduces max HP by 10 points until the Vault 81 cure is used on the player character. There are several variations of Vault 81 mole rats, ranging from the standard variant to glowing variants.
Name (Form ID)
Statistics
Behavior
Abilities
Items
Vault 81 lab mole rat


000DB0A5




000DB0A5
Pack mole rat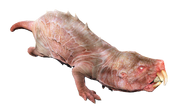 Found in the Bradberton Amphitheater, wrangled by The Pack.
Name (Form ID)
Statistics
Behavior
Abilities
Items
Pack mole rat


xx

056069
Notes
In the unused test cell RJAnglerTest, introduced in the Far Harbor add-on, a mole rat riding a motorcycle wearing a sea captain's hat can be found.
Appearances
Mole rats appear in Fallout 4 and its add-ons Far Harbor and Nuka-World.
Behind the scenes
The mole rat model was created by Jonah Lobe.[1]
Bugs
PC

If the second perk of Sniper, is obtained, and a mole rat is about to enter their tunnels, there is a chance that they will stutter, and teleport constantly between the entrance and the endpoint of the tunnel. [verified]
Gallery
References
West Coast
(Fallout, Fallout 2, Fallout: New Vegas)
Alien

 ·

Bighorner (Bighorner bull, Bighorner calf)

 ·

Bird

 ·

Bloatfly (Legendary bloatfly)

 ·

Brahmin

 ·

Cazador (Young cazador, Legendary cazador)

 ·

Centaur (Evolved centaur)

 ·

Coyote (Coyote alpha male, Coyote den mother, Coyote pup)

 ·

Deathclaw (Baby deathclaw, Young deathclaw, Blind deathclaw, Deathclaw alpha, Mother deathclaw, Intelligent deathclaw, Legendary deathclaw)

 ·

Dog (Cyberdog, Legion Mongrel, Vicious dog)

 ·

Fire ant (Fire ant worker, Fire ant soldier, Ant queen)

 ·

Floater

 ·

Fly

 ·

Gecko (Hunter gecko, Fire gecko, Golden gecko, Little gecko)

 ·

Ghost people (Ghost harvester, Ghost seeker, Ghost trapper)

 ·

Ghoul (Feral ghoul roamer, Feral ghoul reaver, Glowing one, Feral trooper ghoul)

 ·

Giant ant (Giant worker ant, Giant soldier ant, Giant ant queen)

 ·

Giant catfish

 ·

Giant rat (Mole rat, Pig rat)

 ·

Human (Dwarf

 ·

Lobotomite)

 ·

Lakelurk

 ·

Mantis (Giant mantis, Giant mantis nymph, Giant mantis female)

 ·

Marked man

 ·

Night stalker (Young night stalker, Den mother, Legendary night stalker)

 ·

Radroach

 ·

Radscorpion (Bark scorpion, Bark scorpion hunter, Small radscorpion, Giant radscorpion, Radscorpion queen)

 ·

Raven

 ·

Slags

 ·

Spore carrier (Spore carrier savage, Spore carrier brute, Spore carrier runt)

 ·

Spore plant

 ·

Super mutant (Mariposa) (Super mutant master, Nightkin)

 ·

Wanamingo

 ·

Tunneler (Tunneler queen)

 ·

Wolf

 ·

Yao guai
East Coast
(Fallout 3, Fallout 4, Fallout 76, Fallout Tactics 2)
Abomination

 ·

Alien

 ·

Alien squid

 ·

Alien worm

 ·

Angler

 ·

Beaver

 ·

Bee swarm

 ·

Bird

 ·

Bloatfly

 ·

Bloodbug

 ·

Bloodworm

 ·

Brahmin

 ·

Brahmiluff

 ·

House cat

 ·

Cave cricket

 ·

Centaur

 ·

Chicken

 ·

Crow

 ·

Deathclaw

 ·

Dog (Mongrel)

 ·

Fire ant

 ·

Firefly

 ·

Flatwoods monster

 ·

Fly

 ·

Fog crawler

 ·

Fox

 ·

Frog

 ·

Gatorclaw

 ·

Gazelle

 ·

Ghoul (Feral ghoul, Feral ghoul reaver, Feral ghoul roamer, Glowing one, Swamp ghoul)

 ·

Appalachian Floater

 ·

Ghoulrilla

 ·

Giant ant (Giant ant queen)

 ·

Giant catfish

 ·

Gorilla

 ·

Grafton monster

 ·

Gulper

 ·

Hermit crab

 ·

Honey beast

 ·

Human

 ·

Lamprey floater

 ·

Manowar tendril floater

 ·

Mega sloth

 ·

Mirelurk (Mirelurk hunter, Mirelurk king, Nukalurk, Swamplurk, Swamplurk queen)

 ·

Mole rat

 ·

Mole miner

 ·

Mothman

 ·

Mutant crocodile

 ·

Mutant hound

 ·

Mutant wanamingo

 ·

Needle tooth floater

 ·

Opossum

 ·

Rad chicken

 ·

Radgull

 ·

Rad rabbit

 ·

Rad-rat

 ·

Radtoad

 ·

Radroach

 ·

Radscorpion (Albino radscorpion, Giant radscorpion)

 ·

Radstag

 ·

Scorched

 ·

Scorchbeast

 ·

Sea creature

 ·

Snallygaster

 ·

Squirrel

 ·

Stingwing

 ·

Tick

 ·

Super mutant (Vault 87) (Super mutant behemoth, Super mutant brute, Super mutant master, Super mutant overlord)

 ·

Super mutant (Institute)

 ·

Super mutant (Huntersville)

 ·

Swampfolk

 ·

Trog

 ·

Wendigo

 ·

Wolf

 ·

Yao guai
Midwest
(Fallout Tactics, Van Buren)
Badger

 ·

Boom bug

 ·

House cat

 ·

Brahmin

 ·

Dog

 ·

Electro-beetle

 ·

Endless walker

 ·

Gehenna

 ·

Ghoul (Born ghoul, Feral ghoul, Glowing one)

 ·

Giant albino ant (Giant albino ant queen)

 ·

Giant leech

 ·

Giant rat

 ·

Giant wasp

 ·

Hairy deathclaw (Baby hairy deathclaw)

 ·

Human

 ·

Komodo dragon

 ·

Molech

 ·

Mountain lion

 ·

Mutant cannibal

 ·

Raccoon

 ·

Radroach

 ·

Radscorpion

 ·

Radtoad

 ·

Trog

 ·

Super mutant (Mariposa)

 ·

Wolf
Texas
(Fallout: BoS, Fallout: BoS 2)
Brahmin

 ·

Coyote

 ·

Dog

 ·

Experimental deathclaw (Baby experimental deathclaw)

 ·

Ghoul (Glowing one)

 ·

Giant rat (Mole rat)

 ·

Human

 ·

Radbug

 ·

Radscorpion (glowing radscorpion, spitting radscorpion, large giant radscorpion)

 ·

Small rat

 ·

Giant rat

 ·

Super mutant (Mariposa)
Project V13
Ghoul

 ·

Human

 ·

Mutant mantis shrimp

 ·

Super mutant (Project V13)
Fallout Shelter
Bat

 ·

Deathclaw

 ·

Feral ghoul

 ·

Ghoul

 ·

Human

 ·

Mole rat

 ·

Cat

 ·

Dog

 ·

Parrot

 ·

Radroach

 ·

Radscorpion

 ·

Super mutant