Fallout Interactive Experience
Play Sound
| | |
| --- | --- |
| | For a cross-game overview, see mirelurk. |
Mirelurk queens are creatures found in Appalachia.
Characteristics
Gameplay attributes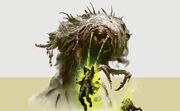 The mirelurk queen is the largest enemy one can encounter in-game besides the scorchbeast queen and behemoth. She will attack with powerful melee strikes, and a very effective poison spit attack, which can blanket an entire area in a matter of seconds. This creates an area of effect pool, which ramps up damage the longer the target stays inside. She can also surprise unsuspecting player characters when she rises from a nearby water source other mirelurk are gathered around, but the roar she makes to alert them of her appearance can send them into a panicked run to get away once they hear it. They can also release mirelurk spawn like grenades, using them as a distraction while she kills the opponent. Being one of the few boss enemies, she is very difficult to kill. Her high armor and HP can make her a tough enemy for most player characters, but she is vulnerable in her head, spouts and legs.
Variants
Name (Form ID)
Abilities
Items
Mirelurk queen


000E12AB


EncMirelurkQueen01

Unarmed (75 )

Ranged (50 )

Glowing mirelurk queen


002E2740


EncMirelurkQueenGlowing

Unarmed (125 )

Ranged (80 )

Prime mirelurk queen


00553711


E02A_LvlMirelurkQueen_Prime

Unarmed (280 )

Ranged (130 )

Scorched mirelurk queen


003AFDFD


LvlMirelurkQueenScorched

Unarmed (125 )

Ranged (80 )

Strangler queen


0009318D


SFS08_Heart_LvlMirelurkQueen

Unarmed (125 )

Ranged (80 )
Locations
Notes
The mirelurk queen creates an AoE (area of effect) pool on the ground where her spray lands. Sometimes the visual effects are invisible, so keep moving to stay safe.
There are cut textures for a cranberry variant of the mirelurk queen.
Appearances
Mirelurk queens appear in Fallout 76.
Gallery