Mick & Ralph's is an active consumable and gun shop, located in the New Vegas' slum area of Freeside just northeast of the east gate. Mick sells weapons and Ralph sells consumables and special services.
Background
Providing some of the finest quality trinkets to discerning customers, while serving the riff-raff the usual low-grade armaments, Mick and his colleague Ralph run a thriving business from the seedier side of Freeside.
Layout
When coming into the building, Ralph will be sitting on the right behind his desk. There are shelves on the wall to the right of where Mick is standing, and a central "shelf" made of washing machines in the middle of the room. To the right of Mick is a staircase which leads to a room upstairs that comprises Mick and Ralph's bedrooms and a few other items such as washing machines and desks.
Notable loot
Special Items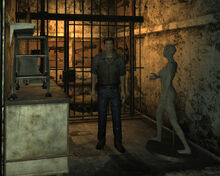 Both Mick and Ralph sell special items to people in Freeside; if the Courier has a high enough Speech level, the Courier can convince both Mick (30) and Ralph (50) that their special items are a secret between them and the Courier.
Notes
Appearances
Mick & Ralph's appears only in Fallout: New Vegas.
Bugs
Gallery
Parentheses () denote sub-locations, italics denote unmarked locations.