"
The Capital Wasteland Mercenaries Creation comes with eight new mercenary outfits, two of each classic FO3 style: Veteran, Troublemaker, Charmer and Adventurer. We returned to the original concept art when creating these to give them a fresh appearance. To obtain these armors you'll need to fight the good fight in the Capital Wasteland by helping a ragtag group of mercenaries defend GNR! Return to this iconic setting and fight off an antagonistic military company that's taken over the station.
"
— Creation Club description
The mercenary outfits are a series of outfit sets that can be obtained in the Fallout 4 Creation Club content "Capital Wasteland Mercenaries."
Characteristics
Section needed

This section is required but has not been written yet. You can help

Nukapedia

by

writing it

.
Variants
Mercenary adventurer outfit
Mercenary adventurer outfit, with matching goggles for men and cropped mercenary adventurer outfit for women.
Mercenary charmer suit and dress
Mercenary charmer suit, with matching helmet for men and mercenary charmer dress, with matching helmet for women.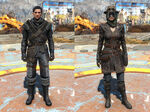 Mercenary troublemaker outfit
Ammo-laden mercenary troublemaker outfit for men and mercenary troublemaker outfit, with matching hat for women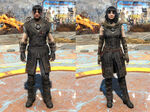 Mercenary veteran outfit
Caged mercenary veteran outfit for men, with matching goggles and mercenary veteran outfit for women, with matching goggles.
Locations
Worn by named members of the Good Fighters.
Worn by

Good Fighter mercenaries

.
Gallery
Outfits
Army fatigues (dirty)

 ·

Athletic outfit

 ·

Baseball uniform

 ·

Bathrobe

 ·

Beaded blazer

 ·

Black vest and slacks

 ·

Bomber jacket

 ·

Brotherhood fatigues

 ·

BOS uniform

 ·

Casual outfit

 ·

Checkered shirt and slacks

 ·

Child of Atom rags (long, long brown, long green, short, short brown, short green, simple, brown, green)

 ·

Cleanroom suit

 ·

Colonial duster

 ·

Corset

 ·

Courser uniform

 ·

Drifter outfit

 ·

Engineer's armor (Teagan's armor)

 ·

Explorer outfit (Scavenger)

 ·

Farmhand clothes

 ·

Fatigues

 ·

Feathered dress

 ·

Field scribe's armor

 ·

Flannel shirt and jeans

 ·

Geneva's ensemble

 ·

Greaser jacket and jeans (Atom Cats, Zeke's)

 ·

Green shirt and combat boots

 ·

Grognak costume

 ·

Gunner flannel shirt and jeans

 ·

Gunner guard outfit

 ·

Gunner harness

 ·

Harness

 ·

Hazmat suit (damaged)

 ·

Hooded rags

 ·

Ingram's UnderArmor

 ·

Institute division head coat (black, blue, green, orange, yellow, dirty black, dirty blue, dirty green, dirty orange, dirty yellow)

 ·

Institute jumper (dirty)

 ·

Institute lab coat (black, blue, green, orange, yellow, dirty black, dirty blue, dirty green, dirty orange, dirty yellow)

 ·

Kellogg's outfit

 ·

Lab coat (Cabot's, Father's, Vault-Tec)

 ·

Laundered dress (blue, cream, denim, green, rose, pink)

 ·

Laundered loungewear

 ·

Leather coat (Traveling leather coat)

 ·

Letterman's jacket and jeans (DB Tech varsity uniform)

 ·

Long johns

 ·

Longshoreman outfit

 ·

MacCready's duster

 ·

Maxson's battlecoat

 ·

Mechanic jumpsuit (green, Red Rocket)

 ·

Military fatigues

 ·

Minuteman outfit

 ·

Minutemen general's uniform

 ·

Padded blue jacket

 ·

Pastor's vestments

 ·

Postman uniform (dirty)

 ·

Quinlan's armor

 ·

Radstag hide outfit

 ·

Raider leathers

 ·

Railroad armored coat

 ·

Ratty skirt

 ·

Red dress

 ·

Red frock coat

 ·

Red leather trench coat

 ·

Road leathers

 ·

Science scribe's armor

 ·

Sequin dress (Agatha's dress)

 ·

Silver Shroud costume

 ·

Submariner uniform

 ·

Suit (black, blue, striped, tan, grey, patched, patched three-piece, Lorenzo's)

 ·

Summer shorts

 ·

Surveyor outfit (Reginald's suit)

 ·

Suspenders and slacks

 ·

Sweater vest and slacks (Covert sweater vest)

 ·

Synth uniform

 ·

Tattered field jacket

 ·

Tattered rags

 ·

T-shirt and slacks

 ·

Tuxedo

 ·

Undershirt & jeans

 ·

Utility coveralls

 ·

Vault jumpsuit

 ·

Winter jacket and jeans

 ·

Yellow trench coat (dirty, faded)