Fallout Interactive Experience
Play Sound
| | |
| --- | --- |
| | For a cross-game overview of this skill, see Medicine. |
Medicine is a skill in Fallout 3, replacing the First Aid and Doctor skills from Fallout, Fallout 2 and Fallout Tactics.
This skill determines the effectiveness of stimpaks, Rad-X and RadAway.
Initial level
Example: A starting Intelligence of 5 and Luck of 5.
The higher one's Medicine skill, the more Hit Points they will replenish when using a stimpaks and the more effective they are at using any other medicinal item such as Rad-X or RadAway.
The exact effect of the Medicine skill on such items is determined by the formula:
In basic terms, medical items become twice as effective with a Medicine skill of 50, and three times as effective with a Medicine skill of 100. This progression is linear, meaning at a skill level of 75 medical items are 2.5x as effective.
Ways to increase Medicine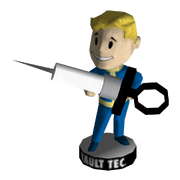 Permanent
Temporary
Perks that require Medicine skill
Interactions that require Medicine skill
Notes
The Medicine bobblehead is the first bobblehead available in the game.