The M79 grenade launcher is an explosive heavy gun in Fallout 76.
Background
One of the earliest United States grenade launcher designs, built around the 40mm grenade. Utilizing the High-Low propulsion system, the M79 allows the operator to deliver high explosive rounds at a range of hundreds of meters, while its rugged design, consisting of just five major parts, a receiver, fore-end, barrel, sight, and stock, offers excellent reliability. The one drawback is that the grenade launcher is single-shot only, reducing its rate of fire and precluding a sustained volume of fire. However, it is quite compact, especially with the stock sawed off, while the straightforward optics, consisting of a fixed blade sight on the front and a folding leaf sight on the rear, enable accurate fire with just pointing and shooting. These qualities kept it in use well into the late 21st century.[2][3]
Characteristics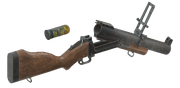 A single shot, break-action, 40mm grenade launcher. When fired, the grenade is propelled in an arc, rather than laterally. Meaning it's best to aim at the ground of the target rather than at a target for more consistent hits.
Crafting
Materials:
 
Requirements:
 
Produces:

Build at:

Learn Method:

Perks:

M79 grenade launcher Lv 15 (1)
Materials:
 
Requirements:
 
Produces:

Build at:

Learn Method:

Perks:

M79 grenade launcher Lv 25 (1)
Materials:
 
Requirements:
 
Produces:

Build at:

Learn Method:

Perks:

M79 grenade launcher Lv 35 (1)
Materials:
 
Requirements:
 
Produces:

Build at:

Learn Method:

Perks:

M79 grenade launcher Lv 45 (1)
Weapon modifications
Variants
Locations
Behind the scenes
In an earlier patch, the M79 was considered both a shotgun and an explosive weapon. That meant that the M79 could benefit from both shotgun damage perks and the explosives damage perk cards. This has been corrected in subsequent patches.[clarification needed]
References
Pistols
.44 pistol (Medical Malpractice, Somerset Special, The Fact Finder, Voice of Set)

 ·

10mm pistol (Anti-Scorched training pistol)

 ·

Alien blaster (The V.A.T.S. Unknown)

 ·

Black powder blunderbuss

 ·

Black powder pistol

 ·

Crusader pistol

 ·

Flare gun

 ·

Gamma gun

 ·

Gauss pistol

 ·

Pipe bolt-action

 ·

Pipe pistol

 ·

Pipe revolver

 ·

Salvaged Assaultron head (Polly's Assaultron head, Sheepsquatch Assaultron head)

 ·

Single action revolver (Fancy single action revolver)

 ·

Western revolver
Shotguns
Combat shotgun

 ·

Double-barrel shotgun (Salt of the Earth)

 ·

Gauss shotgun

 ·

Pepper Shaker

 ·

Pump action shotgun (Civil Unrest, Fancy pump action shotgun)
Rifles
10mm submachine gun (Perfect Storm, Old Guard's 10mm SMG)

 ·

Assault rifle (Whistle in the Dark)

 ·

Black powder rifle

 ·

The Dragon

 ·

Combat rifle (The Fixer)

 ·

Gauss rifle

 ·

Handmade rifle

 ·

Hunting rifle (Brotherhood recon rifle)

 ·

Laser rifle (Acceptable Overkill)

 ·

Lever action rifle (Sole Survivor)

 ·

Plasma gun (Enclave plasma gun, Mind Over Matter, Slug Buster)

 ·

Radium rifle

 ·

Railway rifle

 ·

Submachine gun

 ·

Syringer (Rose's syringer, Vox syringer)

 ·

Tesla rifle (Night Light)

 ·

Ultracite laser gun
Heavy weapons
50 cal machine gun (The Action Hero, Final Word)

 ·

Auto grenade launcher

 ·

Broadsider

 ·

Hellstorm missile launcher

 ·

Cryolator

 ·

Fat Man (Daisycutter, The Guarantee)

 ·

Flamer (Pyrolyzer)

 ·

Gatling gun (Resolute Veteran)

 ·

Gatling laser

 ·

Gatling plasma

 ·

Gauss minigun

 ·

Light machine gun

 ·

Harpoon gun (Kingfisher)

 ·

M79 grenade launcher (Crushing Blow)

 ·

Minigun

 ·

Missile launcher (Bunker Buster)

 ·

Pepper Shaker

 ·

Plasma Caster

 ·

Ultracite Gatling laser
Bows
Bow

 ·

Compound bow

 ·

Crossbow
Parentheses () denote unique weapon variants