'Fallout: New Vegas' Lonesome Road DLC Trailer
Lonesome Road is the fourth add-on for Fallout: New Vegas, developed by Obsidian Entertainment and published by Bethesda Softworks. Originally scheduled for release in July 2011,[1] Lonesome Road was delayed and subsequently announced for an August release.[2] It was later announced that the add-on had been delayed a second time.[3] It was finally released simultaneously on all platforms on September 20, 2011.[4]
Plot
Lonesome Road brings the Courier's story full circle when you are contacted by the original "courier six", a man by the name of Ulysses who refused to deliver the Platinum chip at the start of the main storyline in Fallout: New Vegas. In his transmission, Ulysses promises the answer as to why, but only if you take one last job - a job that leads you into the depths of the Divide, a landscape torn apart by frequent earthquakes and violent storms. This is the fabled location of the battle between the Courier and Ulysses.[5] The road to the Divide is a long and treacherous one, and of the few to ever walk the road, none have ever returned..
Characters
Mentioned-only
Creatures
Robots and computers
Locations
Items
Ammunition
Armor and clothing
Consumables
Schematics & Recipes
Weapons
Weapon mods
World objects
Miscellaneous items
Achievements/Trophies
Challenges
Quests
Perks
Regular perks
Name
Level req
Other requirements
Ranks
Benefit
Base ID
Alertness
12
PE between 6 and 9
1
+2 Perception when crouched and still.

xx

00c252
Walker Instinct
18
Survival 50
1
+1 Perception and Agility when outside.

xx

00c254
Irradiated Beauty
22
EN 8
1
Sleep removes all Rads (Hardcore: only -100 Rads).

xx

00c255
Voracious Reader
22
IN 7
1
Damaged books become blank magazines; can copy existing magazines into blank magazines.

xx

00c253
Lessons Learned
26
IN 6
1
+1% XP gain per player level.

xx

00c256
Tunnel Runner
26
AG 8
1
+25% sneaking speed when wearing light or no armor.

xx

00c258
Roughin' It
28
Survival 100
1
Sleeping outside gives Well Rested benefit.

xx

00c251
Burden to Bear
30
ST 6, EN 6
1
+50 carry weight.

xx

00c250
Broad Daylight
36
1
No Sneak penalty for using Pip-Boy light.

xx

00a6df
Certified Tech
40
1
+25% critical hit chance against robots, 85% chance of finding an extra crafting component on destroyed robots.

xx

00a6de
Ain't Like That Now
50
Karma less than -250
1
Karma reset to 0, +25% AP regeneration rate, +20% attack speed, immunity to critical hits.

xx

00a749
Just Lucky I'm Alive
50
Karma between -250 and 250
1
+4 Luck for 3 minutes upon finishing a battle with less than 25% health; immunity to critical hits, +50% critical damage.

xx

00c24f
Thought You Died
50
Karma at least 250
1
+10 Health per 100 Karma; Karma reset to 0, +10% damage, immunity to critical hits.

xx

00c24e
Special perks
Name
Unlock conditions
Ranks
Benefit
Base ID
The Bear-Slayer
Launch nuclear missiles at NCR.
1
+1 SPECIAL point, Caesar's Legion Fame, NCR Infamy

xx

00c25b
Dead Man's Burden
Launch nuclear missiles at both Caesar's Legion and NCR.
1
+1 SPECIAL point, Boomers and Powder Gangers Fame, Caesar's Legion and NCR Infamy

xx

00c25a
Divide Survivor
Stop the missile launch.
1
+1 SPECIAL point, Brotherhood of Steel and Followers of the Apocalypse Fame

xx

00c25c
Lonesome Road
Leave ED-E behind in Ulysses' Temple.
1
+10% damage and +10% V.A.T.S. hit chance when you have no companions.

xx

00a6dc
Marked
Kill three named Marked Men.
1
+10% damage and +10% DT against Marked Men

xx

00a6dd
Scourge of the East
Launch nuclear missiles at Caesar's Legion.
1
+1 SPECIAL point, NCR Fame, Caesar's Legion Infamy

xx

00c259
Companion perks
Name
Follower
Ranks
Benefit
Base ID
Camarader-E
ED-E
5

ED-E repairs 25% weapon condition once per day
ED-E produces energy or microfusion cells once per day
+2 DT
+5 beam weapon damage
+5% V.A.T.S. hit chance

xx

00a602
Notes
Suggested level for all platforms is 25.
Like all Fallout: New Vegas add-ons, Lonesome Road raises the level cap by 5.[6]
The player's equipment is not stripped at the beginning of the add-on, and the add-on has a linear structure. See exception below.[7]
You can leave the Divide at any time during the add-on without having completed it, and you can return afterwards.
Lonesome Road does not extend gameplay past the game's original ending.[8]
Lonesome Road can affect part of the Mojave Wasteland after completing the main quest.[9]
Companions are not allowed into the add-on, similar to the other add-ons in Fallout: New Vegas.[10]
As with each of the quest extending New Vegas add-ons, Lonesome Road features a unique snowglobe. This is also the last one in the set.
Unlike each of the add-ons so far, Lonesome Road does not feature an opening narration.
Be aware, when installing this add-on for the PlayStation, install the correct version for your game (English or French&English) both will install correctly. However, if you install the wrong add-on it will change the game version and strip out all other add-ons, leaving you with one add-on and bare of all other add-on items. Only a full uninstall and reinstall of the base game, plus all the correct add-ons will allow you to play properly. You will need to install the 1.07 patch following the second add-on, for it and the following add-ons to appear in downloadable content.
It is implied through the Old World Blues ending that the events of Lonesome Road canonically take place after the three previous add-ons, as the final line spoken is "Only one road yet remained, and it was one the Courier had to walk alone," as the image onscreen is the Old World flag, a symbol often referring to Ulysses, the main focus of Lonesome Road. However, the add-ons can be completed in any order.
Behind the scenes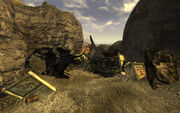 "The Lonesome Road" is the name of a 1927 song by Nathaniel Shilkret and Gene Austin, which has been covered by several musicians who should be familiar to fans of the Fallout series, including the Andrews Sisters, Louis Armstrong, Eddy Arnold, Bing Crosby, Peggy Lee, Nat King Cole, Sid Phillips, Stan Kenton, Frank Sinatra, and Kay Kyser.
Gallery
Videos
References
Community content is available under
CC-BY-SA
unless otherwise noted.