| | |
| --- | --- |
| | This page is currently undergoing restructuring. It may be edited frequently and some items may appear differently. |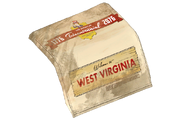 Locations form the backdrop in which the events of the Fallout series occur.
Countries
States
Regions
Communities
Categories
Maps
Real world
Some locations that appear across the games have equivalent names to those in real life, listed below.
Maryland, Virginia, District of Columbia
Name
Real world location
Adams Air Force Base
Andrews Naval Air Facility, Maryland
Andale
Annandale, Virginia
Antietam
Antietam Creek, Maryland
Bethesda ruins
Bethesda, Maryland
The Citadel
The Pentagon, Washington, D.C.
Fairfax ruins
Fairfax, Virginia
Little Lamplight
Luray Caverns, Virginia
Metro
Washington Metropolitan Area Transit Authority stations
Montgomery County Reservoir
Triadelphia Reservoir in Montgomery County, Maryland
Norfolk
Norfolk, Virginia
Old Olney
Olney, Maryland
Point Lookout
Point Lookout State Park, Maryland
Raven Rock
Raven Rock Mountain Complex, Maryland
Rockville
Rockville, Maryland
Roosevelt Academy
Theodore Roosevelt High School, Washington, D.C.
Springfield
Springfield, Virginia
Washington, D.C.
Washington, D.C.
Washington Monument
Washington Monument, Washington, D.C.
West Virginia
Name
Real world location
Appalachia
Appalachian region
Beckley
Beckley, West Virginia
Berkeley Springs
Berkeley Springs, West Virginia
Camden Park
Camden Park, Huntington, West Virginia
Charleston
Charleston, West Virginia
Clarksburg
Clarksburg, West Virginia
Cranberry Bog
Cranberry Glades, West Virginia
Dolly Sods Wilderness
Dolly Sods Wilderness, West Virginia
Friendly
Friendly, West Virginia
Giant Teapot
Chester teapot, Chester, West Virginia
Grafton
Grafton, West Virginia
Grafton Dam
Tygart Dam
Hillfolk Hotdogs
Hillbilly Hotdogs, Huntington, West Virginia
Monongah
Monongah, West Virginia
Morgantown
Morgantown, West Virginia
Seneca Rocks
Seneca Rocks, West Virginia
Spruce Knob Lake
Spruce Knob Lake
Summersville
Summersville, West Virginia
Sutton
Sutton, West Virginia
Top of the World
Snowshoe Mountain Ski Resort, West Virginia
Thunder Mountain Power Plant
Mount Storm Power Station, Bismarck, West Virginia
Tyler County Dirt Track
Tyler County Speedway, Middlebourne, West Virginia
Tyler County Fairgrounds
Tyler County Fairgrounds, Middlebourne, West Virginia
Uncanny Caverns
Lost World Caverns, Lewisburg, West Virginia
Vault-Tec University
West Virginia University
Watoga
Watoga, West Virginia
Welch
Welch, West Virginia
Whitespring Resort
The Greenbriar Resort, White Sulphur Springs, West Virginia
Arizona, Colorado, New Mexico, and Utah
Name
Real world location
Albuquerque
Albuquerque, New Mexico
Bullhead City
Bullhead City, Arizona
Coalpits Wash
Coalpits Wash, Zion National Park, Utah
Crimson River Trail
Crimson Trail, Cache County, Utah
Dead Horse Point
Dead Horse Point State Park
Denver
Denver, Colorado
Flagstaff
Flagstaff, Arizona
Fountain Green
Fountain Green, Utah
Grand Canyon
Grand Canyon, Arizona
Grand Staircase
Grand Staircase, Zion National Park, Utah
Great Salt Lake
Great Salt Lake, Utah
Highway 50
U.S. Route 50
Highway 89
U.S. Route 89
Nephi
Nephi, Utah
New Canaan
Ogden, Utah
Phoenix
Phoenix, Arizona
Provo Bay
Provo, Utah
Rockville
Rockville, Utah
Rocky Mountains
Rocky Mountains
Salt Lake City
Salt Lake City, Utah
Spanish Fork
Spanish Fork, Utah
Syracuse
Syracuse, Utah
Toquerville
Toquerville, Utah
Two Sun
Tucson, Arizona
Utah State Route 9
Utah State Route 9
Utah State Route 77
Utah State Route 77
Yuma
Yuma, Arizona
Zion Canyon
Zion National Park, Utah