The light machine gun, or MG42 light machine gun,[2] is a heavy gun in Fallout 76.
Characteristics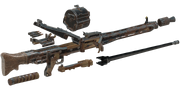 This light machine gun is a heavy gun that fires .308 rounds, a less common ammo type. The MG42 has a high rate of fire and high per-shot damage. For modification, there is one non-standard receiver option available.
Crafting
Weapon modifications
Locations
Can be crafted from any weapons workbench after the plan is obtained.
References
↑

Rifle keyword doesn't let it work with rifle perks, but will allow it to count for challenges
Pistols
.44 pistol (Medical Malpractice, Somerset Special, The Fact Finder, Voice of Set)

 ·

10mm pistol (Anti-Scorched training pistol)

 ·

Alien blaster (The V.A.T.S. Unknown,

Zeta's Revenge

)

 ·

Black powder blunderbuss

 ·

Black powder pistol

 ·

Crusader pistol

 ·

Flare gun

 ·

Gamma gun (

Xerxo's gamma ray gun

)

 ·

Gauss pistol

 ·

Pipe bolt-action

 ·

Pipe pistol

 ·

Pipe revolver

 ·

Salvaged Assaultron head (Polly's Assaultron head, Sheepsquatch Assaultron head)

 ·

Single action revolver (Fancy single action revolver)

 ·

Western revolver
Shotguns
Combat shotgun

 ·

Double-barrel shotgun (Salt of the Earth)

 ·

Gauss shotgun

 ·

Pepper Shaker

 ·

Pump action shotgun (Civil Unrest, Fancy pump action shotgun)
Rifles
10mm submachine gun (Perfect Storm, Old Guard's 10mm SMG)

 ·

Alien disintegrator

 ·

Assault rifle (Whistle in the Dark)

 ·

Black powder rifle

 ·

The Dragon

 ·

Combat rifle (The Fixer)

 ·

Enclave plasma gun

 ·

Gauss rifle

 ·

Handmade rifle

 ·

Hunting rifle (Brotherhood recon rifle)

 ·

Laser rifle (Acceptable Overkill)

 ·

Lever action rifle (Sole Survivor)

 ·

Plasma gun (Mind Over Matter, Slug Buster)

 ·

Radium rifle

 ·

Railway rifle

 ·

Submachine gun

 ·

Syringer (Rose's syringer, Vox syringer)

 ·

Tesla rifle (Night Light)

 ·

Ultracite laser gun
Heavy weapons
50 cal machine gun (The Action Hero, Final Word)

 ·

Auto grenade launcher

 ·

Broadsider

 ·

Hellstorm missile launcher

 ·

Cryolator

 ·

Fat Man (Daisycutter, The Guarantee)

 ·

Flamer (Pyrolyzer)

 ·

Gatling gun (Resolute Veteran)

 ·

Gatling laser

 ·

Gatling plasma

 ·

Gauss minigun

 ·

Light machine gun

 ·

Harpoon gun (Kingfisher)

 ·

M79 grenade launcher (Crushing Blow)

 ·

Minigun

 ·

Missile launcher (Bunker Buster)

 ·

Pepper Shaker

 ·

Plasma Caster

 ·

Ultracite Gatling laser
Bows
Bow

 ·

Compound bow

 ·

Crossbow
Parentheses () denote unique weapon variants