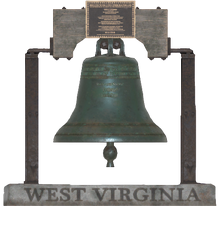 The Liberty Bell inscriptions are a series of legible dedications found on and above the Liberty Bell landmark outside of the Charleston Capitol Building.
Characteristics
There are two inscriptions on or around the Liberty Bell. The first is found on a placard above the bell and the second is inscribed around the top of the bell itself.
Transcript
Placard
Bell inscription
Behind the scenes
The Liberty Bell seen in-game is nearly identical to that of the real world Liberty Bell, including the transcription on the plaque and along the top of the bell itself.
Gallery