Fallout Interactive Experience
Play Sound
"
I wouldn't mind plugging a few holes in some kidnappers. A little frontier justice never hurt anyone...well, at least not me.
"
— John Cassidy
John Cassidy[1] is a veteran wastelander, bartender and a potential companion who resides in Vault City in 2241.
Background
An old man with deep wrinkles, John Cassidy is a veteran of the worst places of the wastelands and has the scars to show for it. These memories of an adventurer's life include scars from a 2203 knifing and old wounds from shootings in 2195, 2199 and 2201. He also has a metal plate in his skull and a fake eye.[2] John Cassidy is a pleasant but prejudiced man to talk to, provided the person doing the talking doesn't get on his bad side or happen to be the wrong race as he despises ghouls for existing and generally dislikes people he perceives as despicable.[3] He can be direct at times and he has further issues with tribal prejudice, but overall he is a great companion.
Cassidy settled down in Vault City after a life of adventure when his heart started to fail him. He requires regular cardiac booster shots to keep his heart working properly, essentially leaving him stuck in Vault City.[4] He runs a bar, the Spittoon, in the Courtyard, paying a hefty fee for a license to sell real alcohol on the premises. He manages to get by well enough, able to pay his rent, license fee, and afford booster shots from Doc Andrew. His business took a hit recently, as Sergeant Stark led a raid on his bar, confiscating his alcohol and detaining several customers. Already disgusted with the city, it is practically the final straw for him.
Later life
Cassidy joined the Chosen One in his journey, leaving Vault City behind. The two eventually parted ways, with Cassidy settling down again with a tribal, despite his reservations about tribals. At his ripe old age, John became a father of a daughter who took after her father.[Non-canon 1] A few years later, he left the two and journeyed east of California, never heard from again. He went on to search for Texas, breaking south through NCR and past Dayglow.[Non-canon 2][5]
Interactions with the player character
Fallout 2
Interactions overview
Interactions
This character is a permanent companion.
This character is a merchant.
Sells: drinks
Effects of player's actions
If the Chosen One uses Jet, Psycho or Buffout on Cassidy, he will immediately die of a heart attack.
He declares that he is skilled with shotguns and rifles mostly (he begins equipped with a sawed-off shotgun), as well as pistols. He can also use brass knuckles and spears; he claims that he used to hunt with a spear but expresses shame about making him seem like a tribal. At this point, the Chosen One can state they are tribal, after which Cassidy will sincerely apologize and claim that spears are fine weapons used by many of his tribal friends.
Cassidy can be given heart pills and he exclaims he "feels" better, but the pills have no real effect and goes back to complaining about his heart again.
Other interactions
Talking to Cassidy in his bar in the Vault City courtyard will reveal his dissatisfaction with life there and how Citizen Sergeant Stark busted up his establishment.

The player character can confront Sergeant Stark once they become the Captain of the Guard in Vault City and pull rank, so that he pays Cassidy reparations and wipes his record in Vault City. The player character receives $500 and 500 XP in return.

Cassidy has a fair few interactions with other members of the player character's party.
Companion
Fallout: New California
John Cassidy can be acquired at the shop by any player character that has the Idolized trait. When the player character has him as the active companion and starts a fight, he can be exhausted, adding the ranged trait to the player character's weapon, and gain one reroll in the fight.
When the player character performs the camp action, he will become unexhausted. However, if the player character has any drugs in their inventory at this time, he must be discarded.
Statistics
Note: Unarmed will be tagged when Cassidy is equipped with power armor, as the Strength bonus it confers boosts his Unarmed skill above that of Small Guns.
Inventory
Appearances
John Cassidy appears in Fallout 2 and the Fallout: The Board Game expansion Fallout: New California. He is indirectly mentioned in Fallout: New Vegas.
Behind the scenes
In regards to the character, Chris Avellone stated, "[Cassidy] was mostly there because we wanted to do another companion in this location, and I was like, well I don't want to really do another talking head, I already did a lot with Myron, how about I do a much more simpler, just fun combat character, Cassidy, the gun-toting bartender, sure."[Non-canon 3]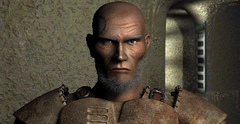 Gallery
References
Non-canon