Cleanup (Issue: out-of-date; messy; overcategorization)

To meet

Nukapedia

'

s quality standards, this article or section may require cleanup. Please help by

improving

the article.
Extensive review needed (consider merge, we do not have confirmation that many of these are/were humans, significant unsourced claims, no new information present)

The contents below require additional review. Information included may not meet Nukapedia's quality standards and may require rewriting, reorganizing, or adding references for unsourced claims.
Humans are the dominant species of the post–apocalyptic age. The word is specifically used to denote those unaffected by radiation as opposed to mutants like ghouls and super mutants. Non–mutated humans are sometimes called normals, smoothskins, or bleeders by their mutant counterparts.[1][2][3][4]
Characteristics
Post-nuclear humans, as a direct result of the radiation and exposition to the F.E.V. of the West Tek research facility[5] and some other biochemical agents[6] released into the environment during and after the Great War, exhibit more diversity, primarily in genetic structure. The aforementioned factors have resulted in an increased rate of mutations in humans, although very few of these result in phenotypical changes. Most of these changes are non-lethal, non-damaging variations in the human DNA that simply increase the gene pool variety. Also, humans with minor mutations, like additional toes, skin lesions due to TDC infection, permanent red eyes, permanent varicose veins, or complete lack of hair are still considered to be humans.
Pure and prime humans
"Pure" humans, or "prime normals" are theoretically humans that have not been mutated unnaturally by radiation or other post-War pollutants. They can be said to be original humans, no different than those from before the War. However, because of the widespread and pervasive fallout in the wasteland, these represent a very small minority of all sentient species on Earth. They exist only in isolated factions, such as in remote areas untouched by radiation, an example being underground vaults.[7] Some vaults, opening after the radiation has faded, can produce tribes which can be said to be pure, such as the Boomers. Used in a broader sense to term those humans with a low to relatively radiation-free state, being a pure human is more properly attributed to those who are affected by the FEV in the way intended from before the Great War.[8][9]
All of these variations have been uniquely interpreted by the Enclave leadership as the basis for claiming that the humans living outside the Enclave and isolated vaults are no longer pure; rather, that they are, in fact, "near-humans" that pose a threat to the supposedly "pure" humanity living in the aforementioned locations.[10][11][12] This theory, based in the claims of Dick Richardson and John Henry Eden is relatively vague in fact: debate remains whether these genetic variations are considerable enough to substantiate a new species of human, or even if the differences exist at all. It is also claimed by the super mutants that humans not exposed to radiation (those located in vaults) will transform into superior mutants when exposed to FEV, as opposed to wasteland humans.[13]
Variations
Minor deviations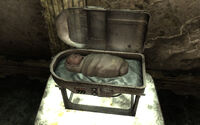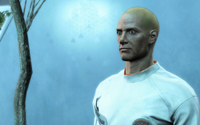 These mutants have identical or near-identical phenotypes compared to normal humans, and most of their differences are distinctly positive, if still unnatural, evolutions. These forms of mutants are more drastically different both physically and in usual personality from normal humans compared to the above, lesser deviations. They are often thought of and treated as altogether separate species from humanity by some.
Radiation immunity: an adaptation of the human species from several centuries worth of radiation exposure. Most radiation immune humans do not realize they are immune to ionization (no radiation sickness or ghoulification) as they had been taught by others to avoid it at all costs, but those that have sometimes ascribe it to a divine blessing, such as the Church of the Children of Atom who revere it as "Atom's blessing".[14] Others are scientifically studied in order to cure or vaccinate against certain environmental conditions.[15] Alongside the radiation immune humans, radiation-resistant humans were born, such as Lumpy of Gecko.
Cyborgs: humans who have been modified with robotic components to gain enhanced abilities.

Lobotomites: humans who were surgically-altered with the Big MT medical experiments which turned them into mindless savages. Their brains have been replaced with advanced Tesla coils, allowing them to perform simple tasks such as using doors, walking, fighting hand-to-hand, and using firearms. Their head cannot be crippled, they have a better chem addiction resistance, and receive less shock from bodily damage, but they possess only rudimentary speech (the only noises that they make are short grunts, such as "stop you" or "kill") and lack a normal conscience. It also appears that their surgery allowed them to have a relatively long life, since the first lobotomite is still alive in 2281.

Dwarves: Born with dwarfism, the only difference from normal humans is their reduced stature.
Psychics: People born with paranormal phenomena, such as clairvoyance and future seeing. People possessing such genetic mutation are often extremely rare.
Slags: humans whose physiology adapted to prolonged seclusion underground, possessing, for example, perfect dark-light vision but their eyes are sensitive to bright light.[16][17]
Swampfolk: humans around the Point Lookout region who have developed extreme deformities from a combination of radiation and genetic birth defects following the Great War. As such, Swampfolk are extremely territorial and hostile to all outsiders.
Generation 3 synths (or Synths): synthetic humans created by the Institute. Physiologically, Gen 3 synths are virtually indistinguishable from natural-born humans right down to the cellular level. Each Gen 3 synth is built from lab-grown bones, muscles and other tissues that are assembled and brought to life at the Institute's Robotics lab, and are "born" with the bodies and mental faculties of full-grown adult humans (special procedures must be made to replicate a child). Though entirely biological, each Gen 3 synth contains a neurological implant inside their brain allowing them to be "programmed" and manipulated via voice commands. This implant cannot be detected or removed without killing the synth. Gen 3 synths also innately immune to all diseases, do not require food, water, or to sleep (but can do all of these to appear human), and do not age.
Ghoul deviations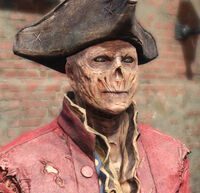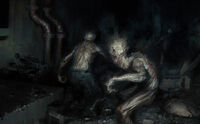 Ghouls: humans that have been subjected to heavy radiation poisoning which is lethal in most cases, but for these dubiously "lucky" individuals have instead given them a degenerated, zombie-like appearance as well as seemingly indefinite lifespans. They are immune to the lethal effects of radiation but not to its degenerative effects and are in-fact healed by radiation, but as a result are sterile. "Normal" ghouls retain more–or–less standard human personalities and cognitive abilities, while feral ghouls, who do not, are considered variant-humans and covered below.

Feral ghouls: ghouls whose physical deterioration has also extended to their neurological systems, causing them to lose their ability to reason and become hostile towards all non-ghouls. Their body is also more skeletal than normal ghouls and their eyes are completely white.
Glowing ones: ghouls who have absorbed an unusually high amount of radiation into their bloodstream and muscle tissue without their neurological systems filtering these particles from the blood and tissue, becoming a luminescent yellow-green ghoul, living conduits of radiation, which can even persist for a short time after death. Generally mindless and thus considered a subtype to feral ghouls, at least two "normal" ghouls with the features of glowing ones have been encountered, Jason Bright and Oswald the Outrageous.
Marked men: former soldiers that were mutated by the detonation of underground nuclear missiles and skinned by the storms of the Divide. This horrific process turned them into a unique form of feral ghoul, kept alive only by the area's background radiation. Despite this, they seem to retain some level of intelligence, using weapons, crafting armor, and building houses. Despite past allegiances, they are hostile only towards all non-marked men.
Major deviations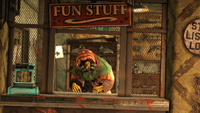 FEV mutants
Super mutants: former humans subjected to forced evolution via FEV-II from the Mariposa Military Base in California.[18]
Grafton Monsters: humans that were test subjects during FEV experimentation and have transformed into large, gray creatures with non-distinct heads.
Snallygasters: FEV human test subjects have been transformed into serpentine creatures with acidic spit.
Gameplay relevance
In Fallout, Fallout 2, Fallout 3, Fallout: New Vegas, Fallout 4, and Fallout 76, the player character can only embody a human. Fallout Tactics allowed one to control other races (see Fallout Tactics race), even though the player could only start as a human and Fallout: Brotherhood of Steel is the only Fallout game allowing players to choose a ghoul as the principal player character.
Fallout 3, Fallout: New Vegas and Fallout 4
Human non-player characters suffer extra damage from headshots both in V.A.T.S. and in free-fire mode.
Fallout 76
All the human residents of Appalachia were killed or had left the region before 2102; the only humans that were alive were the inhabitants of vaults including the player character. Since the Wastelanders update, living humans from outside Appalachia have returned to the region. With the introduction of the Steel Dawn update, Brotherhood members from the West coast have traveled to the region as well.
Fallout: The Board Game
Human players will start with either a weapon or a piece of armor at the beginning of the game. Humans do not gain any bonus or advantage during gameplay. Human enemies in the game are weakest to leg attacks and body attacks, and almost always drop loot.
Gallery
Image needed (Fallout 4/76 renders, images)

This article is missing an image. You can help

Nukapedia

by

uploading

it.
References
Non-canon
West Coast
(Fallout, Fallout 2, Fallout: New Vegas)
Alien

 ·

Bighorner (Bighorner bull, Bighorner calf)

 ·

Bird

 ·

Bloatfly (Legendary bloatfly)

 ·

Brahmin

 ·

Cazador (Young cazador, Legendary cazador)

 ·

Centaur (Evolved centaur)

 ·

Coyote (Coyote alpha male, Coyote den mother, Coyote pup)

 ·

Deathclaw (Baby deathclaw, Young deathclaw, Blind deathclaw, Deathclaw alpha, Mother deathclaw, Intelligent deathclaw, Legendary deathclaw)

 ·

Dog (Cyberdog, Legion Mongrel, Vicious dog)

 ·

Fire ant (Fire ant worker, Fire ant soldier, Ant queen)

 ·

Floater

 ·

Fly

 ·

Gecko (Hunter gecko, Fire gecko, Golden gecko, Little gecko)

 ·

Ghost people (Ghost harvester, Ghost seeker, Ghost trapper)

 ·

Ghoul (Feral ghoul roamer, Feral ghoul reaver, Glowing one, Feral trooper ghoul)

 ·

Giant ant (Giant worker ant, Giant soldier ant, Giant ant queen)

 ·

Giant catfish

 ·

Giant rat (Mole rat, Pig rat)

 ·

Human (Dwarf

 ·

Lobotomite)

 ·

Lakelurk

 ·

Mantis (Giant mantis, Giant mantis nymph, Giant mantis female)

 ·

Marked man

 ·

Night stalker (Young night stalker, Den mother, Legendary night stalker)

 ·

Radroach

 ·

Radscorpion (Bark scorpion, Bark scorpion hunter, Small radscorpion, Giant radscorpion, Radscorpion queen)

 ·

Raven

 ·

Slags

 ·

Spore carrier (Spore carrier savage, Spore carrier brute, Spore carrier runt)

 ·

Spore plant

 ·

Super mutant (Mariposa) (Super mutant master, Nightkin)

 ·

Wanamingo

 ·

Tunneler (Tunneler queen)

 ·

Wolf

 ·

Yao guai
East Coast
(Fallout 3, Fallout 4, Fallout 76, Fallout Tactics 2)
Abomination

 ·

Alien

 ·

Alien squid

 ·

Alien worm

 ·

Angler

 ·

Beaver

 ·

Bee swarm

 ·

Bird

 ·

Bloatfly

 ·

Bloodbug

 ·

Bloodworm

 ·

Brahmin

 ·

Brahmiluff

 ·

House cat

 ·

Cave cricket

 ·

Centaur

 ·

Chicken

 ·

Crow

 ·

Deathclaw

 ·

Dog (Mongrel)

 ·

Fire ant

 ·

Firefly

 ·

Flatwoods monster

 ·

Fly

 ·

Fog crawler

 ·

Fox

 ·

Frog

 ·

Gatorclaw

 ·

Gazelle

 ·

Ghoul (Feral ghoul, Feral ghoul reaver, Feral ghoul roamer, Glowing one, Swamp ghoul)

 ·

Appalachian Floater

 ·

Ghoulrilla

 ·

Giant ant (Giant ant queen)

 ·

Giant catfish

 ·

Gorilla

 ·

Grafton monster

 ·

Gulper

 ·

Hermit crab

 ·

Honey beast

 ·

Human

 ·

Lamprey floater

 ·

Manowar tendril floater

 ·

Mega sloth

 ·

Mirelurk (Mirelurk hunter, Mirelurk king, Nukalurk, Swamplurk, Swamplurk queen)

 ·

Mole rat

 ·

Mole miner

 ·

Mothman

 ·

Mutant crocodile

 ·

Mutant hound

 ·

Mutant wanamingo

 ·

Needle tooth floater

 ·

Opossum

 ·

Rad chicken

 ·

Radgull

 ·

Rad rabbit

 ·

Rad-rat

 ·

Radtoad

 ·

Radroach

 ·

Radscorpion (Albino radscorpion, Giant radscorpion)

 ·

Radstag

 ·

Scorched

 ·

Scorchbeast

 ·

Sea creature

 ·

Snallygaster

 ·

Squirrel

 ·

Stingwing

 ·

Tick

 ·

Super mutant (Vault 87) (Super mutant behemoth, Super mutant brute, Super mutant master, Super mutant overlord)

 ·

Super mutant (Institute)

 ·

Super mutant (Huntersville)

 ·

Swampfolk

 ·

Trog

 ·

Wendigo

 ·

Wolf

 ·

Yao guai
Midwest
(Fallout Tactics, Van Buren)
Badger

 ·

Boom bug

 ·

House cat

 ·

Brahmin

 ·

Dog

 ·

Electro-beetle

 ·

Endless walker

 ·

Gehenna

 ·

Ghoul (Born ghoul, Feral ghoul, Glowing one)

 ·

Giant albino ant (Giant albino ant queen)

 ·

Giant leech

 ·

Giant rat

 ·

Giant wasp

 ·

Hairy deathclaw (Baby hairy deathclaw)

 ·

Human

 ·

Komodo dragon

 ·

Molech

 ·

Mountain lion

 ·

Mutant cannibal

 ·

Raccoon

 ·

Radroach

 ·

Radscorpion

 ·

Radtoad

 ·

Trog

 ·

Super mutant (Mariposa)

 ·

Wolf
Texas
(Fallout: BoS, Fallout: BoS 2)
Brahmin

 ·

Coyote

 ·

Dog

 ·

Experimental deathclaw (Baby experimental deathclaw)

 ·

Ghoul (Glowing one)

 ·

Giant rat (Mole rat)

 ·

Human

 ·

Radbug

 ·

Radscorpion (glowing radscorpion, spitting radscorpion, large giant radscorpion)

 ·

Small rat

 ·

Giant rat

 ·

Super mutant (Mariposa)
Project V13
Ghoul

 ·

Human

 ·

Mutant mantis shrimp

 ·

Super mutant (Project V13)
Fallout Shelter
Deathclaw

 ·

Feral ghoul

 ·

Ghoul

 ·

Human

 ·

Mole rat

 ·

Cat

 ·

Dog

 ·

Parrot

 ·

Radroach

 ·

Radscorpion

 ·

Super mutant