| | |
| --- | --- |
| | This is an overview article, listing content appearing across multiple games. |
Holotags or dog tags are a form of military identification.
Background
Pre-War military identification tags used by the United States Armed Forces and its various branches, as well as the Brotherhood of Steel. They consist of two rectangular metal tags with rounded edges, worn on a ball chain around the neck, with a rubber covering on the edges. Personal information is printed on the front of each tag, with a fine print on the back and a holographic image embedded in the tag itself, to facilitate casualty identification for medical and burial purposes.[Non-canon 1] The information includes the soldier's full name, signature, identification number, blood type, security clearance, expiration date, base of operations, and a slogan You think you can take me? You go right ahead. printed below an identification barcode.[1]
Characteristics
In the Capital and Mojave Wastelands, the holotag reads:
GENE WELLINGONTON
13810231
ESTA HAYES
1381 E. MAIN ST.
BETHESDA, MD
Items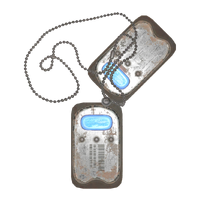 References
↑ Holotag appearance in Fallout 4, with the Ultra High Resolution Textures.
Non-canon
↑ Fallout: The Roleplaying Game p.182: "A small, durable, identifying item used by the Brotherhood of Steel. Holotags contain information to identify their wearer in case of death. They also act as a "black box" data recorder for a suit of Power Armor, providing the Brotherhood record of the deeds of their fallen warriors. Though not especially valuable by themselves, the Brotherhood often pays a reward to any who bring in holotags they find."