The handmade rifle is a ranged weapon in Fallout 76.
Characteristics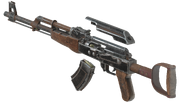 A well-designed rifle constructed by Appalachian survivors after the Great War, and chambered for the 5.56 round, the handmade rifle fills a similar niche to the assault rifle.
Crafting
Weapon modifications
Missing data (missing: There are some more mods)

This article is missing some data. You can help

Nukapedia

by

filling it in

.
Locations
Notes
Unlike its sister mods, the perforating magazine for the handmade rifle will reduce the ammo capacity to 10.
Bugs
PC Playstation 4 Xbox One The in-game dynamic naming system incorrectly omits the "Rifle," "Automatic Rifle" and "Sniper Rifle" suffix from being assigned to the handmade rifle. As a result, every handmade rifle will be called "Handmade."
PC Playstation 4 Xbox One The handmade's tweaked receiver functions identically to the powerful automatic receiver and does not provide the benefits described by the mod.
Gallery
Pistols
.44 pistol (Medical Malpractice, Somerset Special, The Fact Finder, Voice of Set) · 10mm pistol (Anti-Scorched training pistol) · Alien blaster (The V.A.T.S. Unknown) · Black powder blunderbuss · Black powder pistol · Crusader pistol · Flare gun · Gamma gun · Gauss pistol · Pipe bolt-action · Pipe pistol · Pipe revolver · Salvaged Assaultron head (Polly's Assaultron head, Sheepsquatch Assaultron head) · Single action revolver (Fancy single action revolver)  · Western revolver
Shotguns
Combat shotgun · Double-barrel shotgun (Salt of the Earth) · Gauss shotgun · Pump action shotgun (Civil Unrest, Fancy pump action shotgun)
Rifles
10mm submachine gun (Perfect Storm, Old Guard's 10mm SMG) · Assault rifle (Whistle in the Dark) · Black powder rifle · The Dragon · Combat rifle (The Fixer) · Gauss rifle  · Handmade rifle · Hunting rifle (Brotherhood recon rifle) · Laser rifle (Acceptable Overkill) · Lever action rifle (Sole Survivor) · Plasma gun (Enclave plasma gun, Mind Over Matter, Slug Buster) · Radium rifle · Railway rifle · Submachine gun · Tesla rifle (Night Light) · Ultracite laser gun
Heavy weapons
50 cal machine gun (The Action Hero, Final Word) · Auto grenade launcher · Broadsider · Hellstorm missile launcher · Cryolator · Fat Man (Daisycutter, The Guarantee) · Flamer (Pyrolyzer) · Gatling gun (Resolute Veteran) · Gatling laser · Gatling plasma · Gauss minigun · Light machine gun · Harpoon gun (Kingfisher) · M79 grenade launcher (Crushing Blow) · Minigun · Missile launcher (Bunker Buster) · Plasma Caster · Ultracite Gatling laser
Bows
Bow  · Compound bow · Crossbow
Other
Syringer (Rose's syringer, Vox syringer)
Parentheses () denote unique weapon variants
Italics denote weapons available through updates
Community content is available under
CC-BY-SA
unless otherwise noted.