Fallout Interactive Experience
Play Sound
The handmade rifle is a ranged weapon in Fallout 76.
Characteristics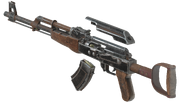 A well-designed rifle constructed by Appalachian survivors after the Great War, and chambered for the 5.56 round, the handmade rifle fills a similar niche to the assault rifle.
Crafting
Weapon modifications
Locations
One can be found inside Big Bend Tunnel, inside a side tunnel near the tunnel system's west exit/entrance, on the right, near a skeleton.
One can be found inside the Charleston Capitol Courthouse, in an empty filing cabinet on top of a shelf, inside the shooting practice room.
One can be found behind a level 3 locked gate under the Burrows North (opposite the cooking stove).
One can be found on the eastern side of the roof of the Amelia Espresso building in Berkeley Springs, near the church.
One can be found in the salon at Berkeley Springs.
Sometimes sold by Grahm, Watoga vendor bot and Sunny.
Often carried and dropped by raiders, settlers and mothman cultists.
Random drop from Free Radicals, yao guai and honeybeasts.
Random drop from "crowned" boss enemies.
Can be constructed after learning its plan, which is named "Handmade gun".
Notes
Bugs
"Rifle," "Automatic Rifle" and "Sniper Rifle" suffix from being assigned to the handmade rifle. As a result, every handmade rifle will be called "Handmade." or "Automatic Handmade" etc.
The in-game dynamic naming system incorrectly omits the
tweaked receiver functions identically to the powerful automatic receiver and does not provide the benefits described by the mod.
The handmade's
Gallery
References
Pistols
.44 pistol (Medical Malpractice, Somerset Special, The Fact Finder, Voice of Set)

 ·

10mm pistol (Anti-Scorched training pistol)

 ·

Alien blaster (The V.A.T.S. Unknown,

Zeta's Revenge

)

 ·

Black powder blunderbuss

 ·

Black powder pistol

 ·

Crusader pistol

 ·

Flare gun

 ·

Gamma gun (

Xerxo's gamma ray gun

)

 ·

Gauss pistol

 ·

Pipe bolt-action

 ·

Pipe pistol

 ·

Pipe revolver

 ·

Salvaged Assaultron head (Polly's Assaultron head, Sheepsquatch Assaultron head)

 ·

Single action revolver (Fancy single action revolver)

 ·

Western revolver
Shotguns
Combat shotgun

 ·

Double-barrel shotgun (Salt of the Earth)

 ·

Gauss shotgun

 ·

Pepper Shaker

 ·

Pump action shotgun (Civil Unrest, Fancy pump action shotgun)
Rifles
10mm submachine gun (Perfect Storm, Old Guard's 10mm SMG)

 ·

Alien disintegrator

 ·

Assault rifle (Whistle in the Dark)

 ·

Black powder rifle

 ·

The Dragon

 ·

Combat rifle (The Fixer)

 ·

Enclave plasma gun

 ·

Gauss rifle

 ·

Handmade rifle

 ·

Hunting rifle (Brotherhood recon rifle)

 ·

Laser rifle (Acceptable Overkill)

 ·

Lever action rifle (Sole Survivor)

 ·

Plasma gun (Mind Over Matter, Slug Buster)

 ·

Radium rifle

 ·

Railway rifle

 ·

Submachine gun

 ·

Syringer (Rose's syringer, Vox syringer)

 ·

Tesla rifle (Night Light)

 ·

Ultracite laser gun
Heavy weapons
50 cal machine gun (The Action Hero, Final Word)

 ·

Auto grenade launcher

 ·

Broadsider

 ·

Hellstorm missile launcher

 ·

Cryolator

 ·

Fat Man (Daisycutter, The Guarantee)

 ·

Flamer (Pyrolyzer)

 ·

Gatling gun (Resolute Veteran)

 ·

Gatling laser

 ·

Gatling plasma

 ·

Gauss minigun

 ·

Light machine gun

 ·

Harpoon gun (Kingfisher)

 ·

M79 grenade launcher (Crushing Blow)

 ·

Minigun

 ·

Missile launcher (Bunker Buster)

 ·

Pepper Shaker

 ·

Plasma Caster

 ·

Ultracite Gatling laser
Bows
Bow

 ·

Compound bow

 ·

Crossbow
Parentheses () denote unique weapon variants