Deathclaws are mutated creatures in Fallout Tactics: Brotherhood of Steel. They are a large, agile, and strong species of mutant horned Jackson's Chameleon.[1]
Background
Edit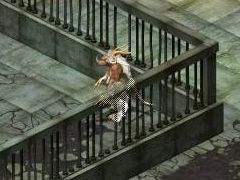 The Matriarch of one deathclaw pack was captured by the psychic tribe known as the Beastlords. While the tribals were able to use their psychic powers to control other animals, the deathclaws were strong enough to resist them. However, they cooperated with the Beastlords in order to protect their Mother. After the Matriarch was freed by the Brotherhood of Steel, she led her pack to join the Brotherhood, and the Elders surprisingly agreed. She herself is recruitable as Mother.
Characteristics
Edit
A deathclaw subspecies living in the area of the former states of Illinois, Missouri and Kansas. It notably distinguished from other deathclaws by having mammal-like appearance and physique, including higher primate body-shape, more developed arms with long and sharp claws, horns of several herbivore mammal types, and a predatory maw. It skin is very durable and covered with patches of fur. Furthermore, some of them were noted to be capable of speech as early as in 2197.
The hairy deathclaws are more matriarchal than their New California, Capital Wasteland and Mojave Wasteland counterparts, with large packs being led by Matriarch. In prey-less wastelands, however, large pack splits in autonomous smaller families of infants led and protected by the pair of adults. While infant, these deathclaws are less hairy and seem to be absolutely unintelligent, behaving like an animal or simply following the adults.
Gameplay attributes
Edit
In Fallout Tactics patched to 1.27, deathclaws are deadly. They are highly resistant to regular ammunition. The non-player characters in each bunker often say "I have some AP ammo for those deathclaws." but they will not trade it. Even an Anti-Vehicle mine does only medium damage.
In Quincy, a player is confronted with seven deathclaws and around five baby deathclaws. However, they can be seen in a random encounter before that mission.
Deathclaws were derived from mixed animal stock and then refined using genetic engineering to produce super fast killing machines. Because of their extreme power they get a large amount of Hit Points and a boost to Radiation Resistance. However they are vulnerable to fire and cannot use any projectile weapons or armor. They can however, equip Power Fists and other unarmed weapons, as well as carry and use grenades and mines. Their statistics make them excellent for Stealth skills, so they can easily sneak up on enemies to get to melee range.
Deathclaw
Edit

Hairy deathclaws are indeed vicious and dangerous creatures. They are highly resistant to regular ammunition, and can dish out massive amounts of damage.
Name

(Proto ID)

Statistics
DT/DR
Abilities
Items
Deathclaw
Baby deathclaw
Edit

Baby deathclaws are much smaller, and can't take as much damage, or inflict it.
Name

(Proto ID)

Statistics
DT/DR
Abilities
Items
Baby deathclaw
Appearances
Edit
Hairy deathclaws appear only in Fallout Tactics.
Behind the scenes
Edit
The hairy deathclaws were inspired by early deathclaw concept art where the deathclaws were hairy mammals.
"
I'm pretty sure the main reason that the deathclaw lost its hair from concept to production was a technical limitation of the rendering software at the time. I can't remember if it was the amount of additional rendering time required, an animation issue getting all the hair to move properly, or something else, but it was something along those lines. The hairy deathclaw in FOT was inspired by the original concept, plus we thought it was nifty to show that there variations and different mutations of the same stock "beast". We probably should have had both versions, but that's a decision based on hindsight.
"
— Chris Taylor[2]
References
Edit
↑ Joseph (Ocjoseph.msg) in Fallout 2 says:

"Well, let's see... Deathclaws appear to be mutated Jackson's iguanas, the horned variety. There are a lot of similarities still present, but an even greater number of differences. The mutation factor is quite high. This species is highly intelligent, about the equivalent of an eight-year-old, with some individuals reaching human normal level. Their learning capacity is very high and they are capable of abstract thought and reasoning."
West Coast
(Fallout, Fallout 2, Fallout: New Vegas)
Alien

 ·

Bighorner (Bighorner bull, Bighorner calf)

 ·

Bird

 ·

Bloatfly (Legendary bloatfly)

 ·

Brahmin

 ·

Cazador (Young cazador, Legendary cazador)

 ·

Centaur (Evolved centaur)

 ·

Coyote (Coyote alpha male, Coyote den mother, Coyote pup)

 ·

Deathclaw (Baby deathclaw, Young deathclaw, Blind deathclaw, Deathclaw alpha, Mother deathclaw, Talking deathclaw, Legendary deathclaw)

 ·

Dog (Cyberdog, Legion Mongrel, Vicious dog)

 ·

Fire ant (Fire ant worker, Fire ant soldier, Ant queen)

 ·

Floater

 ·

Fly

 ·

Gecko (Hunter gecko, Fire gecko, Golden gecko, Little gecko)

 ·

Ghost people (Ghost harvester, Ghost seeker, Ghost trapper)

 ·

Ghoul (Feral ghoul roamer, Feral ghoul reaver, Glowing one, Feral trooper ghoul)

 ·

Giant ant (Giant worker ant, Giant soldier ant, Giant ant queen)

 ·

Giant catfish

 ·

Giant rat (Mole rat, Pig rat)

 ·

Human (Dwarf

 ·

Lobotomite)

 ·

Lakelurk

 ·

Mantis (Giant mantis, Giant mantis nymph, Giant mantis female)

 ·

Marked man

 ·

Night stalker (Young night stalker, Den mother, Legendary night stalker)

 ·

Radroach

 ·

Radscorpion (Bark scorpion, Bark scorpion hunter, Small radscorpion, Giant radscorpion, Radscorpion queen)

 ·

Raven

 ·

Slags

 ·

Spore carrier (Spore carrier savage, Spore carrier brute, Spore carrier runt)

 ·

Spore plant

 ·

Super mutant (Mariposa) (Super mutant master, Nightkin)

 ·

Wanamingo

 ·

Tunneler (Tunneler queen)

 ·

Wolf

 ·

Yao guai
East Coast
(Fallout 3, Fallout 4, Fallout 76, Fallout Tactics 2)
Abomination

 ·

Alien

 ·

Alien squid

 ·

Alien worm

 ·

Angler

 ·

Ant

 ·

Beaver

 ·

Bee swarm

 ·

Bird

 ·

Bloatfly

 ·

Bloodbug

 ·

Bloodworm

 ·

Brahmin

 ·

Brahmiluff

 ·

Cat

 ·

Cave cricket

 ·

Centaur

 ·

Crow

 ·

Deathclaw

 ·

Dog (Mongrel)

 ·

Fire ant

 ·

Firefly

 ·

Flatwoods monster

 ·

Fly

 ·

Fog crawler

 ·

Fox

 ·

Frog

 ·

Gatorclaw

 ·

Gazelle

 ·

Ghoul (Feral ghoul, Feral ghoul reaver, Feral ghoul roamer, Glowing one, Swamp ghoul)

 ·

Ghoulrilla

 ·

Giant ant (Giant ant queen)

 ·

Giant catfish

 ·

Gorilla

 ·

Grafton monster

 ·

Gulper

 ·

Hermit crab

 ·

Honey beast

 ·

Human

 ·

Lamprey floater

 ·

Manowar tendril floater

 ·

Mega sloth

 ·

Mirelurk (Mirelurk hunter, Mirelurk king, Nukalurk, Swamplurk, Swamplurk Queen)

 ·

Mole rat

 ·

Mole miner

 ·

Mothman

 ·

Mutant crocodile

 ·

Mutant hound

 ·

Mutant wanamingo

 ·

Needle tooth floater

 ·

Opossum

 ·

Rad chicken

 ·

Radgull

 ·

Rad rabbit

 ·

Rad-rat

 ·

Radtoad

 ·

Radroach

 ·

Radscorpion (Albino radscorpion, Giant radscorpion)

 ·

Radstag

 ·

Scorched

 ·

Scorchbeast

 ·

Sea creature

 ·

Snallygaster

 ·

Squirrel

 ·

Stingwing

 ·

Tick

 ·

Super mutant (Vault 87) (Super mutant behemoth, Super mutant brute, Super mutant master, Super mutant overlord)

 ·

Super mutant (Institute)

 ·

Super mutant (Huntersville)

 ·

Swampfolk

 ·

Trog

 ·

Wendigo

 ·

Wolf

 ·

Yao guai
Midwest
(Fallout Tactics, Van Buren)
Boom bug

 ·

Cat

 ·

Brahmin

 ·

Dog

 ·

Electro-beetle

 ·

Endless walker

 ·

Gehenna

 ·

Ghoul (Born ghoul, Feral ghoul, Glowing one)

 ·

Giant albino ant (Giant albino ant queen)

 ·

Giant leech

 ·

Giant rat

 ·

Giant wasp

 ·

Hairy deathclaw (Baby hairy deathclaw)

 ·

Human

 ·

Komodo dragon

 ·

Molech

 ·

Mutant cannibal

 ·

Raccoon

 ·

Radroach

 ·

Radscorpion

 ·

Radtoad

 ·

Trog

 ·

Super mutant (Mariposa)

 ·

Wolf
Texas
(Fallout: BoS, Fallout: BoS 2)
Brahmin

 ·

Coyote

 ·

Dog

 ·

Experimental deathclaw (Baby experimental deathclaw)

 ·

Ghoul (Glowing one)

 ·

Giant rat (Mole rat)

 ·

Human

 ·

Radbug

 ·

Radscorpion (glowing radscorpion, spitting radscorpion, large giant radscorpion)

 ·

Small rat

 ·

Giant rat

 ·

Super mutant (Mariposa)
Project V13
Ghoul

 ·

Human

 ·

Mutant mantis shrimp

 ·

Super mutant (Project V13)
Fallout Shelter
Deathclaw

 ·

Feral ghoul

 ·

Ghoul

 ·

Human

 ·

Mole rat

 ·

Cat

 ·

Dog

 ·

Parrot

 ·

Radroach

 ·

Radscorpion

 ·

Super mutant