Grant's saber is a melee weapon in Fallout 76.
Characteristics
The saber is a unique weapon required for creating the Blade of Bastet, the sword of the fictional hero Mistress of Mystery. It previously belonged to general, and later President Ulysses S. Grant, and can be found in the Whitespring Resort. It was used during part of the Vicksburg campaign of the American Civil War because Grant lost his primary sword at the Battle of Champion Hill.[1]
Weapon modifications
Location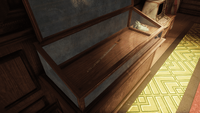 It can be found at the Whitespring Resort, in the Presidential Cottage and Museum within a locked display case. The display case can only be opened with the adjacent terminal, using the password acquired from the shower floor upstairs. It can additionally be acquired from the Whitespring docent (a broken Protectron), located in the same cottage.
References
Pistols
.44 pistol (Medical Malpractice, Somerset Special, The Fact Finder, Voice of Set)

 ·

10mm pistol (Anti-Scorched training pistol)

 ·

Alien blaster (The V.A.T.S. Unknown,

Zeta's Revenge

)

 ·

Black powder blunderbuss

 ·

Black powder pistol

 ·

Crusader pistol

 ·

Flare gun

 ·

Gamma gun (

Xerxo's gamma ray gun

)

 ·

Gauss pistol

 ·

Pipe bolt-action

 ·

Pipe pistol

 ·

Pipe revolver

 ·

Salvaged Assaultron head (Polly's Assaultron head, Sheepsquatch Assaultron head)

 ·

Single action revolver (Fancy single action revolver)

 ·

Western revolver
Shotguns
Combat shotgun

 ·

Double-barrel shotgun (Salt of the Earth)

 ·

Gauss shotgun

 ·

Pepper Shaker

 ·

Pump action shotgun (Civil Unrest, Fancy pump action shotgun)
Rifles
10mm submachine gun (Perfect Storm, Old Guard's 10mm SMG)

 ·

Alien disintegrator

 ·

Assault rifle (Whistle in the Dark)

 ·

Black powder rifle

 ·

The Dragon

 ·

Combat rifle (The Fixer)

 ·

Enclave plasma gun

 ·

Gauss rifle

 ·

Handmade rifle

 ·

Hunting rifle (Brotherhood recon rifle)

 ·

Laser rifle (Acceptable Overkill)

 ·

Lever action rifle (Sole Survivor)

 ·

Plasma gun (Mind Over Matter, Slug Buster)

 ·

Radium rifle

 ·

Railway rifle

 ·

Submachine gun

 ·

Syringer (Rose's syringer, Vox syringer)

 ·

Tesla rifle (Night Light)

 ·

Ultracite laser gun
Heavy weapons
50 cal machine gun (The Action Hero, Final Word)

 ·

Auto grenade launcher

 ·

Broadsider

 ·

Hellstorm missile launcher

 ·

Cryolator

 ·

Fat Man (Daisycutter, The Guarantee)

 ·

Flamer (Pyrolyzer)

 ·

Gatling gun (Resolute Veteran)

 ·

Gatling laser

 ·

Gatling plasma

 ·

Gauss minigun

 ·

Light machine gun

 ·

Harpoon gun (Kingfisher)

 ·

M79 grenade launcher (Crushing Blow)

 ·

Minigun

 ·

Missile launcher (Bunker Buster)

 ·

Pepper Shaker

 ·

Plasma Caster

 ·

Ultracite Gatling laser
Bows
Bow

 ·

Compound bow

 ·

Crossbow
Parentheses () denote unique weapon variants