Grafton Monsters are cryptids found in Appalachia.
Background
The Grafton Monster, once a cryptid associated with West Virginia, was made flesh by West Tek's experiments at their Huntersville facility. Using the FEVS-006458 strain on October 23, 2077, scientists created a stable - if horrifying mutation. Based on the snallygaster strain, researchers tweaked the genome, producing a giant that shattered the containment unit, but was otherwise stable (excepting the absence of a discernible head).[1] The mutant was sedated and transported off-site via truck, with the Great War sidetracking the convoy and allowing the monster to escape into the wild due to a nuclear detonation blinding the driver.[2]
The resulting monster is headless, hairless and has a grayish color skin with a leathery texture. It stands around 7.5 feet (2.3 meters) tall and has an oversized chest. The mutations that turned it into a powerhouse have also turned its skin and led to the development of glands that can eject globs of corrosive, oily substance in a wide area around it.[3]
Characteristics
The Grafton Monster is a large, hulking monster, which limits its ability to maneuver into tight spaces. It will generally be hostile towards nearby creatures as well as the player character.
Biology
The Grafton Monster is a gigantic, hairless gray creature with a disproportionately large upper torso and arms, stumpy legs and enormous three-fingered fists. Its head is non-distinct, seemingly tucked beneath the bulk of its shoulder muscles, which makes it rather difficult to make successful headshots on the creature. It was once human before it was horribly mutated by an experimental FEV strain.
Gameplay attributes
A creature that can be quick for its size, it will use its arms as well as its legs to hurl itself towards a target. It can stun the player character for a few seconds. Also, it will launch projectiles (a black liquid) or throw giant rocks similar to super mutant behemoths. The huge blowholes on the shoulders of the Grafton Monster are its weakest point.
Body parts
Part
Dmg Mult
Health
Hit chance
Blowholes
2.0
60
40%
Torso
1.0
80
60%
Left arm
1.0
75
40%
Right arm
1.0
75
40%
Left leg
1.0
80
50%
Right leg
1.0
80
50%
Variants
Grafton Monster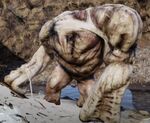 The most common variant of the monster.
Name (Form ID)
Abilities
Items
Grafton Monster


001199E6

Unarmed (53 )

Oil bomb (60 )

Enraged Grafton Monster


0000E8D6

Unarmed (80 )

Oil bomb (100 )

Prime Grafton Monster
Primal Cuts (Toxic Valley)


005536FF

Unarmed (200 )

Oil bomb (195 )
Parasitic Grafton Monster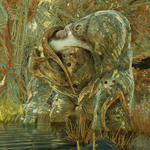 This Grafton Monster is infected with parasites and suffering from deep, seeping lesions. It is wrapped in green and orange vines. It is often called in as a reinforcement for the strangler heart during Heart of the Swamp or as the alpha predator in Project Paradise.
Name (Form ID)
Abilities
Items
Parasitic Grafton Monster


004EC624

Unarmed (100 )

Oil bomb (135 )

Strangler Grafton Monster
Heart of the Swamp


004EC624

Unarmed (100 )

Oil bomb (135 )

Alpha Grafton Monster
Project Paradise


004EC624

Unarmed (250 )

Oil bomb (225 )
Scorched Grafton Monster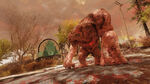 A Grafton Monster under the effects of the Scorched Plague. This variant was only encountered on the Nuclear Winter Morgantown map.
Name (Form ID)
Abilities
Items
Scorched Grafton Monster



004EC624

Unarmed (100 )

Oil bomb (135 )
Locations
Appearances
Grafton Monsters appear only in Fallout 76.
Behind the scenes
One of the many cryptids in West Virginia folklore, the Grafton Monster is a popular myth that started in Grafton, West Virginia, when it was allegedly spotted in 1964 by a man driving his car.
Gallery
Video
References