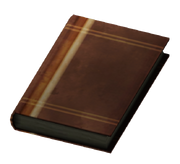 The Railroad requires strict secrecy regarding their glossary of Railroad terms in order to evade the Institute and their many informants.
Background
Edit
Therefore, a series of codewords or phrases are utilized by their members in order to communicate sensitive information to one another. The following is a list of terms used:
| Term | Definition |
| --- | --- |
| Chrome-dome | A slang term used by some members of the Railroad to refer to earlier generation synths.[1][2][3][4] |
| Dead drop | A mailbox with a railsign used to exchange reports or other secret information.[5] |
| Des/Dez | A shortened nickname for Desdemona.[6] |
| Freedom Trail | A pre-War landmark tour repurposed by the Railroad to lead new recruits to their headquarters. |
| Heavy | A front-line type agent used for combat missions.[7] |
| HQ | The Railroad's central headquarters located beneath the Old North Church in 2287, formerly the Switchboard. |
| Milk and cookie run | Also called a "milk run." A quick and easy operation.[8][9] |
| Package | A rescued synth being transported in hiding.[10] |
| Railsign | A hidden symbol used to send messages between agents of the Railroad.[11] |
| Safehouse | A local base of operations for agents in the field. |
| Ticon | A shortened name for Ticonderoga safehouse.[12] |
| Tourist | An associate of the Railroad that helps with odd jobs (ex. Ricky Dalton)[13] |
| The 'Wealth | A shortened word for the Commonwealth. |
References
Edit
Community content is available under
CC-BY-SA
unless otherwise noted.