Fallout Interactive Experience
Play Sound
Split (reason: game-specific info needs to stay on game articles)

Article suggested to be split into independent articles as outlined above.
"
Without medical technology, all of us ghouls are going to die off in the next 20 years, anyway.
"
— Gordon
Ghouls are mutated humans or animals affected by the phenomenon of ghoulification. In the case of humans, ghouls are sometimes referred to as necrotic post-humans[1] in the Capital Wasteland, but this term does not seem to have been adopted outside of it whatsoever. Despite their zombie-like appearance, the flesh of ghouls is not actually rotten.[2] Intense and prolonged radiation has ravaged their skin, much of their flesh, and in some cases many of their ligaments.[3] Despite their infertility and in some cases mental deterioration, they have greatly extended overall lifespans and are immune to (and sometimes even healed by) background radiation and/or nuclear fallout.[4]
Background
The history of ghouls is a mixture of suffering and plight. The bulk of ghouls emerged as a result of the Great War, although there are cases of some using controlled exposure to radiation to ghoulify themselves and ride out the upcoming war.[Non-canon 1][5] There was also an experimental radiation drug being tested somewhere in the Commonwealth.[6] Its known side effects are why Hancock sought out the last remaining dosage.[7]
New California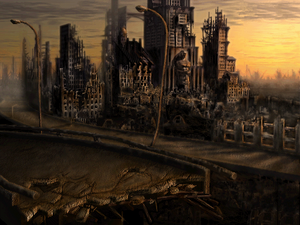 In California, ghouls were the first group of survivors to begin rebuilding civilization – the inhabitants of Vault 12 beneath Bakersfield founded the Necropolis in the summer of 2083.[Non-canon 2] Less than a year later, in 2084 Set wrestled control of the settlement from the original overseer and instituted his own reign, characterized by delusions of grandeur.[Non-canon 3] The city would eventually decline, starting with the attack by Unity in 2157, who expected to find an unopened Vault in the ruins of the city. After many ghouls were killed in the assault, Set negotiated peace with the super mutants, after explaining that the ghouls are indeed the vault dwellers. The recovery operation failed, but Unity established a stronghold in the town to ensure Set's cooperation and watch for humans.[Non-canon 4]
It would finally be destroyed and most of its population killed in a retaliatory expedition by the super mutants, sent to the city after the Vault Dweller raided the Vault and recovered the water chip, eliminating the super mutant garrison in the process.[Non-canon 5] This has led to a great migration and the eventual founding of a number of ghoul and ghoul-friendly[8] settlements, including Broken Hills in 2185,[Non-canon 6] the NCR state of Dayglow around 2189,[Non-canon 7][Non-canon 8] and Gecko in 2235. Though problems with equality continue, ghouls are increasingly seen as equal members of society, though their numbers steadily dwindle.[Non-canon 9] Sometime in 2242 marked the end for both Broken Hills and Gecko as they relied on the selling of and using of uranium that was mined.
In the Mojave Wasteland, they can be found in small amounts throughout the region, but no town is completely dedicated to them. There are usually a few ghouls living among humans in various communities performing jobs in order to survive, such as the guard Beatrix Russell and the comedian Hadrian, both of which are in Freeside. The only known community of ghouls in the region is the Bright Brotherhood, a religious faction located in the REPCONN test site, founded and led by an intelligent glowing one named Jason Bright, who wants to leave Earth and go into space to find a "new world," a promised land foretold by Bright himself. There are also several ghoul rangers occupying Ranger Station Echo, implying some level of acceptance of ghouls serving in the NCR. In contrast, Caesar's Legion does not allow ghouls (along with other mutants) within their ranks, but do allow ghouls to live in their territory, such as Raul Tejada who traveled from Two Sun to the Mojave. To Caesar, ghouls and other mutants are irrelevant to his plans to push westward.[Non-canon 10]
In 2277, in the Divide, nuclear warheads triggered by the Courier's delivery of an automated nuclear launch device exploded and triggered rapid ghoulification of the Legion and NCR forces engaged in battle there. The Divide flayed them alive, causing them to become dead men walking – marked for death, sustained only by the intense radiation that permeates the area.[9] As they never appear outside the Divide, due to the necessity of staying near radiation sources to remain alive, the marked men became a legend in the wasteland, like the Sierra Madre, the Burned Man, or the Big Empty.[10]
East Coast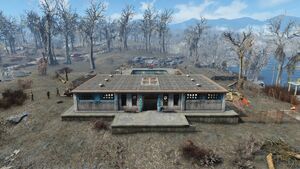 The densely urbanized East had a great concentration of American population and was strongly affected by the nuclear fallout. People who took shelter in areas affected by it experienced radiation poisoning; those who did not die became ghouls. Within a year, the first ghouls began to appear and with them, the first fledgling settlements, like Underworld in Washington, D.C., which existed as late as 2277.[11] Although in areas like Appalachia, ghouls were quickly sought out and exterminated, no matter what relation they may have had with others before they became Ghouls.[12] Another population of ghouls, transformed Chinese operatives stranded on American soil, chose to sequester themselves from the wasteland.
In other areas, like the Commonwealth, ghouls cohabited with humans. The most noticeable example was Diamond City. Ghouls were a part of the city's population from its foundation in the 2130s to the 2282 election. Diamond City was gripped by a wave of racism, thanks to a candidate by the name of McDonough. He ran for the city's mayor on the Mankind for McDonough platform and won the election thanks to the votes of the Upper Stands citizens. After his election, ghoul citizens were evicted. Entire families were thrown out of the city by their human neighbors, straight into the surrounding ruins to perish without a cap to their name.[13] Those that survived scattered across the region. A refugee called Wiseman founded the Slog, the foremost tarberry farm in the Commonwealth.[14]
Appalachia
After the war, a pre-War mall known as Valley Galleria became a haven for ghouls in Appalachia, referred to by survivors as "the Changed."[15] Led by Lucy Harwick, the ghouls sheltering in the Galleria welcomed others like them to travel there and be accepted with "open arms, and more importantly, open hearts."[16] However, because of bigotry associated with feral ghouls, Duncan McKann would murder Lucy Harwick and several others in a single-minded pursuit for revenge.[12]
By 2103, after the mass migrations and settlement of Crater and Foundation, sentient ghouls would make a return with humans. Ghouls would work among groups of humans, such as Eugenie of the Blue Ridge Caravan Company, and Mordecai McCoy would find steady work entering radioactive areas to scavenge goods and a general handyman around The Wayward. Despite the common and vital roles that ghouls would fill, ghouls would still suffer persecution for their appearance and incorrect association with feral ghouls. The Settlers of Foundation would hold the policy of shooting ghouls on sight at the gates because of feral ghoul problems. Once Penelope Hornwright is recruited for the Settlers portion of Wastelanders, she comments on having to wear a full mask disguise in order to enter Foundation. The Raiders of Crater are slightly more tolerant of ghouls among their ranks, but some share an innate bigotry for ghouls, such as Lev who would attempt to make Lucky Lou commit suicide by guilting him that he would become feral someday.[17][18]
Biology
Most ghouls were "created" in the Great War of 2077, with the exception of at least two pre-War ghouls, Eddie Winter and Desmond Lockheart. Ghouls are alive during Fallout 76 (2102 - 2103), Fallout (2161), Fallout 2 (2241), Fallout 3 (2277), Fallout: New Vegas (2281) and Fallout 4 (2287). All ghouls live considerably longer than normal humans, though they are largely sterile, so much so that the birth of Monica, an unaffected human child of two ghoul parents, was described as miraculous.[19] The unnaturally long lifespan of a ghoul is also due to a mutation within the autonomic nervous system of certain individuals following exposure to specific combinations of ionizing radiation with wavelengths below ten picometers. Radiation that has such a short wavelength, is known as gamma radiation and is normally lethal to healthy humans in even moderate doses. The mutation in response to gamma radiation that produces ghouls disrupts the normal process of decay in the neurotransmitters along the spinal cord.
Origins
High levels of radiation are a crucial factor, but radiation poisoning typically results in death, rather than ghoulification. There are two primary ways in which ghouls can develop from a human. Irradiation and gradual transformation result in ghouls who retain their general human shape, but with a high degree of skin deterioration: Exposed muscle, flaking skin, and damaged connective tissue characterized by the absence of nose and ears.[Non-canon 11] Another is surviving a nuclear blast relatively close to ground zero, suffering burns both thermal and radiation-induced, but surviving. The latter transformation is typically faster and substantially more traumatic for the victim and results in a generally much more horrifying appearance, with exposed bone, asymmetric deformations, and extensive unhealed wounds.[20]
The vast majority of ghouls of both types have developed as a result of exposure during the Great War, but ghoulification is also possible after the War. Camp Searchlight is one such example, with an attack that transformed a majority of the NCR troopers stationed there into ghouls. Camp Searchlight also emphasizes the fact that the nature of the transformation may lead to mental problems. The trauma of transformation can cause a mental breakdown in the victim, causing a rapid degeneration of higher thought processes, causing them to become feral.[21] Moreover, particularly severe irradiation can lead to the creation of luminous necrotic post-humans, or glowing ones with a permanently damaged brain: feral glowing ones are almost invariably hostile.
Overview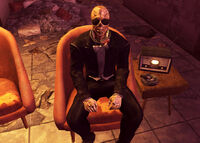 The transformation can take anywhere from hours,[22][23] to weeks,[24] to as much as a year, depending on exposure levels.[11] Once it is completed, the ghouls take on the aforementioned appearance, at a rate influenced largely by the manner of their exposure: the more radiation received in a short amount of time causes drastic changes, while symptoms of ghoulification are more gradual with chronic exposure. Ghouls generally experience loss of skin and connective tissue in a manner similar to leprosy, resulting in exposed muscle, blood vessels, and in extreme cases even bone and internal organs.[25] As a rule, ghouls generally lose hair along with the skin, though this varies due to the unpredictable nature of the change.[26][27][28] Vocal cords and the larynx are also usually affected by the change, resulting in a raspy voice – though again, this varies, such as the vocal cords experiencing only minor degradation when ghoulification begins, resulting in a far less raspy voice, compared to those who have experienced it for far longer.[29]
Other results of the change are widespread necrosis,[30] rot,[20] and other degenerative conditions like arthritis,[31] cataracts, and glaucoma.[32][33] Feralization and dementia can happen immediately.[34][35] In fact, this necrosis can be exacerbated by a phenomenon whereby rotting flesh around sweat glands exudes macronutrients, which attract flies that further digest and consume the tissue of the ghoul.[36] Some ghouls may also experience loss of appendages, but the radioactive regeneration allows for them to be reattached and retain functionality.[37]
People who have purposefully turned themselves into ghouls through pre-War procedures, such as Desmond Lockheart and Eddie Winter, escape some of the side effects of ghoulification, keeping most of their hair and having little vocal chord damage, but still suffer from the necrosis of their bodies like other ghouls. Another purposefully turned ghoul is John Hancock, but he suffers from many of the changes noted above.
Exposure to ionizing radiation with wavelengths below 10 picometers triggers a mutation in the spinal cord, halting decay in neurotransmitters and triggering permanent regeneration. Cardiac and respiratory functions continue to function regardless of other damage, extending the lifespan indefinitely unless either system is damaged beyond repair.[38][39]
In addition, the regenerative effects of radiation – in fact, the altered ghoul physiology is boosted in the presence of radiation, resulting in an increased rate of regeneration.[40][41] In certain cases, such as with the marked men of the Divide, intense radiation can help a ghoul survive even lethal injuries, such as flaying.[42][43]
The mutated physiology still requires ghouls to provide adequate nourishment for their systems, including providing water[44] and food. The loss of the sense of smell allows ghouls to eat food humans would consider repulsive,[45] which coupled with the resilience of their digestive tract allows them to subsist on any edible foodstuff.[Non-canon 12][46] As an added benefit, a ghoul is also immune to most common diseases that affect unmutated humans. However, that doesn't mean ghouls are immune to all diseases, and diseases of the mind (not just feralization) can still affect a ghoul.[47] A side-effect of the mutation is that recreational drugs like Jet have a diminished effect on their physiology, requiring double doses or increased potency to work.[48] This is likely because of the regenerative properties of ghoulification. The neurotransmitters that would be firing at an accelerated rate during the use of a drug like Jet in a normal human would be quickly dealt with in the ghoul's body. This likely applies to all types of drugs - stimulants and depressants - that are not radiation cures or preventers.
While ghouls require food and water, the regenerative properties of their mutated bodies can sustain them in the absence of either. In most cases, this coincides with the transformation into a feral ghoul. However, there are three known cases where prolonged isolation with no air, food, or water had no deleterious effects on the ghoul such as in the cases of Coffin Willie, buried in a coffin for months,[49] Woody, who was exhibited as a mummy for weeks while in a state of deep sleep,[50] and Billy Peabody, who survived the Great War trapped inside a refrigerator, surviving for 210 years.[51]
Ghouls retain their normal cognition and are generally no different than humans in terms of intellect. In fact, many ghouls benefit from their extreme lifespan and are capable of amassing skill and knowledge far beyond the ability of regular humans.[52][53] By extension, ghouls retain their sex drive[54] and some humans have a ghoul fetish.[30] Regardless of their capacity for intercourse, ghouls are sterile and cannot procreate. Any children they may have are either adopted[55] or were mutated into ghouls alongside their parents.[56]
Complications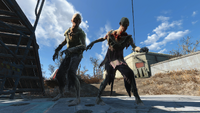 However, turning into a ghoul can bring about severe complications. The degeneration into a feral state (referred to as ferocious post-necrotic dystrophy) is not fully understood. It is known that it is a result of a degeneration of the brain (which is not affected by the regenerative mutation of the spinal cord) and emerges following the atrophy of higher brain functions, accompanied by an increased level of aggression and appetite. When the loss of capacity for thought is complete, a ghoul is considered feral. The factors that may cause a ghoul to enter this state are unclear, but anti-social or isolated ghouls are more susceptible to it.[21]
A lack of isolation does not consistently result in avoiding transformation, however. Several examples of individuals living in groups yet still transforming can be seen, such as the co-workers and partner of Oswald Oppenheimer, while he himself did not transform.[57] The crew of Captain Zao succumbed to turning feral aboard the Yangtze while the captain retained his faculties.[58]
Exposure to intense radiation may also be a factor – feral ghouls have no body heat and emit lethal levels of radiation, which sustain their functions. This allows them to survive for centuries, of which the process is irreversible.[59][60]
The transformation of a ghoul into a luminous necrotic post-human, or glowing one, occurs when the organism of a ghoul ceases filtering radioactive particles from the blood, resulting in bioaccumulation and the gradual appearance of bioluminescence as a result.[61][Non-canon 13] Luminous ghouls are usually feral, due to the damage to their nervous system and the time it takes to accumulate the radiation,[61] though ghouls uncommonly develop luminescence before degenerating into a beast-like state, like the glowing ones of Necropolis, the Gecko reactor, Jason Bright, Oswald Oppenheimer, and Hank.
Non-human ghouls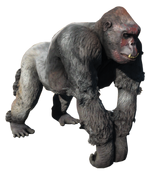 Ghoulification is not unique to humans and is a possible mutation for various families of animals. Animal ghouls seem to share all the disadvantages and advantages of becoming a ghoul as a human does, this includes rapid hair loss, the deterioration of the epidermis, severe cataracts and glaucoma of the eyes, elongated life-spans, as well as transforming into glowing ones through extended exposure to radiation.
Examples of affected species can be found throughout post-War America from New California to the East Coast. Known pre-War individuals include Ruzka, a circus bear that was performing around the Point Lookout area, and the Beast of Beckley, a legendary wolf known to roam Appalachia. Roaming Alpha Mongrels can also be found to be wearing dog collars from their previous domesticated lives. Even non-native species, such as gorillas may become ghoulified. It is also believed by some caravan guards that blue ghoul whales exist.[62]
Below is a full list of creatures that have ghoulified:
Discrimination
The attitude towards ghouls in the wasteland varies from acceptance, through apathy, to outright hostility. This is predicated on a variety of factors – for example, in New California of the mid-22nd century, ghouls were almost legendary creatures, as their population had isolated itself within Necropolis, leading to the rise of rumors about terrifying zombies living within its borders.[63] The fact that patrols that entered the city rarely returned alive (as was the case with two patrols Killian Darkwater sent into it) did not help.[64] Of course, some daring souls (like Keri Lee of Crimson Caravan) managed to make inroads and secure lucrative trade relationships with the ghouls of the city (or skags, as the Hubbers referred to them).[65]
Vault City is a textbook example of racial prejudice at work. Since the atomic reactor in Gecko did not operate properly,[66] waste from the power plant started leaking into the local groundwater around 2239[67] and it eventually led to serious poisoning of the whole reservoir.[68] Harold learned that a hydroelectric magnetosphere regulator was needed for the repair job, but no such part could be found in Gecko, so attempts were made to contact Vault City but the messengers were shot on sight by the Vault City Guard, marking the beginning of an official policy to shoot all ghouls on sight.[69] The situation became worse, when Vault City residents started to believe that the ghouls had deliberately poisoned the groundwater, accusing them of terrorism against Vault City and demanding that they should be punished.[68] The First Citizen of Vault City, Joanne Lynette, even tried to hire someone who was willing to help stopping the Gecko problem by any means necessary.[70]
In regions away from New California, ghouls likewise experience a variety of attitudes. For example, in the Mojave Wasteland, ghouls are generally seen as equals and share both the misery of poverty[71] and the prominence of the stage[72] on equal terms with humans. Of course, not everyone is as egalitarian as the people of Freeside and New Vegas. The New Vegas Strip doesn't permit the entrance of ghouls or other mutants unless under the supervision of a human visitor,[73] or with permission from a higher-up.[74] The Bright Brotherhood is a cult centered around Jason Bright, formed in response to suffering its members experienced at the hands of humans.[75] In some areas, ghoul lynchings also happen,[76] while in others ghouls are considered a possible threat and are fired upon – like in Washington, D.C., where Lyons' Brotherhood of Steel members will routinely open fire on ghouls sighted in the city.[77]
A lot of anti-ghoul sentiment is caused by inexperience and ignorance. For example, some believe ghouls to be carriers of disease, without ever having examined one,[78] while others believe that all ghouls are inevitably bound to become feral and pose a threat to people around them, a sentiment with a lot of truth to it.[79] This was the basis for the eviction of ghouls from Diamond City, based on prejudice.
Sometimes, the situation is not helped by the ghouls themselves. Of particular note was the cause of Roy Phillips, a disgruntled ghoul from the Capital Wasteland, obsessed about seizing Tenpenny Tower for himself. His increasingly threatening behavior, when refused entry by Chief Gustavo, led to suspicions that he might attack the Tower directly,[80] only confirming the security chief's belief that all ghouls are walking ticking bombs.[81]
That said, misconceptions and prejudice are not unique to humans.[82] Apart from the hateful Roy Phillips, even the seemingly tolerant inhabitants of the Underworld have shown a racist side when some of them threatened Doctor Barrows over his research into ghoulification and its causes, claiming that "ghouls are ghouls and humans are humans."[83] Fortunately, not all ghouls are like that and many long for their pre-mutation life and seek ways to reverse the changes, no matter how unlikely the means.[84]
Some polities take steps to protect ghouls and other mutants, like the New California Republic, which extended legal protection to them in 2205[Non-canon 14] and allowed a significant number of ghouls of both genders to serve in the ranks of the New California Republic Rangers, with the bulk of them being accorded veteran status due to their resilience and experience in combat.[85]
Variants
Necrotic post-human (ghoul)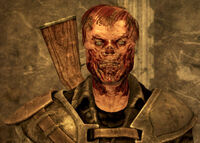 Commonly referred to as ghouls, these men and women are no different from regular humans when it comes to intellect or personality. Ghouls possess the ability to talk, and they normally wear clothing, as well as carrying and using weapons. Ghouls often refer to humans as "smoothskins."[86]
These ghouls also find terms such as "shuffler" and "zombie" to be offensive.[87][88][89][90] The phrase is also used to threaten ghouls.[91][92] Those bigoted towards ghouls use the two phrases interchangeably, stating that ghouls should be killed before the "go zombie" due to radiation destroying their brains.[93][94] Some ghouls have embraced the phrase, such as those in Set's Zombies gang.[95] Similarly, Raul Tejada uses the word zombie when referring to a nickname of his, "Raul the Ghoul, the zombie vaquero of Mexico City."[96]
Hostile intelligent ghouls, violent even without provocation, do exist, the most noteworthy being the Chinese remnants, Chinese spies, soldiers, and special forces units trapped in the United States following the Great War. Remnant forces are wholly unaware (or perhaps in denial) of the worldwide nuclear destruction that has occurred and believe that they are still in a state of war, continuing to follow old objectives sent to them pre-War by the People's Liberation Army.
Luminous necrotic post-human (glowing one)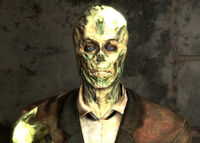 A highly irradiated ghoul that has absorbed enough radiation to develop bioluminescence, glowing a ghastly green color that's especially visible in the dark. They are colloquially known by most as "glowing ones," and are often considered outsiders even by other ghouls. Glowing Ones are predominantly feral, due to isolation and the time it takes to acquire that much radiation. Although uncommonly they may transition into this state before losing their faculties. See this section for more details.
From Fallout 3 onwards, Glowing Ones are particularly difficult in combat due to their resilience and the ability to suddenly discharge radiation from their body in a room sized "blast" that harms non-ghoul targets and heals ghouls.
People have seen on more than one occasion a feral glowing one fighting or being chased by "normal" feral ghouls. Although very rare, it is possible for a glowing one to retain their intelligence and cognitive functions, such as Jason Bright, Oswald the Outrageous, and several unnamed ghouls in Necropolis and most of the technicians at the Gecko power plant.
Ferocious necrotic post-human (feral ghoul)

These are ghouls who have irreversibly transitioned to a feral state, sustained only by radiation they absorb. Ferals are invariably hostile to living creatures (with the exception of other ghouls) and tend to cluster together in packs. Feral ghouls are among the more unfortunate mutants whose minds have deteriorated from prolonged radiation poisoning, becoming instinct-driven savages, attacking anyone and anything relentlessly, save for other ghouls. They are roughly divided into groups according to the danger they pose:
Regular feral ghouls wear torn, shredded civilian clothes and are very easy to dispatch.
Feral ghoul roamers and stalkers are often wearing rags or no clothes at all. They are considerably tougher than a normal feral ghoul and considerably more dangerous with their attacks.
Feral ghoul reavers are the most deteriorated form of a feral ghoul, wearing bits of metal armor and metal flight suits. Radiation has melted and fused entire segments of their body, making them incredibly tough to dispatch. In Fallout 3, even worse is the fact that reavers have no self-preservation instinct and will readily rip out its radioactive guts and throw them at their targets.
Withered, gangrenous, rotting, and charred feral ghouls are the rarest of feral ghoul subtypes and the most dangerous given their resilience to being dispatched and considerably deadly attacks.
Marked men

A unique subtype of the ferocious necrotic post-human, marked men are indigenous to The Divide area. Wounded by the subterranean nuclear detonations of 2277 and flayed alive by the resulting storms of the Divide, marked men are sustained only by the high background radiation that permeates the area, which keeps the regeneration going despite otherwise fatal damage to their bodies. As a result, the marked men cannot leave the Divide, and have developed a unique culture due to retaining a semblance of cognition. Despite still being cognitive enough to carry weapons and utilize advanced tactics such as constructing outposts and utilizing guard towers, they are still immediately hostile to any and all outsiders that venture near.[42]
Named ghouls
Notable quotes
"I don't have to tell you that Bright's group has got some fine-looking ghoulettes in it! Eh... or maybe I would have to tell you."

- Harland, Fallout: New Vegas
"Well, now that's a surprise! I'm used to every asshole smoothskin in this town giving me shit 'cause I look like a corpse." - Gob, Fallout 3
"Hey! Who you callin' a zombie?" - Roy Phillips, Fallout 3
"Of the people for the people" - Hancock, Fallout 4
Appearances
Ghouls appear in every Fallout game to date.
Behind the scenes
"
Ghouls are a type of mutant.

Harold is a ghoul. He's also a little special.

Super Mutants are humans with no or minimal radiation damage who have been exposed to FEV.

Ghouls are humans with significant radiation damage exposed to FEV.

Harold is, well, Harold.
"
— Chris Taylor, Fallout Bible 5
"
I know we treated him as a ghoul, but not a Necropolis one. He may have been irradiated before or after. All I remember was that he went in there with the guy whose name I forget (the one who fell into the vat and became the Master), and only Harold came out. Harold's memory is totally whacked, btw. ...most people don't know when they get irradiated, so he [Harold] just may not know what happened to him. I do know that radiation and FEV do not mix. Mutants are immune to radiation effects, but an irradiate human is killed by exposure to FEV. So one thing is sure: Harold is not a mix of radiation and FEV. He's got to be one or the other, and I think he's a ghoul.
"
— Tim Cain, Fallout Bible 5
A ghoul is described as "Bloodman" in an old Fallout concept art piece.
Virtually every Fallout game includes ghouls in some capacity: Fallout Tactics had ghouls in the The Belt, including a nuclear weapon-worshiping cult in Kansas City. Both Quincy and Springfield also have some ghoul occupants, while Fallout: Brotherhood of Seel included ghouls in Los who turned after being locked outside the Secret Vault. Later, in the same city, the Church of the Lost was created by former vault dwellers that had become ghouls.
Van Buren would have included two more ghoul types:

Endless walkers: Ghouls exposed to the harsh conditions of the American Southwest for too long will become what is known as an endless walker. Years of the desert sun has cooked their brain, destroying the cerebrum and turning any normal ghouls that undergo the process feral. They are cursed to endlessly walk, forever searching for something to quiet their insatiable appetite. Their skin has hardened into a natural leather, making them more resilient.
Born ghouls: Through cruel experimentation on humans by Dr. Sebastian at the Reservation, born ghouls were created. They are ghouls who have not mutated from humans, but who were actually born into ghoul-dom. There would be only three known born ghouls.

Among Fallout developers, Tim Cain stated that ghouls are only a result of radiation, consistent with an understanding of the science of radiation as it stood during the 1950s, Chris Taylor said that a mix of both radiation and FEV was involved. While Chris Avellone initially supported the latter view in his Fallout Bible,[Non-canon 15] he was later convinced to support the radiation-only version.[Non-canon 16][Non-canon 17]
According to Kal-El Bogdanove, ghouls who have recently ghoulified have less raspy voices.
In folklore, a ghoul is a monster or spirit that is associated with graveyards and consuming human flesh.
Gallery
References
Non-canon
West Coast
(Fallout, Fallout 2, Fallout: New Vegas)
Alien

 ·

Bighorner (Bighorner bull, Bighorner calf)

 ·

Bird

 ·

Bloatfly (Legendary bloatfly)

 ·

Brahmin

 ·

Cazador (Young cazador, Legendary cazador)

 ·

Centaur (Evolved centaur)

 ·

Coyote (Coyote alpha male, Coyote den mother, Coyote pup)

 ·

Deathclaw (Baby deathclaw, Young deathclaw, Blind deathclaw, Deathclaw alpha, Mother deathclaw, Intelligent deathclaw, Legendary deathclaw)

 ·

Dog (Cyberdog, Legion Mongrel, Vicious dog)

 ·

Fire ant (Fire ant worker, Fire ant soldier, Ant queen)

 ·

Floater

 ·

Fly

 ·

Gecko (Hunter gecko, Fire gecko, Golden gecko, Little gecko)

 ·

Ghost people (Ghost harvester, Ghost seeker, Ghost trapper)

 ·

Ghoul (Feral ghoul roamer, Feral ghoul reaver, Glowing one, Feral trooper ghoul)

 ·

Giant ant (Giant worker ant, Giant soldier ant, Giant ant queen)

 ·

Giant catfish

 ·

Giant rat (Mole rat, Pig rat)

 ·

Human (Dwarf

 ·

Lobotomite)

 ·

Lakelurk

 ·

Mantis (Giant mantis, Giant mantis nymph, Giant mantis female)

 ·

Marked man

 ·

Night stalker (Young night stalker, Den mother, Legendary night stalker)

 ·

Radroach

 ·

Radscorpion (Bark scorpion, Bark scorpion hunter, Small radscorpion, Giant radscorpion, Radscorpion queen)

 ·

Raven

 ·

Slags

 ·

Spore carrier (Spore carrier savage, Spore carrier brute, Spore carrier runt)

 ·

Spore plant

 ·

Super mutant (Mariposa) (Super mutant master, Nightkin)

 ·

Wanamingo

 ·

Tunneler (Tunneler queen)

 ·

Wolf

 ·

Yao guai
East Coast
(Fallout 3, Fallout 4, Fallout 76, Fallout Tactics 2)
Abomination

 ·

Alien

 ·

Alien squid

 ·

Alien worm

 ·

Angler

 ·

Beaver

 ·

Bee swarm

 ·

Bird

 ·

Bloatfly

 ·

Bloodbug

 ·

Bloodworm

 ·

Brahmin

 ·

Brahmiluff

 ·

House cat

 ·

Cave cricket

 ·

Centaur

 ·

Chicken

 ·

Crow

 ·

Deathclaw

 ·

Dog (Mongrel)

 ·

Fire ant

 ·

Firefly

 ·

Flatwoods monster

 ·

Fly

 ·

Fog crawler

 ·

Fox

 ·

Frog

 ·

Gatorclaw

 ·

Gazelle

 ·

Ghoul (Feral ghoul, Feral ghoul reaver, Feral ghoul roamer, Glowing one, Swamp ghoul)

 ·

Appalachian Floater

 ·

Ghoulrilla

 ·

Giant ant (Giant ant queen)

 ·

Giant catfish

 ·

Gorilla

 ·

Grafton monster

 ·

Gulper

 ·

Hermit crab

 ·

Honey beast

 ·

Human

 ·

Lamprey floater

 ·

Manowar tendril floater

 ·

Mega sloth

 ·

Mirelurk (Mirelurk hunter, Mirelurk king, Nukalurk, Swamplurk, Swamplurk queen)

 ·

Mole rat

 ·

Mole miner

 ·

Mothman

 ·

Mutant crocodile

 ·

Mutant hound

 ·

Mutant wanamingo

 ·

Needle tooth floater

 ·

Opossum

 ·

Rad chicken

 ·

Radgull

 ·

Rad rabbit

 ·

Rad-rat

 ·

Radtoad

 ·

Radroach

 ·

Radscorpion (Albino radscorpion, Giant radscorpion)

 ·

Radstag

 ·

Scorched

 ·

Scorchbeast

 ·

Sea creature

 ·

Snallygaster

 ·

Squirrel

 ·

Stingwing

 ·

Tick

 ·

Super mutant (Vault 87) (Super mutant behemoth, Super mutant brute, Super mutant master, Super mutant overlord)

 ·

Super mutant (Institute)

 ·

Super mutant (Huntersville)

 ·

Swampfolk

 ·

Trog

 ·

Wendigo

 ·

Wolf

 ·

Yao guai
Midwest
(Fallout Tactics, Van Buren)
Badger

 ·

Boom bug

 ·

House cat

 ·

Brahmin

 ·

Dog

 ·

Electro-beetle

 ·

Endless walker

 ·

Gehenna

 ·

Ghoul (Born ghoul, Feral ghoul, Glowing one)

 ·

Giant albino ant (Giant albino ant queen)

 ·

Giant leech

 ·

Giant rat

 ·

Giant wasp

 ·

Hairy deathclaw (Baby hairy deathclaw)

 ·

Human

 ·

Komodo dragon

 ·

Molech

 ·

Mountain lion

 ·

Mutant cannibal

 ·

Raccoon

 ·

Radroach

 ·

Radscorpion

 ·

Radtoad

 ·

Trog

 ·

Super mutant (Mariposa)

 ·

Wolf
Texas
(Fallout: BoS, Fallout: BoS 2)
Brahmin

 ·

Coyote

 ·

Dog

 ·

Experimental deathclaw (Baby experimental deathclaw)

 ·

Ghoul (Glowing one)

 ·

Giant rat (Mole rat)

 ·

Human

 ·

Radbug

 ·

Radscorpion (glowing radscorpion, spitting radscorpion, large giant radscorpion)

 ·

Small rat

 ·

Giant rat

 ·

Super mutant (Mariposa)
Project V13
Ghoul

 ·

Human

 ·

Mutant mantis shrimp

 ·

Super mutant (Project V13)
Fallout Shelter
Bat

 ·

Deathclaw

 ·

Feral ghoul

 ·

Ghoul

 ·

Human

 ·

Mole rat

 ·

Cat

 ·

Dog

 ·

Parrot

 ·

Radroach

 ·

Radscorpion

 ·

Super mutant