"
General Atomics International has the finest industrial robots in the world. Buy two or more GAI robots and save! Special deal on 'Mr. Handy' models!
"
— Advertising applet
General Atomics International (GAI) was a pre-War company specializing in industrial robotics, energy, weapons, and software up until the Great War.
Background
One of the most prominent manufacturers of industrial robotics in the world,[4] General Atomics was one of the first companies to introduce modern robots to the market, starting with the Mister Handy model in 2037, as a general purpose construction and maintenance unit. Used widely on both the American and Mexican markets (especially after the Mexico City earthquake of 2042) which received just one major hardware update in 2039, to eliminate a bug causing interference in the operation of the multiple arms.[Non-canon 1]
Although the model was vastly successful, it was still a design rooted in the technology of the 2030s, with a compact computer brain that was incapable of learning or executing complex tasks without extensive programming. By the 2070s, it was an automaton surrounded by more advanced designs utilizing cutting edge neural networks. In order to maintain their market share, General Atomics entered into a joint venture with RobCo Industries, combining RobCo's talent with General Atomics' experience in robotics.[5][6][7][8] The resulting model was capable of self-programming and initiative, more than making up for halving the number of arms to just three. Despite its sophistication, it was also cost-effective, making it the perfect domestic servant robot.[9][10] The success of the joint venture resulted in the U.S. Army tapping GAI and RobCo to create Liberty Prime around 2072[11] and spearhead the creation of Robobrains at Robotics Technology Facility RB-2851 in Boston, Massachusetts.[12]
Beyond their robots, GAI also manufactured nuclear reactors for various purposes, such as providing backup power for Vaults (e.g. Vault 13),[Non-canon 2] wave/particle diverters for laser weapons,[13] and even experimented with autonomous, automated robot networks supposed to maintain a facility independently. However, their Director Management System proved to be a disaster,[14] resulting in numerous fatalities at General Atomics Galleria that forced a shutdown of the facility[15][16] until firmware updates could be delivered to the affected robots. The casualties included the human supervisor who was legally required to be present on site.[17] The fact that the corporation did not go under can be chalked up to their official policy of bribing any survivors into silence (or for "immediate financial settlements.")[15]
Locations
Employees
Products
Robots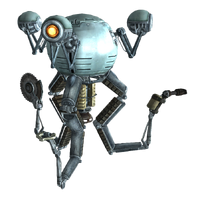 Mister Handy was produced by General Atomics International as a house-keeping and defensive robot, able to help out around the house and defend itself and possibly others with its buzzsaw and flamethrower. Mister Handy is speech-capable, communicating in a polite English accent.
Mister Gutsy
Mister Gutsy is a modified Type-II Mister Handy designed for military use by the U.S. Army. Mister Gutsy comes with a plasma weapon, flamethrower, and significantly better armor than Mister Handy.
Robobrain
The robobrain was created by GAI as a military robot for the US. It uses a real organic brain as its processor. Military models are capable of using integrated laser weapons, sonic projection rays, and have human-enough manipulator claws to wield submachine guns and rifles. The robobrain, by the time of the Great War, was still experimental with the only test runs seen by the general populace and never seeing full-fledged release.
Miss Nanny
Miss Nanny is an alternative to the Mister Handy model, programmed to speak French, and English in a French accent.[18]
Mister Orderly
Mister Orderly, unlike the Mister Handy or Mister Gutsy, is dedicated to medical procedures and experimental surgery. It is not hard to distinguish it from a Mister Handy as it has a white paint job on the body and has white and blue arms, each bearing a red border. However, it has the same British butler voice of the Mister Handy series of robots.
They were not placed on the market or used by the U.S. Army, but were only delivered exclusively for the Big MT company in Big Mountain, specifically for their experimentation. Like the late models of the Mister Handy line, they are capable of quite eloquent speech with a stereotypical English accent. They have three pincers of a blue color instead of the saw blade and the blowtorch of the Type-I Mister Handy.
Other products
Other
Software
Askforhelp Helper System[21]
Sentinel power armor
Made in cooperation with West Tek, the Sentinel Control System was developed by General Atomics International, meant to provide military support to Army units by using pre-existing power armor pieces.
Appearances
General Atomics International is mentioned in the Fallout manual, Fallout 76, Fallout 3, Fallout 4 and its add-on Automatron and Creation Club, but the company's products appear in all Fallout games.
Gallery
References
Non-canon
Weapons, ammunition, and armor
A&X Silencers - ArmCo - BeatCo - Beretta - Big Chief - Bringham - Calico - Cambridge Polymer Labs, LLC - Circle G - Colt Firearms - Cordex - Donaustahl GmbH - Enforcer - Federal Cartridge - Fabrique Nationale - Glastinghouse, Inc. - Glock - Grandad's - Hauer Premium - HalluciGen, Inc. - Heckler & Koch - Hermes Communications - Implied Hypnotics - Independent Arms Group - L.O.B. Enterprises - Long Branch Arsenal - M&A Guns Manufacturers - Manhattan Projects Inc. - Masterson - Mauser - Rheinmetall AG - Pancor - Purebore - Ranch Defender - Rockwell - Romington - SharpWit, Inc. - SIG-Sauer - Silver Star - Red Eagle Firearms - Red Ryder - Smith & Wesson - Southern Cartridge - Stent Security Solutions - Union Cartridge - Wattz Electronics - Whoop Ass - Winchester - West Tek - Yuma Flats Energy Consortium
Other
B&K Cleaners - Bernardo's - Big Al's Tattoo Parlor - Big MT - Boston Communications - Burnett and Associates - Clark, Clark, Clark & Associates - Cole & Parker Holdings Ltd. - D. Miller & Sons - Dawnshire Pottery, Inc. - Egret Tours - Fantastic Tours - Gramercy & Ulster - Grey & Gould - Happy Liberty Imports - Hermes Communications, Incorporated - Jay's Moving - LGJG - LoveLine - Madden's Boxing Gym - Priblos' Curios - Pulowski Preservation Services - R&G Processing Services - Rockwell Clearing House - Ticknor and Fields - Van Lowe Taxidermy - Westside Cleaners Storage - Wilson Brother's Auto Repair