| | |
| --- | --- |
| | This is an overview article, listing content appearing across multiple games. |
"
Them things come in kits now, huh? Man, the good book don't mention that, does it? Well, all right then. Let's get hunting.
"
— John Cassidy
The G.E.C.K. (Garden of Eden Creation Kit) is a terraforming device created by Future-Tec, a division of Vault-Tec Corporation, to ease the process of harnessing the post-nuclear wasteland for Vault dwellers.
Background
Developed by Stanislaus Braun, the kit contains the basic amenities needed to establish a post-nuclear settlement.[1] Although advertised as a miracle solution for a land ravaged by nuclear warfare, the G.E.C.K. was based on a variety of assumptions about the post-nuclear world, as its creators had no real way to determine what challenges the survivors of the nuclear war would face.[Non-canon 1][Non-canon 2]
Characteristics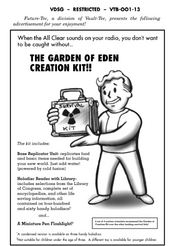 Packed into a large, silvered briefcase with the kit's abbreviation, the G.E.C.K. was intended to be standard equipment for all Vaults,[2] as a fully self-contained terraforming module capable of creating and sustaining life in a post-War environment. Vault-Tec proudly declared that, "even in the event of total global annihilation, a properly functioning G.E.C.K. will create an earthly paradise."[1] It's possible it could even fertilize pre-conditioned areas on the Moon.[Non-canon 3]
In reality, it was a more modest tool. The kit included seed and soil supplements, a fusion power generator (referred to as cold fusion in briefing materials), matter-energy replicators, atmospheric chemical stabilizers and water purifiers.[1] The replicators were advertised as capable of creating food and basic items needed for building new environments.[Non-canon 4]
Reading material and information was included with the kit, including selections from the Library of Congress, a complete set of encyclopedias, and other information that would benefit those trying to survive.[Non-canon 4] These included additional codes for the Vault's systems to allow for the manufacture of additional jumpsuit varieties, weatherproof gear, schematics for force fields, and instructions on creating adobe buildings from raw materials, manufacture chemicals to make sandcrete, and even disassemble parts of the Vault to utilize in the process of rebuilding civilization.[Non-canon 5][Non-canon 6] The Kit itself was designed to be disassembled in the process of rebuilding, as a source of spare parts and energy (thanks to its fusion generator).[Non-canon 7][3]
If chosen to receive a G.E.C.K.,[4] a Vault would be issued two standard G.E.C.K.s as part of the standard inventory package. Some Vaults lacked the two issued G.E.C.K.s, such as Vault 8, of which the extra G.E.C.K. was swapped with Vault 13's surplus water chips.[5][4]
Vault 87 received an unique G.E.C.K., which was capable of collapsing matter within a given radius and recombining it to form "a living, breathing, fertile virgin landscape to begin anew."[6]
Variants
New California
The denizens of Arroyo passed down stories of the "Holy GECK" which they came to believe was a sacred, magical item which could change the wasteland into a paradise. Both Shady Sands and Vault City were built using a G.E.C.K. Arroyo was later reestablished with a G.E.C.K. after the destruction of the Enclave Oil Rig.
Capital Wasteland

In Vault 112, the Lone Wanderer learns that in order to make Project Purity work properly, a G.E.C.K. is required. With the kit, one will be able to assist in the purification of water in the Potomac River.
Appalachia

A part of the experimental Vault 94, the G.E.C.K. in Appalachia was guarded by the vault dwellers until they were overrun and murdered by outsiders. The same individuals that killed the dwellers attempted to destroy the kit. The resulting explosion caused a subsequent mutation and environment that was from then on referred to as the Mire.
Appearances
The G.E.C.K. appears in Fallout 2, Fallout 3, Fallout 76 and is mentioned in the Vault Dweller's Survival Guide manual for Fallout.
Behind the scenes
An irradiated G.E.C.K would have appeared in the canceled Fallout Tactics 2, and a modified prototype G.E.C.K. would have appeared in Fallout: Brotherhood of Steel 2.
References
↑ 1.0 1.1 1.2 Vault 94 terminal entries; G.E.C.K. monitoring station terminal, Introduction to the G.E.C.K.
↑ Fallout 2 item description: "{36600}{}{G.E.C.K.}"
"{36601}{}{The Garden of Eden Creation Kit. This unit is standard equipment for all Vault-Tec vaults. A GECK is the resource for rebuilding civilization after the bomb. Just add water and stir.}"
↑ Randal: "{126}{}{A GECK? That's a Garden of Eden Creation Kit, a kind of gray suitcase looking thing, right? I haven't heard anyone mention one of those in... well, since... almost forever.}"
The Chosen One: "{129}{}{Do you have one?}"
Randal: "{132}{}{Hate to break it to you, friend, but we don't have ours anymore. Used it up to make Vault City...*poof.* All gone.}"
(Randal's dialogue)
↑ Vault City central computer: "{240}{}{From what you can make out in the archives, two GECKs were part of every Vault's standard inventory package. Only one was shipped to Vault 8, however.}
{241}{}{Cross-reference the GECK shipment information.}
{244}{}{Due to a shipping error, it appears Vault 8 received a box of surplus water chips intended for another Vault. The other Vault most likely received Vault 8's second GECK.}"
(Vault City central computer's dialogue)
↑ G.E.C.K. activation message in Fallout 3:
"The G.E.C.K. will collapse all matter within its given radius and recombine it to form a living, breathing, fertile virgin landscape and allow life to begin anew."
(Fallout 3 message box transcriptions)
Non-canon