| | |
| --- | --- |
| | This forum page has been archived. Please do not make any further edits unless they are for maintenance purposes. |
Hi Folks,
As some of you know, I'm looking at Portals at the moment. I've started with looking at PV13/VB. With Fallout 4 perhaps optimistically taking a slot vacated by PV13, I've figured its likely Van Burens' days up there are numbered too - either that or we have to add a whole lot more icons.
I thought this might give us a bit of an opportunity... There are a grand total of 8 canceled Fallout games we know about - if you include the iPhone game that made it to prototype stage... Yet I think they're easy to miss on the wiki... Perhaps with something that stuck out a bit more and said "Hey, there are cancelled Fallout games with cool stuff here to read", then they might get a bit more attention.
So without further ado, I'd like to show you a prototype for the "Canceled Games Portal".
There is a little more work to do, but I think a lot of this can stand up as a prototype for redoing the main game portals in a similar style.
What am I looking at?
If I can walk you through the page...
At the top, the generic header from the front page is replaced with something more unique to the page... Needs a bit more on the format work I think, but gives you a sense of the right direction.
Next bit is the big one... The Slider showing off 4 of the games. Sadly the slider is limited to 4 items; given there are 6 games that I think are worthy of being shown off, I'm going to explore using the rotating content template to vary which 4 get picked - at the moment though, it is just a static 4. This for other portals could be used to show off the current featured articles instead.
Next comes this portal's contents... a bit different to what we've had before, it instead summarises all the games covered by the portal, maybe learning that heading through Canada and Alaska to China might get you excited for Fallout Extreme?
We can include the old contents style as well... I'm thinking for F3 and FNV we could have the descriptive contents for the main game and DLCs, and then the regular contents lower down the page.
Below that we have something new to the portals... The last 3 conversations in the Fallout Online General Discussion Forum. I'd like to try and get more people to look at the forum, not sure how successful this might be but it can't hurt.
Next is the Featured Article in longform. The ones you're seeing here are just the PV13 featured articles. Mixing other games into it shouldn't be too tough.
Lastly we have the current getting involved template to round out the page.
So, where from here?
Good question. I've mentioned rotating content for the slider, and the Featured articles would need to be mixed up. A blogroll would go on the right (but of course that wont sit right in my sandbox).
But as for other things to add in, I'm a bit stumped. Are there any ideas for other changes that might work, or any other comments? Agent c (talk) 23:52, February 17, 2013 (UTC)
Comments
Looks good, Chad. Is there gonna be an icon on the front page for this portal, and what will it look like? That's all I really have questions about. Mayhaps add a link to the related game's design doc in the little blurb, if it exists. Richie9999 (talk) 23:44, February 18, 2013 (UTC)
This all looks and sounds quite swell. This would be fine in my opinion. Do it whenever you think the time is good.

"Semper Invictus" 20:47, February 23, 2013 (UTC)
I think it looks great, but it's missing something. Could just be the formatting that isn't in place yet. It's an awesome design, it just needs some style, although I'm at a loss for what that would entail. DevilXPanther (talk) 07:50, February 25, 2013 (UTC)
Looks nice. Maybe we could create an overview article, to show how cancelled games influenced the later games? Not quite sure how to do this, though. --Theodorico (talk) 12:29, February 28, 2013 (UTC)
Sounds like an interesting idea... However its something that I think would have to go past just cancelled games and into all cut content... The EPA having several elements later included in Old World Blues. could start with a list of reused elements and grow from thereAgent c (talk) 21:26, February 28, 2013 (UTC)

Makes everything a lot simpler and condensed. We might still have some troubles further down the road with space, but this is a good change for now.

Some Assembly Required! 16:38, February 28, 2013 (UTC)
Next Phase
thanks for the comments so far, I'll be adding one more feature shortly at Jspoels suggestion, namely a contents section to allow for quicker access into articles. Once I've done that I'll come back with a full vote. In the meantime, I'm still taking comments and suggestions... Agent c (talk) 21:25, February 28, 2013 (UTC)
I've now added a contents section, including an overall index, and the existing PV13 and VB sections in other tabs. Once the forums are fixed proper, I'll start with some voting fun. Agent c (talk) 00:39, March 3, 2013 (UTC)

I don't see where you have the tabs. Are you going to use the tabber extension? If so, we'll have to make some css to change the styling to our colors. We'll also have to create a special css class for the slider when used inside of the portal sections, as it's overflowing right now. It needs to be only 654px rather than the standard 660. I believe Theo's working on that. As for everything else listed here, I like what I see and think this is the way we should go. The Gunny   03:54, March 3, 2013 (UTC)
They're used in "article index", just below the gunk where the forum preview should be.Agent c (talk) 03:59, March 3, 2013 (UTC)

Yeah, I just saw. Had to click on edit, since the tabs aren't rendering for me. You're using tabview. I don't recall how that looks. Do the colors need to be changed? The Gunny   04:03, March 3, 2013 (UTC)

With the portals, the way the pages work is through nested templates... Each element is called from a template that defines the box, giving it background colour, header, borders, etc. Actually defining how the tab appears I think had to be done in CSS, but I haven't touched that, I've left that vanilla. Agent c (talk) 11:58, March 3, 2013 (UTC)

Yeah, it'll have to be addressed in css. The problem right now is that the tab view ain't working for me so I can't see if anything needs to be done. I guess I'll just wait out the fix -_-  The Gunny   17:33, March 3, 2013 (UTC)

I strongly suggest switching to the tabber. Thing is, tabview bypasses traditional MediaWiki mechanics and loads content via Ajax, as a result we'll get a bunch of orphaned pages, not linked from the portal page. This is bad not only for MediaWiki, but for Google, also. Yeah, I know, that tabber doesn't looks right, but this is fixable, and I can do that. --Theodorico (talk) 17:36, March 3, 2013 (UTC)
(←)  I saw you working on the css for tabber. I agree, we should use tabber and let me know when the css is done, we'll change it site-wide. No need for blue tabs anyways. Of course, you could change it yourself, were you an admin........:)  The Gunny  

17:46, March 3, 2013 (UTC)
My dog Wikia ate broke down my admin request the forum! :))) --Theodorico (talk) 18:02, March 3, 2013 (UTC)
The Article Index box looks fine to me now, using tabs is a good solution to rescue the Van Buren and Project V13 portals. (See User:Agent c/SandboxCanx for progress). Featured Games slider still needs work and do we need the forum threads on this Canceled Games portal page? Don't think so. We can remove the Helping Out notice here and do an overhaul on the featured articles (missing at the moment) and featured images. On the right we can add the recent news blogs from Van Buren and Project V13. That's about what I have in mind at the moment. And Agent c came up with an interesting idea on my talkpage. Creating tabs for the (FO3 and FNV) add-ons. When you look at those portals there are hardly any direct links to that content. Worth taking a look at. Jspoel

17:48, March 3, 2013 (UTC)
Good idea with the add-ons. Once Theo gets the tabber css looking good, we wan use it in a bunch of places. As for the slider, Theo's got a css fix ready, I believe, we just need to change the default width from 660px to 654px for it to fit. The Gunny   18:09, March 3, 2013 (UTC)
The forum threads I was hoping to put there to try and show a bit more action, but maybe thats an idea that will work better n a "new games"(F4) portal. I'll adjust the order to Games, Featured article, contents, and then forum as the anchor at the bottom as I think something needs to be there... I'll investiate the other tab function too.Agent c (talk) 18:25, March 3, 2013 (UTC)
I've got both tab styles on display now. I like the look of the Tabview tabs better, they seem to be more prominent, is there any adjustment we can do on the Tabber style to make the text a bit bigger, etc? Agent c (talk) 16:27, March 4, 2013 (UTC)

Sure, I'm working on it. Here's how it looks like at the moment: . Quite a lot of things needs to be addressed, but everything is manageable. As for the bigger text: This depends on how many tabs we want to have:


If we want tabs for FO3/FNV and every add-on (5-6 tabs,total), then the answer is no.
If we want only 3-4 tabs, then yes, we can make it bigger.

--Theodorico (talk) 17:51, March 4, 2013 (UTC)

So thats a no really then, as we'd obviously want consistency when rolling out to other areas. Might be some other way to draw attention to it then, a slightly different font or something... I'll have to think about it, but at least we know it works and will do for now. Agent c (talk) 18:46, March 4, 2013 (UTC)

Small input from me, I don't think a tab for each add-on is warranted, they should be under an add-ons section within the core games tab. Makes everything look smoother. nihil novi sub sole 21:04, March 4, 2013 (UTC)

Not sure I follow you there. At the moment if we were to do something similar on F3 or NV at the moment we have just the "Core game" index we have at the moment... Are you suggesting one tab covering all DLCs and one for the core game, or no tabs? To me it depends on level of content available. Agent c (talk) 21:34, March 4, 2013 (UTC)
(←)  I'm just saying don't have an individual tab for each DLC. Whether you want them under the core game tab (Fallout 3, Fallout: New Vegas, etc.), or as a separate (but grouped) tab (i.e. Fallout: New Vegas DLC) is at your guys' discretion. I'm just saying don't have too many tabs, or else it will become crowded.
nihil novi sub sole 23:36, March 4, 2013 (UTC)
Ah, We're talking on each individual game portal, so FNV and F3 won't appear in the same tab-set anyway, they're different portals. Agent c (talk) 23:46, March 4, 2013 (UTC)
Ok, the CSS tweak is in the place, so you can take a look at how it looks like. I'm taking suggestions on how to improve it. --Theodorico (talk) 01:44, March 5, 2013 (UTC)
Update 18/3
Rotating content now added. Some work needs to be done on the images to make them fit the size Theo says they need to be for the slider to fit right.
There are 6 versions of the slider to rotate through, each featuring 4 games as this is the maximum (so each game appears on 4/6 sliders). The 6 most notable cancelled games are featured, and all of them have at least 1 alternative picutre, with most having different pictures for all 4 sliders - should help keep it looking fresh.
Next Steps: resize the images used, redo the featured article (its currently using the PV13 featured article), complete index (new pages required) and go live.
Agent c (talk) 19:10, March 18, 2013 (UTC)
Good work c. I'll work on those images tonight if I can. The Gunny   20:17, March 18, 2013 (UTC)
Sliders
Just so you can see them all at the moment without having to wait a week to go through them all.

The alignment is off on some as they all dont conform to the size needed after applying theo's slider fix; some I'll look at mashing up with others (like the deathclaw drawing, the vault dwellers drawings, the crocodile-man drawing), others a bit of cropping/reszing should do it. Agent c (talk)
Todo
Slider 1 - Complete. VB recentred in new image, Fobos2 recentered, FEX lifted, D20 centred.
Slider 2 - Complete - Fobos2 created for this size, FEX centered, D20 centred, Fool Fine (maybe lift a little?).
Slider 3 - To start - Fex to center, D20 Critter Mashup done, Fool Fine, Tactics2 centred
Slider 4 - To start - D20 to create mashup of similar, Fool to centre, Tac2 Crock to mashup with other crock drawings, VB to centre
Slider 5 - To start - Fool fine, Tac2 same as Slider 3, Vb fine, Fobos2 same as 1 (needs changeover)
Slider 6 - To start - Tactics2 same as slider 4, VB to centre, FObos2 same as 2, FEX same as slider 2 (needs changeover)
Minor update to talk about... A new style for overview pages to make them more informative, have a look at the Project V13 developer, race or location pages (and compare them to the similar pages for other games); I'm hoping to make this a model to bring back to the released games. Agent c (talk) 19:17, March 25, 2013 (UTC)
Wider Applications
I think we should discuss potential applications for the slider system for pages other than the cancelled games portal. 6 sliders gives us the perfect number to apply the sliders to both the FO3 and the FO:NV portals, giving us a slider for the core game and one for each of the DLC's. We should also look at adapting it for future use on the front page, as Fallout 4 and it's eventual DLC's loom closer.
nihil novi sub sole 07:56, March 27, 2013 (UTC)
For the other games, that is definately the plan. Once this is complete I'll be proposing using it as a model for the other portals as a part of the vote to adopt this.
Front Page Icon
A couple of ideas for the front page icon follow. Other possible ideas could be a montage of game icons (which may be hard to make out at this scale/size), but I'm happy with others suggestions.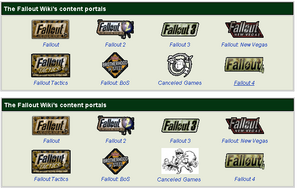 I like the first one. Although a sad vault boy could be a good icon as well. nihil novi sub sole 17:58, March 27, 2013 (UTC)
(←)  Agent, thanks for looking into a proper game icon, but I don't like these images. The first one is WW and the second one hasn't got it either. It needs color, then we may be getting somewhere. I was thinking maybe mixing the VB and PV13 game logo together somehow. Jspoel

23:38, March 28, 2013 (UTC)
They are also not in harmony with the other game icons who have a more rectangle shape.
Update 2 April
I'm working on a Portal Building guide, based on this work to assist future portal building, saving people the problem from reverse engineering and allowing easier deployment of future portals. It presumes basic familiarity with templates and parameters, but does explain the templates and coding used.
Featured Article is now changed over, this has a few changes from the old system
Existing portals use the "Template:Featured article"; The canceled games portal does not use this, but uses Gunny's "Template:Rotating content" instead. The reason for this is the Featured article tempalte uses a large number of additional pages and templates, which make the implementation more confusing. Rotating Content on the other hand allows us to use one page instead.
Existing pages have had their "featured" content as being cut/copied from the article at some indeterminate point in history. The new canceled games portal instead uses transclusion to pull from the subject article correctly. This allows the featured content to be updated automatically when edited. This prevents featured content falling out of sync with the page its featuring.
The new featured article content is a combination of the best of the VB and PV13 featured pages, and a few FOBOS2 featured pages mixed in. Due to the huge amount of VB content when compared to the other two games, it makes up just over half of the featured content. Agent c (talk) 21:49, April 2, 2013 (UTC)
3 April

All pages now exist in the mainspace.
Project V13 factions created.
We also have another sighting of a canceled game in TORN. This game is like Lionheart in that it would have shared Fallout's SPECIAL system, but not the setting. I've added it to the game overviews, and will add it to the all games index. However as a non-fallout game (with no images stored here), I wont be putting it in the slider at this stage.
Agent c (talk) 20:32, April 3, 2013 (UTC)