"
If you're going to get yourself killed out here, you mind doing it further away from our bunker? I don't want your corpse stinking up our little patch of heaven.
"
— Defender Morgan
Fort Independence is the headquarters of the Brotherhood Outcasts in the Capital Wasteland in 2277, located west of Fairfax ruins and north of Andale. Upon the first arrival, the Brotherhood Outcasts fortifying Fort Independence are being attacked by raiders from Fairfax ruins.
Layout
The Outcasts have adapted the old fort to their needs and restored much of its internal facilities. All of the technology they gather is stored within in it, as are their research findings.
By default, the Outcasts inside are hostile to any trespassers. The fort is guarded on the outside by Defender Morgan, Defender Rockfowl and an automated defense turret. After the player speaks with Defender Morgan about a job, Protector Casdin will open the perimeter fence's gate and encourage the Lone Wanderer to bring scavenged technology to them in exchange for supplies.
In the eastern section (the offices) on the main floor, there is a computer named "Field Reports" with two audio logs that can be downloaded (Fort Independence field reports #1 and #2). The first audio log speaks about "the increased raider activity in Fairfax ruins" and the second about "3 entrances into underground utility tunnels and a small weapons cache situated in the southeast section of the tunnels." The voice in the first recording seems to be unique, the other one is that of Defender Sibley.
Notable loot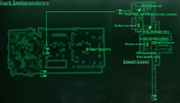 Related quests
Notes
Appearances
Fort Independence appears only in Fallout 3.
Behind the scenes
The name Fort Independence was also the name of a real fort in California, used during the Owens Valley Indian War conflict.
Bugs
Gallery