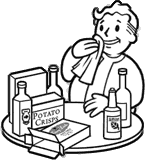 Food refers to a class of non-chem consumables that usually heal a small number of Hit Points or gives temporary statistic boosts but has no major drawbacks, such as Damage or Action Points.
Characteristics
Food aids the player character, though some items inflict a small dose of radiation. Food is required in Fallout: New Vegas and Fallout 4 in the form of Hardcore mode and Survival mode respectively, and in Fallout 76, implemented as a main gameplay mechanic.
Food is acquired in a variety of ways, either harvested from plants, via hunting creatures, purchased from venfors, or created via cooking. Food can also be found in the wasteland, as some pre-War good is still edible, or one can scrounge post-War food from containers.
Plants
Flowers
Fruit
Image
Name
Variants
Game
Apple
-
Fallout 3
Fallout: New Vegas
-
Banana
-
Fallout 2
Fallout 3
Banana yucca fruit
(Banana yucca plant)
-
Fallout: New Vegas
Barrel cactus fruit
(Barrel cactus)
-
Fallout: New Vegas
Cranberries
(Cranberry plant)
Diseased cranberries
Blast berry
Fallout 76
Firecracker berry
(Firecracker bush)
Bomb berries
Fallout 76
Fruit
-
Fallout
Fallout 2
Lemon
-
[2][3] Fallout 4
Fallout 76
Lime
-
[4] Fallout 2
Mutfruit
(Mutfruit plant)
Crunchy mutfruit
Irradiated mutfruit
Fresh mutfruit
Wild mutfruit
Wild fission fruit
Fallout 3
Fallout: New Vegas
Fallout 4
Fallout 76
Melon
(Melon vine)
Fresh melon
Fallout 4
Fallout 76
Nevada agave fruit
(Nevada agave plant)
-
Fallout: New Vegas
Orange
-
[5][6] Fallout 2
Peach
-
[7] Fallout 3
Pear

-
Fallout 3
Fallout: New Vegas




Pineapple
-
[8] Fallout 4
Prickly pear fruit
(Prickly pear cactus)
-
Fallout: New Vegas
Refined punga fruit
(Punga fruit plant)
Wild punga fruit
Punga seeds
Fallout 3
Starlight berries
(Starlight creeper bush)
Kiloton creeper
Fallout 76
Tarberry
(Tarberry plant)
Half-life hips
Fallout 4
Fallout 76
Watermelon
-
[9] Fallout 2
Wild blackberry
(Blackberry bush)
Radberry
Fallout 76
Fungi
Vegetables
Raw meat
Cooked meat
Prepared meals
Packaged food
Other
See also
References
Community content is available under
CC-BY-SA
unless otherwise noted.